Every display on Samsung's stand – which was one of the larger ones at the show, but still much smaller than we are used to seeing from the firm! – featured an in-built SoC running the Smart Signage platform.
The matte PE55C reflected significantly less light than Samsung's other screens
To one side was a set of 55″ screens being used for a flight information application. The USP here was the real-time datalink enabled through Smart Signage; this is able to pull data from software on a linked PC, such as an Excel spreadsheet, and use it for the flight information display. Changes can be made and reflected on the display in real time.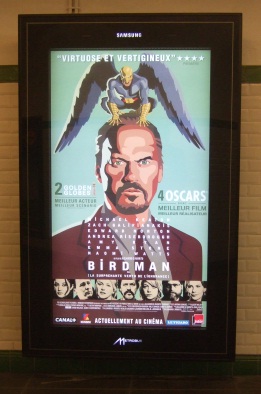 Robust Samsung signage can be found throughout the Paris metro system
One of the displays was the premium PE55C, which is a 700 cd/m² unit with a matte covering, in 55″ and 65″ sizes. Even in the brightly-lit show, the screen looked great next to the glossy units all around. Samsung's other two screens, the mid-range DM55D and high-end DH55D, use anti-reflective coatings, and even they showed very bright spots. However, these screens are supplied in a much wider range of sizes – from 10″ all the way to 82″ – and so are used in more applications around the airport.
Another example of Samsung's software was seen in the 'URL Launcher'. Effectively this is a way to simply point an LFD to a website and keep it there – users of the display do not even know that they are online. The big benefit, again, is the ability to change content in real time.
The QM85D is Samsung's UltraHD 85″ screen. It has a very premium price, but has seen interest from several airports in the Middle East "where money is no object", we were told. Qatar Airport has several UltraHD 65″ screens, and has shown interest in Samsung's newest product: the OHD55D/OHD65D, which was introduced at ISE (Samsung Returns to Square Signage).
Something that was not publicised at ISE is that it is the panel of the OHD display that Samsung built a high level of IP rating into, protecting it from high temperatures, dust and moisture. "You could house it in paper and it would still work", we heard. A bold claim!