Samsung Electronics today announced the Samsung Notebook Odyssey Z, a thin and light laptop, that has been designed to optimise the gaming experience. It has a 15.6″ FullHD display.
It was launched in Beijing, China at Intel's Worldwide Launch Event of the 8th generation Intel Core i7 processor with 6 cores, which is used invthe Samsung Notebook Odyssey Z.
Design
The Samsung Notebook Odyssey Z has been edesigned with new thermal management hardware, the in-built Z AeroFlow Cooling System consists of three key components: the Dynamic Spread Vapor Chamber, the Z AeroFlow Cooling Design and two Z Blade Blowers. The custom designed Dynamic Spread Vapor Chamber is designed for optimised airflow, covers both GPU and CPU from edge to edge. The Vapor Chamber is aided by Z AeroFlow Cooling Design, to efficiently push the cold air to the hottest parts of the device above and below simultaneously, whilst expelling the warm air out from the vents. Two built-in Z Blade Blowers add sophistication to the Odyssey Z's thermal architecture, ensuring a sweat free gaming session.
Graphics are provided by an Nvidia GeForce GTX 1060 Max-P graphics card, that is said to provide at least 10% more graphics power over 1060 Max-Q graphics.The device supports DDR4 memory with a bandwidth of 2,400 MHz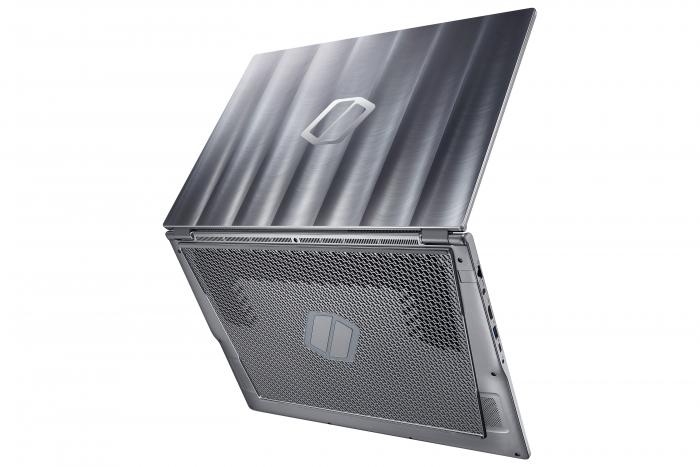 Gaming Usability
The device comes with a keyboard using Crater Keycaps for enhanced precision and comfort and new and a Touchpad design which is located to the side for a more "desktop like" feel. Shortcut keys also capture and record your gameplay, as well as giving you a Silent mode option, so you can comprehensively analyze your skills or focus on work with the fan noise able to reach a lowly 22 decibels.
Memory capacity is up to 16GB and storage up to 1TB of SSD (NVMe PCIe). Ports includ a USB Type-C, dual USB 3.0, one USB 2.0, an HDMI and DC input. Weight is 2.4kg (5.3lb)
Availability – and Other New Notebooks
The device will be available in select countries including Korea and China in April, with US availability in Q3 2018.
At the same event, the company showed the Notebook 5 and Notebook 3 with 8th gen Core i7 quad core processors. The Notebook 3 has three versions, a 14″ (HD) and 15″ HD and FullHD models. The Notebook 5 has a 15.6″ FullHD display. Some variations have Nvidia graphics.
The devices will be available in select countries starting in April in Korea, with wider global releases including China and Brazil in Q2.