The Galaxy Note 5 and S6 Edge+ are Samsung's newest flagship phones (Samsung Beats Apple to Flagship Punch), and feature the company's latest version of OLED technology. Ray Soneira of DisplayMate has analysed the performance of each phone's display in a variety of lab tests, as part of his display shootout series (http://tinyurl.com/ot4tu2r).
The Note 5 has a 5.7″ display with 2560 x 1440 resolution (518ppi), on a hard glass substrate. Although these specifications are the same as the Note 4, the display nevertheless is improved significantly. Samsung's S6 Edge+ has a screen of the same size and resolution; however, it also has a curve at both edges, and is manufactured on a flexible plastic substrate. The three viewing areas act as separate 'screens', for viewing notifications, the time or other applications.
In lab tests, DisplayMate found that the Note 5's peak brightness had been significantly improved over the Note 4. Screen visibility and readability in high ambient light were much better, as was power efficiency (despite the higher brightness). The phone set a number of new records for smartphone display performance, even surpassing the Galaxy S6 that was released just six months ago. This article is mainly focused on the Note 5.
2560 x 1440 (Quad HD) is currently the world's highest resolution for a smartphone display. The Note 5 uses Samsung's Diamond Pixels sub-pixel architecture, with sub-pixel rendering to improve image sharpness. The sharpness is higher than can be resolved with 20/20 vision at a typical (10″) viewing distance. Advantages in doing this include being a closer match to digital photo resolutions; the ability to display Full HD content with an additional 1.6MP of screen space left over; and efficient and simple rescaling of HD and Quad HD formats.
With Diamond Sub-pixels, the blue sub-pixel (the least efficient) is the largest, while green (the most efficient) is the smallest. There is an alternating red and blue arrangement, leading to a 45° diagonal symmetry in the sub-pixel layout. This means that vertical, horizontal, and diagonal line segments and vectors can be drawn with reduced aliasing and artefacts.
As with other Galaxy phones, the Note 5 and S6 Edge+ have user-selectable screen modes. Most mobile devices only have a fixed factory setting. However, each of the Samsung screen modes has a different colour gamut, level of colour saturation and display calibration, based on user and application preferences. The modes are 'Adaptive Display', 'AMOLED Photo', 'AMOLED Cinema' and 'Basic' (which matches sRGB).
'Adaptive Display' is the default setting. By default, this mode covers 134% of the sRGB gamut – among the highest ever measured for a mobile device. 'AMOLED Photo' covers the Adobe RGB gamut. Soneira says that the calibration is 'very accurate' (which is rare on consumer devices). The Absolute Colour Accuracy is 1.6 JNCD (Just Noticeable Colour Difference), which is very high.
White point and colour gamut are very accurately calibrated to the sRGB gamut in 'Basic' mode, covering around 101% of the colour space. Absolute Colour Accuracy is 1.4 JNCD: the most colour-accurate display DisplayMate has ever measured for a smartphone or tablet.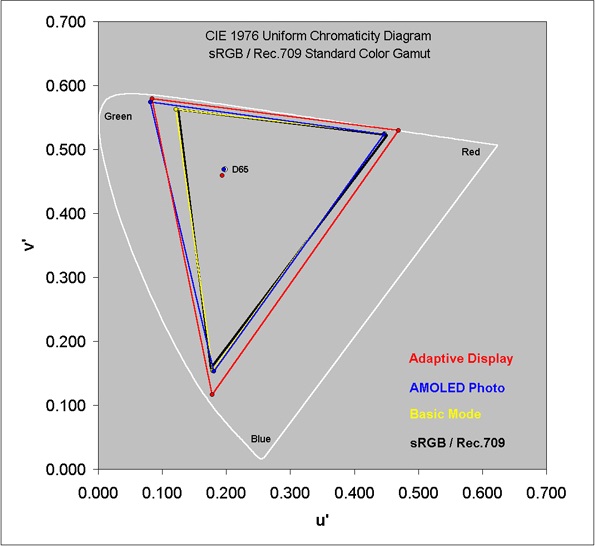 Mobile displays, which are often used outdoors, require a combination of high brightness and low reflectance. The Note 5 has both. Typical brightness is 440 cd/m², higher than most consumer displays, and screen reflectance is 4.7% (very low). DisplayMate's Contrast Rating for High Ambient Light quantitatively measures screen visibility and image contrast under bright ambient lighting – the higher the better. The Galaxy Note 5 has a measurement of 86 – 116, among the highest that DisplayMate has ever measured. Brightness can go even higher with automatic brightness turned on: up to 861 cd/m², raising the measurement to 183. Brightness can go as low as 2 cd/m².
As with every previous generation of its OLED displays, power efficiency has been improved in the Note 5 – it is 21% more efficient than the Note 4. Despite its higher brightness, the phone's display actually uses less power than its predecessor. Viewing angle performance was also found to be very good, with around a 24% decrease in brightness at a 30° viewing angle (compared to 55% for an LCD display).
Galaxy S6 Edge+
As mentioned, the Galaxy S6 Edge+ is virtually identical to the Note 5, barring its curved display. It is also not supplied with Samsung's S Pen stylus. Because the phone uses an OLED display, the pixels on the edge 'screens' can be turned on independently, which significantly lowers battery consumption.
A noteworthy point is that the performance of the Edge+'s display is now essentially the same as the traditional glass substrate-based Note 5.
Conclusions
'In a span of just five years, OLED display technology is now challenging and even exceeding the performance of the best LCDs'. Soneira writes in his conclusions (for evidence that OLED is the wave of the future, see our news about LG's massive investment in the technology – the company is distancing itself from LCD screens (LG Raises OLED Investment on Chinese LCD Progress) – TA).
OLEDs are now more power efficient than LCD displays when showing dark content (because most of the pixels are turned off), although LCD screens are more efficient for white content. The Note 5 is roughly 37% more power efficient than the iPhone 6+ for mixed content.
The most important improvements for both OLED and LCD mobile displays, says Soneira, will come from improving image and picture quality, and screen readability, in real world ambient light. The key will be in lowering reflectance still further, and implementing dynamic colour management based on the ambient light level.