There is more and more noise around the possibility of Samsung making a folding smartphone, although there were reports of some damping down of speculation by Samsung last month, and Samsung Display has set up a Task Force (Task Force for Foldable) to develop its flexible OLED business. (Samsung Secures Chinese Buyer for Flexible OLED Panels)
The OLED Association reported some rumours that Samsung Electronics will create a dual display device with a 4.6″ external display for use when the main 7.3″ OLED is folded. It also reports that yielded production of panels could reach 100,000 to 120,000 displays per month.
Analyst Comment
Samsung Electronics is clearly struggling with the whole foldable concept. It has said recently that it "doesn't want to miss out on being first" and DJ Koh of Samsung's Mobile Division said in an interview with CNBC at IFA that more details would be released later this year. On the other hand, it is determined not to promote the technology just as a gimmick of technology, but only when the company can deliver a genuinely enhanced user experience.
On the other hand, Samsung Display believes it can makes the flexible displays and therefore wants to develop that business and if it has only one customer, in the shape of Samsung Electronics, it will be in a situation similar to what it has seen with the supply of displays to Apple. Good when its good, but not so good if it isn't. So there is a real tension between the desire to be first (and maintaining a lead over potential Chinese display competitors) and delivering a really good experience. Samsung can't afford another problem like the Note battery problem. (BR)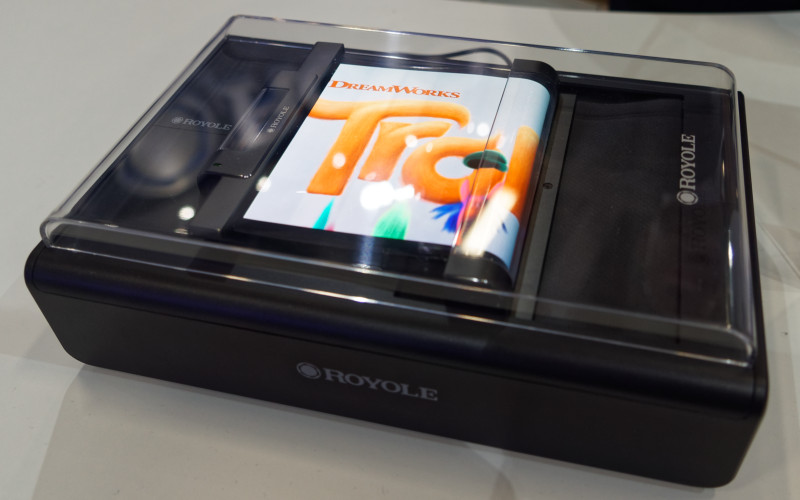 The Chinese are pursuing Samsung Display. This roll-up display was shown by Royole at IFA. Image:Meko