Samsung Display had a meeting room under Hall 8 with its latest LFD panels.
The first area we looked at was a display of open cell LCDs. Samsung Display told us that it has decided to start promoting open cell LCDs for commercial applications (rather than TV panels) in 23.8″, 46″, 55″, 75″ and 85″ for companies that want to build special displays, such as high brightness or outdoor applications. It is also promoting 65″, 70″, 75″, 82″ and 85″ open cell LCDs for eBoard applications.
The next segment was a demonstration of the 3700ºK white point UNB video wall panel that the company has been showing for a little while. The panel was developed for a specific project that Samsung Electronics won for monitors for the Korean TV business and the white point is designed to match the colour temperature typically used in TV studios.
The recently launched 55″ 1.4mm (0.9mm/0.5mm) extreme narrow bezel video wall panels were being shown. It seems that the modules have an unusual resin layer around the outside of the module, over a very thin metal layer. The resin helps to keep the module light tight, as otherwise, light might leak from the metal surround.
Next we looked at high brightness panels which are available in 46″, 55″ and 75″ with 2,500 cd/m² of brightness.
Finally, we looked at the range of stretch displays, which are available in 29″ (500 cd/m²), 37″ (700 cd/m², 1,500 cd/m²) and 49″ (700 cd/m²). Later this year, probably in Q3, there will be a 49″ with 1,500 cd/m² of output. Samsung told us that the panels can be used in landscape and portrait mode and can also be tilted forward at different angles). Although the modules on display had the same size bezel all around them, in fact, the modules can be assembled with around a 10mm-12mm video to video gap on the short edges – making a relatively seamless long display array possible.
Analyst Comment
The stretch modules are interesting. Samsung told us that after it first launched the stretch displays, the demand was very small, so production was discontinued. However, it seems that the seeds of the ideas that were sewn by showing the modules took a long time to germinate and in the last year or two quite a lot of applications have come up, so Samsung is re-introducing the modules. LG Display and AUO were also showing new stretch displays, so they must have also heard of the demand. Transport remains a key area. (BR)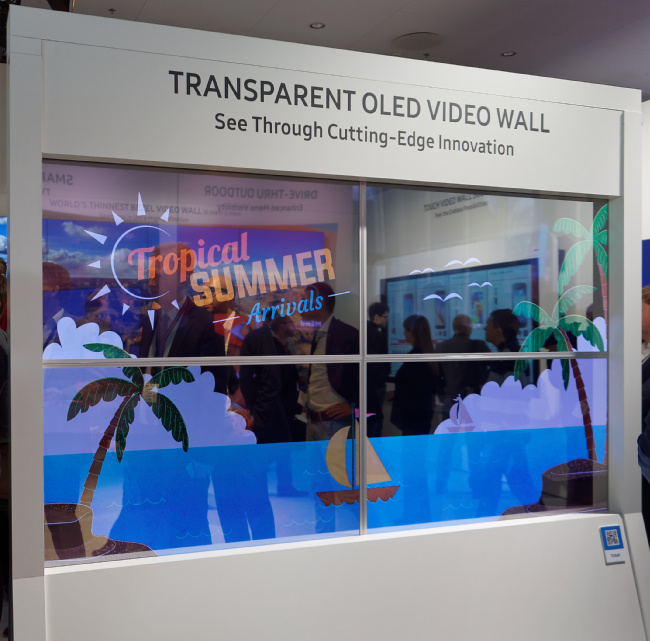 Samsung Electronics was showing this Transparent OLED array from Samsung Display. Image: Meko