Royole Corporation had a few technical difficulties at the start of its press event, but eventually got started with Michael Williams who looks after marketing. He started by explaining that the company is around five years ago and started by developing ultrathin displays.
Dr Bill Liu, CEO and founder of the company came on and explained that the glitch was that none of the firm's recent computers had VGA – which the projector was set up for!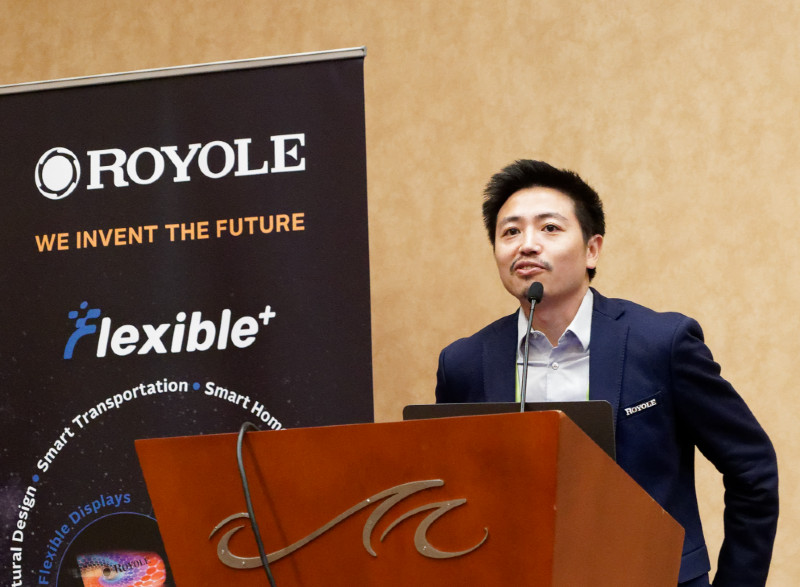 Maybe I'm just getting old, but Liu looks too young to be CEO of a company building a big OLED fab and with 1600 staff! Image:Meko
Tech companies have become huge, Liu said, and everybody is talking about the future of technology. Much of the development of the last forty years has been in the human machine interface, from PCs with keyboards and mice to mobile phones ten years ago. AI is having an influence and the IoT is impacting.
From an idea in 2006, the company started and in 2012 it got properly into operation. In 2016 it started to build a flexible OLED fab in China with Round D funding that valued the company at $3 billion. In 2017 it also started working on other flexible technologies including sensors.
By the end of 2016, the company had 1600 patents globally. It has 1600+ employees in more than 15 countries and the fab will be 1.1 million sq ft (102,200 m²) eventually. there is 400,000 ft sq (37,160 m²) now.
The factory building is now complete and equipment is currently being installed for production from the end of 2017. Flexible+ is a concept for a new platform and was announced in July 2017. The aim is to use the flexible substrate technology not only for displays, but for sensors as well. Last year, the company showed a flexible phone and the company has also shown a transparent flexible wireless phone (for the home and not a cellphone).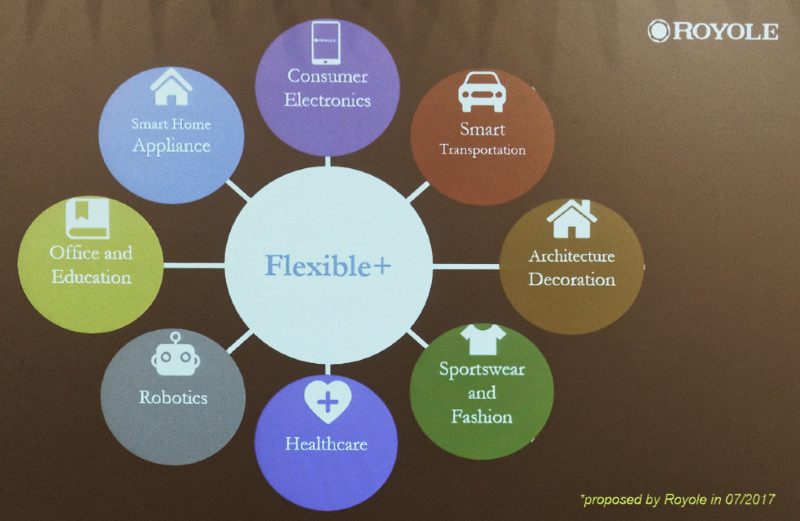 Royole is developing a platform strategy using the Flexible+ name. Image:Meko
The company has developed three versions of its personal headset, Royole-X, Moon (2016) and Moon 4G (2017). The Moon 4G includes a cellphone receiver and noise cancelling headphones.
There is a new OS for the headsets and it is called Moon OS.
The company has shown a concept for automotive centre consoles with no physical buttons. It is light and curved and can be used in either automotive or aerospace applications.
There are also a range of consumer products. The Smart Cup has a sensor and a smart lamp to change brightness or colour and Royole has created a sensor-based reclining chair. The sensor can be integrated with leather or paper to create touch-sensitive surfaces on furniture. The company has integrated touch-enabled leather into clothes and can put it into other textile-based products, for example, in bags such as rucksacks.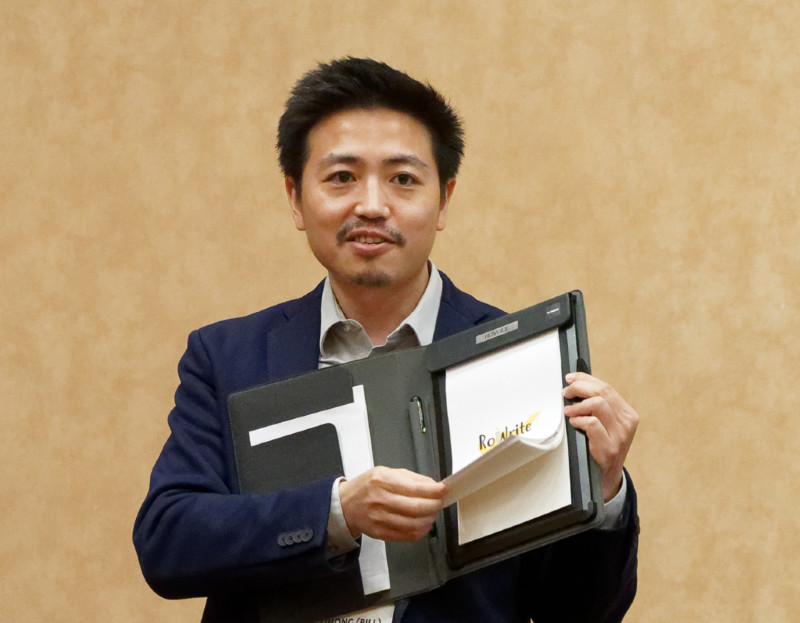 The Royole RoWrite captures drawings on paper. Image:Meko
A new product that was launched in China two months ago was RoWrite, a pad to allow electronic writing which combines the digital experience and sensor. You can write on paper with a normal pen, but the image created can be sent to cloud storage or to a display using bluetooth as a sensor under the paper detects the drawing. The design is very traditional and is leather bound. Royole also has a RoWrite app to use a touch display on a standard device such as a smartphone or table. At the moment, the data is just graphic or video, but Royole is developing a solution to convert to data using OCR technology.
Analyst Comment
I have to say that I'm slightly concerned about Royole's development. It's incredibly difficult to build a flexible fab for OLEDs and it's also difficult to develop good consumer products. Trying to do both at the same time can be just too much for smaller companies. However, staff told us that some of the demand is coming from other companies in China. The leather development, for example, is the result of an approach from one of China's largest furniture makers. Royole also needs to develop some revenue sources while the fab is being developed.
During the show, we tried the company's headset for video viewing and once again we were impressed with the quality of the display used, although the headset still seems too bulky and heavy for me – and I have only used it for a minute or two. I can't imagine wearing it for the length of a feature film. (BR)