Roku, Inc. today announced that it has added the Sharp brand to the Roku TV program. Sharp Roku TV™ models will soon be available for purchase exclusively at Best Buy stores as well as atBestBuy.com.
Available in 43" and 50" screen sizes, Sharp Roku TV models represent a new generation of smart TVs that are built using the Roku TV reference design and feature the Roku® operating system (Roku OS). Roku TV offers one of the most simple, comprehensive smart TV experiences on the market.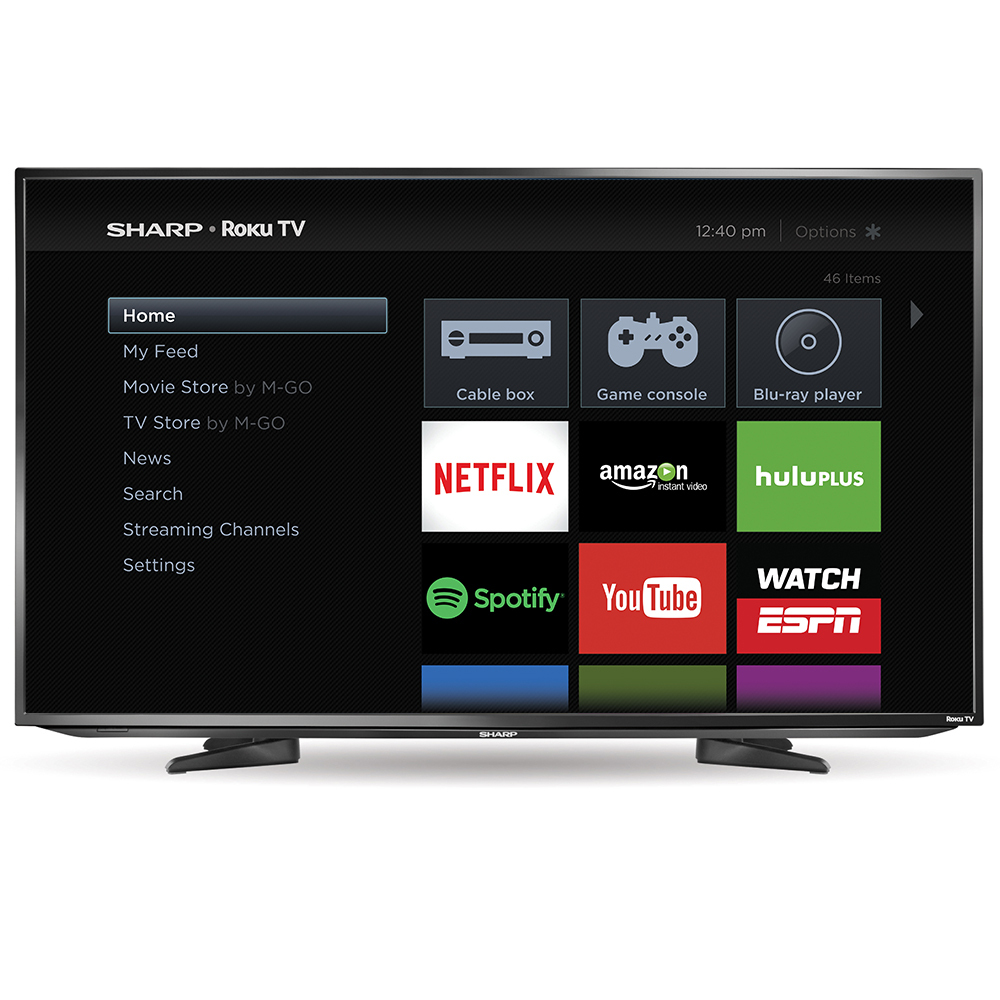 "We are pleased to offer Sharp smart TVs that run the Roku OS and provide consumers with an easy and elegant way to enjoy their entertainment," said Vishnu Rao, director of technology planning for Sharp Electronics. "We believe the benefits of the Roku platform combined with the superiority of the Sharp brand makes an appealing combination for consumers looking for a great smart TV experience."
"Roku TV has garnered high praise. People love how easy it is to access all their TV entertainment sources from one simple home screen, including access to the biggest streaming channel line up in the industry," said Chas Smith, general manager of OEM for Roku. "Sharp is an exceptional brand, and these new Sharp Roku TV models offer consumers a fantastic smart TV experience we know they'll love."
A Simple and Complete Entertainment Experience
The Roku TV home screen can be personalized with icons for favorite TV entertainment choices, including devices such as game consoles, cable boxes and Blu-ray players, together with favorite streaming channels. Consumers no longer need to navigate through multiple inputs and complicated menus that have plagued other smart TVs. Now, in just a few clicks of the remote, consumers can watch a live television show, stream a movie or listen to a favorite song all from their Roku TV home screen.
Roku TV provides access to the Roku Channel Store, which includes more than 2,000 streaming channels. Streaming channels available on the Roku platform feature movies and TV episodes plus live sports, music, news, fitness, and much more. In addition, consumers can use Roku Search to find availability and pricing for movies and TV shows across many top streaming channels. They can also search for actors and directors and view filmographies.
Roku TV models feature Roku Feed, a new feature that lets consumers know when favorite entertainment becomes available to stream — and at what price. When browsing within Movies Coming Soon, consumers can "Follow" popular in-theater movies they are interested in and Roku will deliver automatic updates when relevant streaming information about the movie becomes available. Updates are provided when a movie is first released to streaming, becomes available from additional streaming channels or changes price.
Consumers control Roku TV with a remote designed especially for the Roku OS. This simple and intuitive remote control has half the buttons of a traditional TV remote and includes a directional pad for additional convenience. Roku TV can also be controlled with a mobile device using the free Roku mobile app for iOS, Android and Windows Phone. The iOS and Android versions also support voice search. In addition, consumers can cast Netflix and YouTube, as well as personal video, photos and music, directly from their mobile device to their Roku TV.
Model Specifics and Pricing
Both Sharp Roku TV models feature 1080p Full HD resolution and a 60hz native refresh rate. The 43" LED Sharp Roku TV will be available for $379.99 (MSRP). The 50" LED Sharp Roku TV will be available for $499.99 (MSRP). Both are available exclusively at Best Buy stores and BestBuy.com.
The new Sharp Roku TV models have received the Netflix Recommended TV designation indicating they offer easy access to Internet TV services, faster performance, and new features that enable a next-generation smart TV experience.
Sharp Roku TV models will also be available at Best Buy stores in Canada and on BestBuy.ca. Visit BestBuy.ca for more information and pricing.