EllaFashion, a brand of MariElla Labels Oy of Finland, was showing a range of labels for fashion clothing that is based on E Ink EPD technology. The company started its developments with an intention to go into shelf labels (and has a group company doing that), but then realised that this would be difficult, so looked for a differentiated application. It focused on fashion as clothes are often simply hung on rails, rather than put on shelves. The labels are designed to assist inventory control, help prevent theft and also show pricing. Like ESLs, the labels can be changed for dynamic pricing. The company told us that it has labels in real live applications and that it had won an award at the show. The labels can be used alongside its ESLs for products, such as underwear, that might be stacked on shelves. As well as fashion labels, the company has labels for consumer durables such as furniture.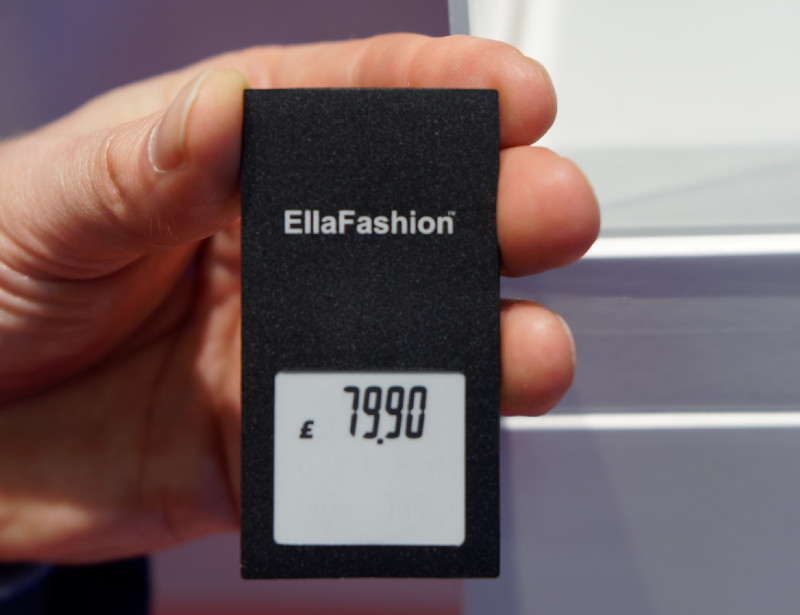 EllaFashion labels are like 'mobile ESLs' for products that don't sit on shelves. Image:Meko
Lancom of Germany, a leader in Wi-fi for retail, was at the show with its ESLs and meeting room displays. An item of news was that the company's latest systems can now support 802.11 ac. Although this is not needed for ESLs, the company told us it was good to keep up with the standards.
Pioneer is a UK integrator and started by showing us an interactive display system that the company developed for British (but Japanese-influenced) clothing brand, Superdry. The system is already installed and operating in London's Gatwick airport. There was also an LG 86″ stretch display.
The company was showing the latest Peerless totem design whose design it is enthusiastic about. Like many of the displays on the booth, it was being run on a Chrome-based system as Pioneer is a partner for Google.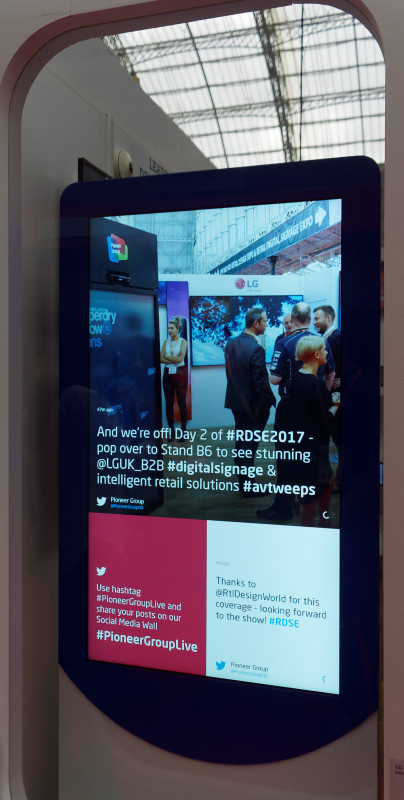 The Peerless totem was shown by partner, Pioneer. Image:Meko
We noticed a display of ESLs and Pioneer told us that it is the exclusive distributor of ESLs from LG Innotek, which are combined with software from TroniTag of Germany to enable complete systems. This is a new deal for the company and it aims to ensure there is integration between labels and digital signage as well as supporting 'lift and learn' technologies using NFC. The labels can have multiple pages of data, so on the bigger ones either it can be made possible to show different pages by linking in to systems such as 'lift & learn' – alternatively staff can use zappers to access extra data to help with sales.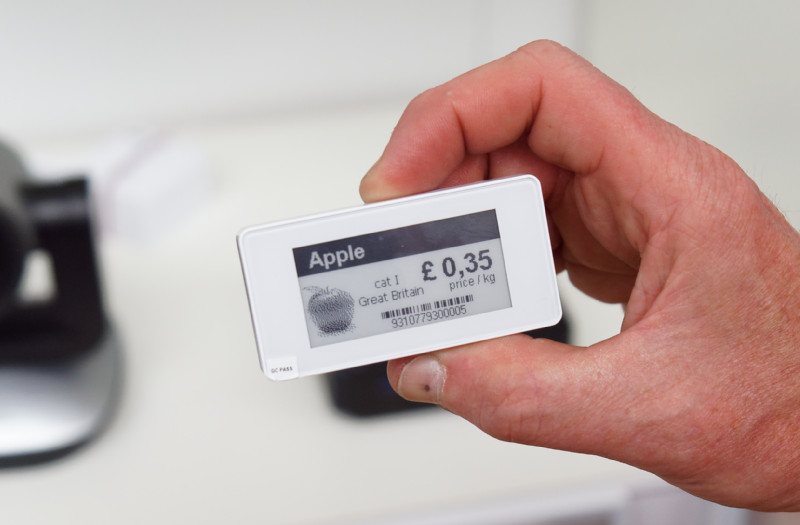 Pioneer is the exclusive UK distributor for LG Innotek's ESLs – Image:Meko
Samsung had a dedicated displays booth on the balcony this year, rather than just being part of the main show floor with other Samsung divisions. The company was positive about the response and is pleased to be pushing out LED products now. There were no new products since ISE.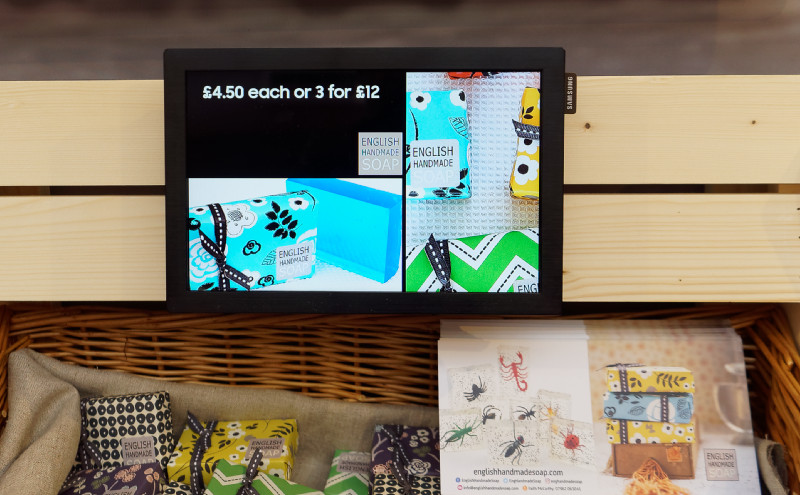 Samsung was showing its small displays as well as larger units. The contrast and anti-glare performance is very good on the company's displays. Image:Meko
SES Imagotag is a global leader in ESLs and so usually has something to show us. This time, the main news was of a special 'Find Box'. This is a box including a camera that can identify products. The example shown was of an inkjet cartridge – the system correctly (apparently!) identified the type of cartridge. The clever next step is that the system then flashes an LED on the shelf label to identify where a new item is. This can help customers to find a replacement, but can also be used by staff to see where to put an inventory item. Despite the addition of an LED, the labels still have a standard five year life.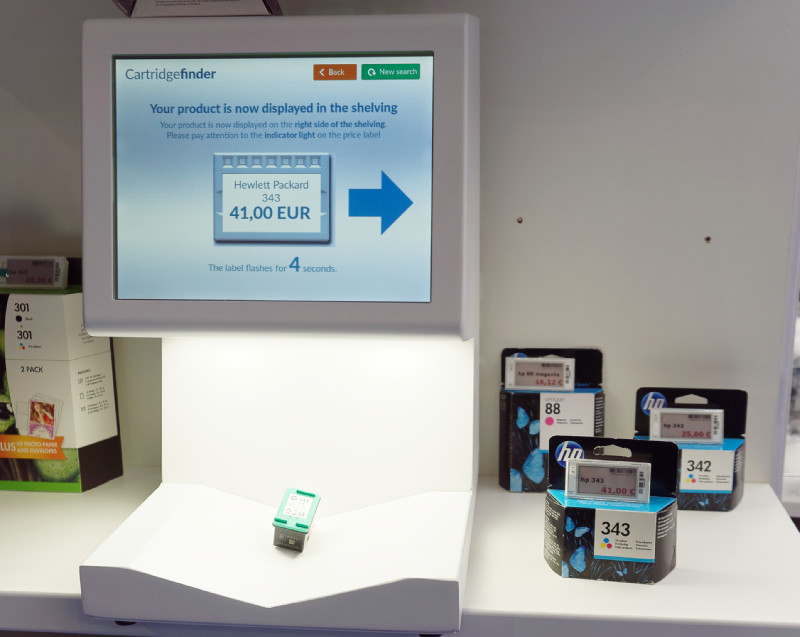 The SES Imagotag Find Box can find a product and then flash an LED on a label to help locate a replacement. Image:Meko
On the firm's larger labels, it is using technology to make each page a 'microweb' page. The resolution is 130 dpi on a 7.4″ unit (which we think is about 832 x 468, although staff couldn't confirm). The higher resolution can provide a lot of information and can be updated regularly. For example, the inventory for products that are available in different sizes such as footwear. The system can also be used to give a link to a web application to support online purchasing for home delivery for out of stock items. This kind of system is being used by a US retailer.
SES Imagotag has high information labels that can show inventory or other live information. Image:Meko
SES told us that there is still a good market for LCD-based labels (which are cheaper than E Ink) for applications that need little information, such as groceries.