Qualcomm had a range of different demonstrations on its booth and also had an area with smartphones using its different processors.
The first demonstration that we had a quick look at was a test of 802.11ax, a new version of Wi-Fi that uses existing wavebands of 2.5GHz and 5GHz, but uses more antennas and can achieve throughput of up to 10Gbps. The company also had a demonstration of 'next generation' mesh networking. Qualcomm claims that 40% of the retail home Wi-Fi market is now buying mesh networks, up from only 5% in the third quarter of 2016. The company is adding control skills for the IoT to the system as well as support for audio and for Microsoft Cortana. This means that WiFi hubs will be able to be operated and managed using voice. Asus's Lyra system is one of the first to support the feature.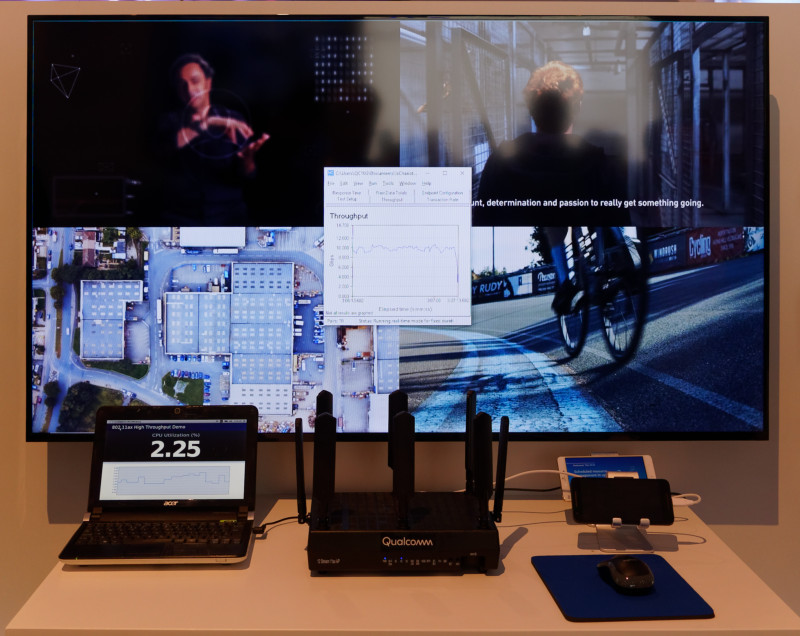 Qualcomm was showing this 10GHz throughput Wi Fi. Image:Meko
We also talked to staff that were showing existing products including WiGig which can support wireless displays. This is finally getting into more devices, but only slowly. However, there is a real desire to make VR work through wireless, and the speed of WiGig is ideal, so Qualcomm is optimistic that a lot more handsets will start to include the technology. Asus now has a general purpose (but high end) router, the Rapture GT-AC5300, which natively supports 802.11ad. TP-Link and Netgear are also developing the technology.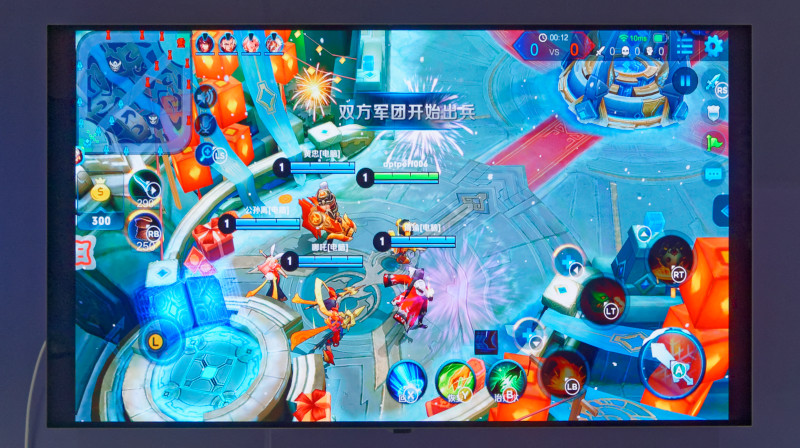 Qualcomm had this demo of 'console' level gaming on the latest 645 chipset. Image:Meko
The technology is also being used more widely, now, in outdoor mesh networks, using the 802.11ad as 'line of sight' and point to point connections. This is being used for wireless 'backhaul' in some geographies. There are also companies working on using the 60GHz technology for gesture recognition, by tracking the effect of users on the different beams of radio.
Qualcomm was showing a range of VR applications and headsets based on its technology and also was demonstrating the VR reference design that it has developed for its 845 chipset. We had a chance to try it and we thought it was very responsive. We only got a couple of minutes in a rudimentary shooting game. The resolution was good, but pixels were still visible. The headset is designed to support gaze recognition for foveated rendering, however, we couldn't see that happening and staff told us that the demo did not use the technology.
Qualcomm's 845 Reference platform has sensors for gaze recognition, but it wasn't working on the demo at MWC. Image:Meko