Samsung Display and its sister companies, Samsung Mobile and Samsung Visual have been conflicted over the last couple of years. Samsung Mobile wants a second source for OLED panels and has reached out to SDC competitor' BOE seeking lower price panel replacements for some of their models. BOE tried to qualify its OLED panels but they didn't pass the quality screen.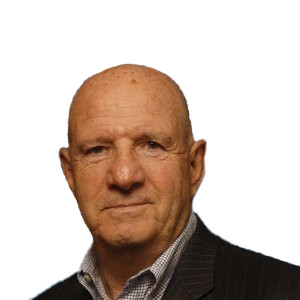 Samsung Visual tried to slow down development of QD-OLEDs by arguing at the Chairman's level to use the funds allocated for QD-OLEDs for MicroLEDs. As Samsung Display begins preparations for mass production of QD-OLEDs, in 2021, Samsung Visual apparently hasn't committed to selling them.
Business Korea reports Samsung Visual is balking at incorporating the new technology into its TV plans, having invested heavily in QLED and microLED marketing. Samsung Display wants to capitalize on the emergence of QD-OLED displays to make up for their recent exit from LCD production and their earlier attempt to use their LTPS and RGB FMM approach for making OLED TV panels that proved too expensive.
SDC may have to look to competitors of Samsung Visual for sales of their QD-OLED panels. LGD has already signed 19 OEMs to sell TVs with their OLED panels but LGE generates over 60% of the sales and Sony adds another 20%. Given that the QD-OLED panels will become available in Q121, the marketing plan for the new TV technology should be well underway. But Business Korea said Samsung Visual hasn't yet decided to release the first QD-OLED based TVs to the market, and Samsung Display isn't willing to wait any longer. Samsung Visual's concerns include:
QD-OLED panels are more expensive to produce than QLED panels, so the company might decide to postpone the adoption of QD-OLED panels for its TVs at least until prices become more reasonable.
QD-OLED panels could also be more expensive than LG's RGBW panels.
Samsung Visual has a three-pronged strategy of micro-LED, LED and QLED TVs, questioning the need to add a fourth technology into the mix.
The adoption of QD-OLED's would run contrary to the anti-OLED TV campaign adopted by Samsung Visual
No decisions have been made, but time is running out. While economics and marketing are significant, it has become a political issue and it is hard to imagine that Samsung Visual wants a conflict with the Chairman's office that has endorsed the QD-OLED program and is investing a reported $12 billion.
Omdia contrasts the structure of LG's WRGB with Samsung's QD-OLED, which points to a number of cost differences between the two processes:
LG's IGZO backplane is more mature and requires 9-10 masks, whereas Samsung, which is just starting to develop IGZO requires 13-17 masks adding ~50% to the capex of the array process
Both use the equivalent of a color filter. But LG employs a color filter on array, which is built into the array process at little additional capex, while Samsung prints red and green quantum dots, with a Semes IJP that costs hundreds of millions.
Both use three separate organic layers; LG uses 2 blue and 1 yellow green or (red, green and blue) while Samsung uses a three tandem blue construct. There is little practical difference in the cost, except that LG uses red and green phosphorescent material, which on a cost/gram basis is ~2X more than fluorescent material.
The other difference is that LG uses bottom emission, while Samsung uses top emission. The benefit of top emission is a higher aperture ratio as the light is not blocked by the TFT. From a practical standpoint, the higher aperture ratio should allow Samsung to deliver higher pixel density panels, such as 55" or 65" 8K TVs. LG is selling 8K 88" OLED TVs but is likely to struggle getting below 75"
Omdia claims the QD-OLED process is less power efficient, but we question the validity of their conclusion, as QDs are a more efficient color converter than the CFOA, the aperture ratio for QD-OLED is higher, requiring less power to achieve the same luminance, offset by the more efficient yellow-green material, which represents only 1/3 of the emission.
The WRGB process should be less costly both inherently and because 1) The LG fab in Korea is 5 years old and 2) the China fab is subsidized by the Chinese.
Table 6: WRGB vs. QD/OLED Manufacturing Process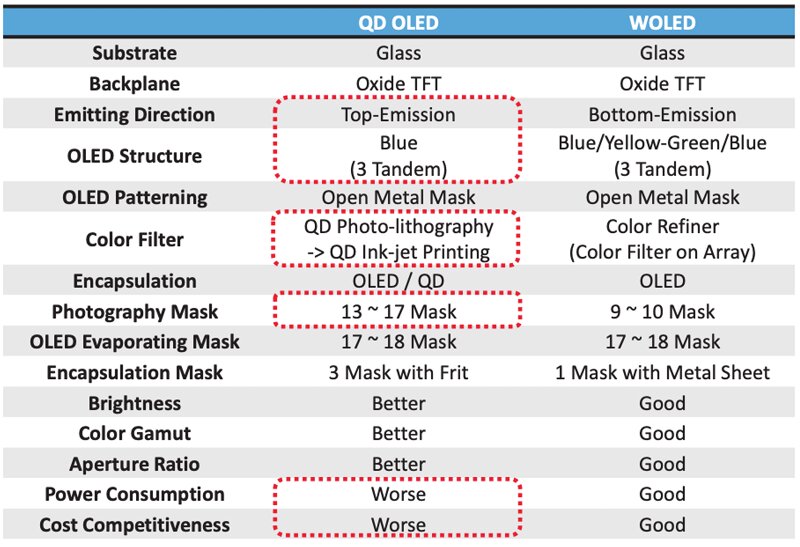 Source:Omdia
Omdia also showed an advanced QD-OLED configuration which included OLED banks to separate the red, green and blue outputs.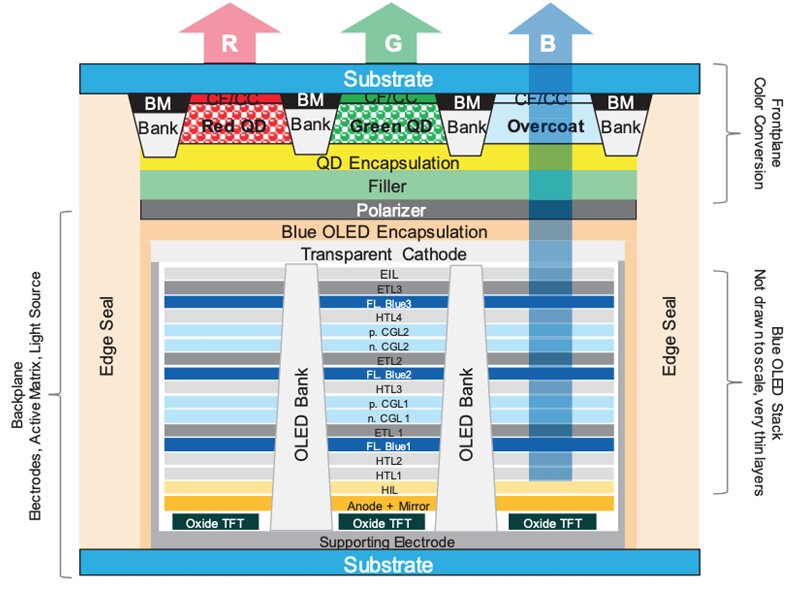 Figure 11: Advanced QD-OLED Configuration Source:Omdia
What they missed is that Samsung could eventually use a high efficiency blue, which at best would require only one blue layer, cutting the cost of the OLED portion by 2/3 and thereby reduce the cost difference. The future of QD TVs is likely dependent on:
Samsung Visual's decision to include QD-OLED in their TV offering
Samsung Display's ability to attract OEMs in light of LG's dominance
The timing and performance of a high efficiency blue
The efficiency of IJP nano rods and the alignment yield
Overriding all of these conditions is the likelihood that Samsung Visual will be able to develop a Micro LED TV that can be sold into the consumer TV market. (BY)
Barry Young is the CEO of the OLED Association