Although Marek Maciejwski of TCL told me at IFA that he has been surprised by how many 98″ LCD sets it is selling, to people that want the same size image as their projector, but usable in any light conditions, others are still developing new sets and there are new developments and entrants.
One of the most surprising entrants is Leica which had a booth that I walked past twice before I realised it was promoting a projector and not camera lenses or optics. The firm has a DLP-based UST projector that is available in two versions, for 80″ and 100″ diagonal screens at €7K and €8K, respectively. The design uses the firm's own optics (which it also supplies to other projector makers) and was designed in collaboration with Hisense which is a key player in the UST market.
The set uses RGB lasers as a light source (rather than laser phosphor) so colour performance should be strong and it is, with a claimed 107% of Rec.2020 (given that 2020 is on the spectral locus, I still can't get my head around >100% – if somebody can explain it to me, I'd be glad to hear!). The casing is made of aluminium and after use the case closes under motor control to protect from dust and to give an elegant look. Initially, the Leica sets will not be sold with screens as the firm thinks there may be a range of options that could be popular, but will look at whether it is able to offer complete projector + screen combinations, which is what Hisense does.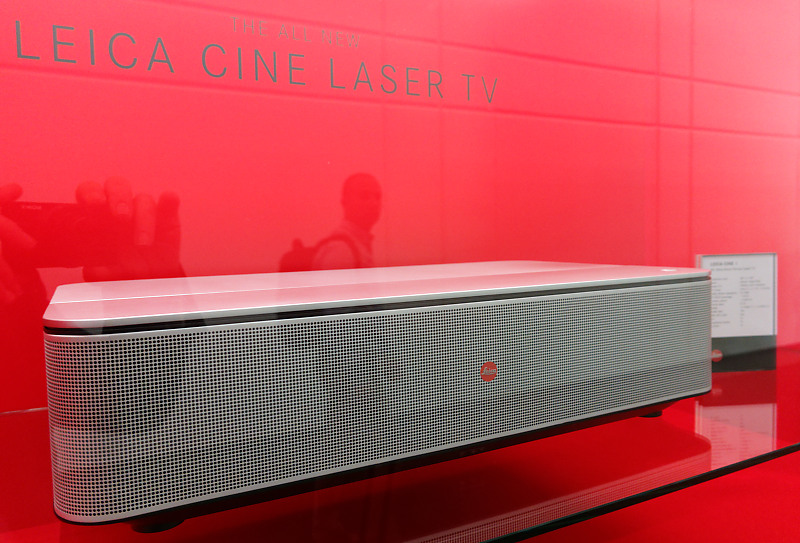 I had been looking forward to catching up with JVC which usually has a flagship product on display, but at IFA the firm only had its 8K D-ILA projector displayed on a shelf. It seems that the firm's projection specialist retired just a few months ago and the new specialist is not yet in place, so the firm focused on audio this year and I was disappointed.
Epson Brings UST to Consumers
Epson had a number of new projectors at the show and was drawing particular attention to its new consumer EH-LS800 UST TV projector. Of course, Epson has been making UST projectors for a long time for use in schools and meeting rooms, but the EH-LS800 projector is squarely aimed at entertainment. It has, of course, a 3LCD engine for high colour volume with a laser phosphor light source, produces 4,000 Ansi lumens and uses FullHD panels with e-Shift for UltraHD support. The projector can be used to create images from 70″ to 100″ (from 14cm away – although the Epson website claims 150″) and includes Android support for direct display of streamed content.
They audio system is from Yamaha and is, effectively, an integrated sound bar system. The set will cost €3699

The EH-LS800 with its speaker grille removed. Image:Meko
Also being highlighted was the EH-TW6350, a new projector that brings 4K performance down to the mainstream as the lamp-based unit can produce 2,800 Ansi lumens of output but will cost just around €1500 when it arrives in October.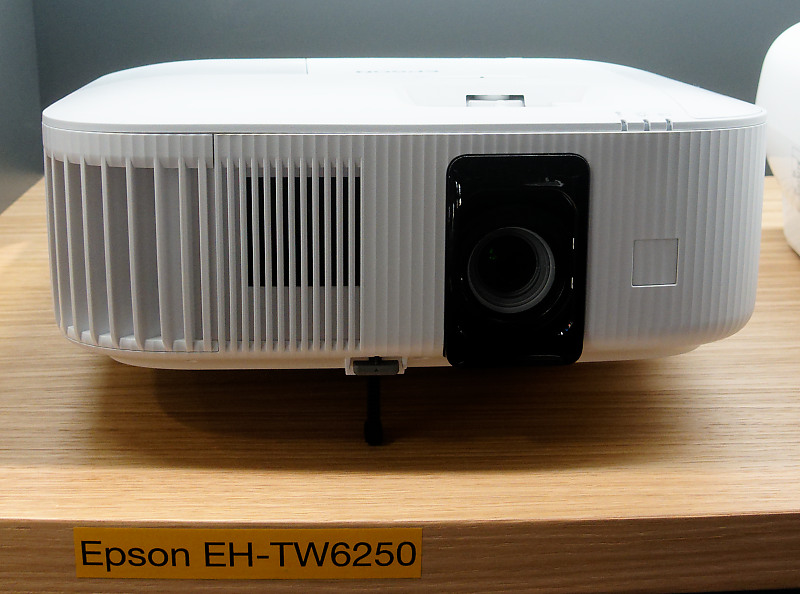 Leica and Epson were not the only new UST designs at the show. I spotted a unit on the Vestel booth and the firm told me that it is considering getting into the manufacture and sale of UST projectors for TV viewing. It may sell under its own brand as well as to OEMS, but decisions and plans have not yet been finalised.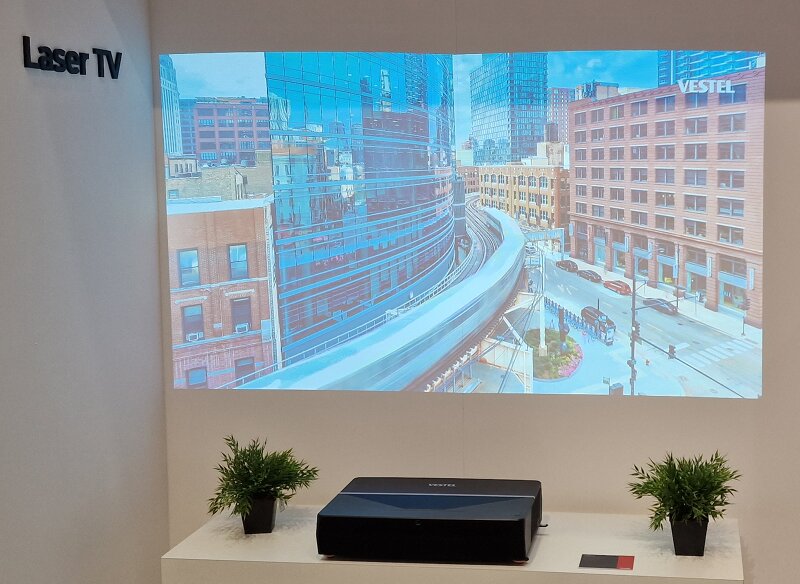 Vestel is considering making UST projectors. Image:Meko
Xgimi had a couple of innovative designs and the firm is clearly attracting a lot of interest in Europe as the booth was busy each time I went past. I first looked at a very unique product that integrates a projector into a LED ceiling light. This gets around the need to mount the projector independently. The LED light has a variable colour temperature with warmer and cooler whites for different times of day. The lamp-based projector has a motorised control for keystone correction as it would typically need quite a lot of correction when mounted on the ceiling.
The projector has an LED light source and produces around 800 Ansi lumens with FullHD resolution. Speakers are by Harmon Kardon (Samsung) and the imager is a DLP unit. The unit is not yet for sale in Europe – the firm was getting reaction from consumers and channels at the show – but is selling in China for around RMB 7,000 (around $1,000).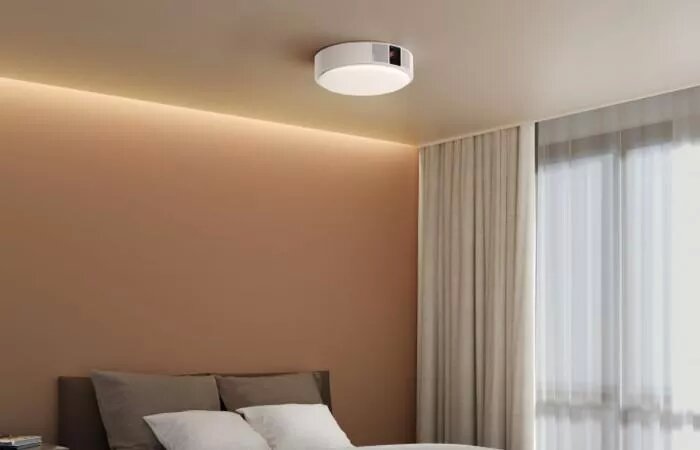 I thought I had a photo of the Magic Lamp from Xgimi, but if I did, I accidentally deleted it!
Also getting quite a lot of attention and new at the show was a very small and slim portable projector designed by Xgimi with Porsche. The RS AIR uses an all metal body and is just 23.7 mm thick. It can run on battery and reminded me of the slim projectors made by Plus Corp of Japan some years ago.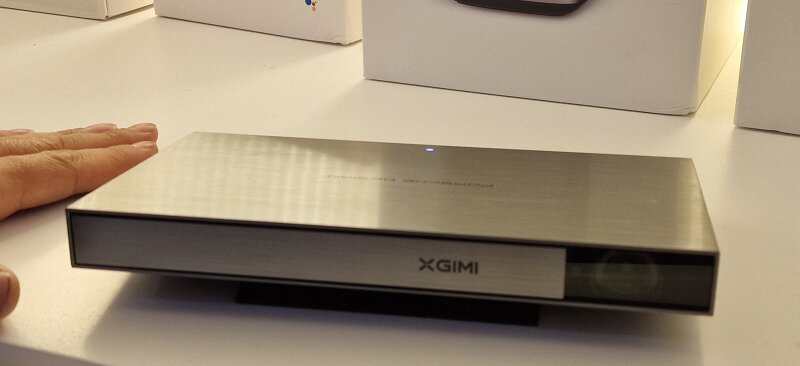 As well as these new ideas, the firm had its UST projector. Xgimi looks as though it is going to make a significant impact in Europe. (BR)