This week we have the NAB report as a separate issue to add to our newsletter, with lots of news on HDR and some interesting explanation of the importance of the ATSC 3.0 developments.
This morning I was trying to think of a topic for my editorial, when I noticed that AUO was due to release the recording and translation of its investors' conference. The health of the panel business is always a good topic and as AUO only makes panels and is a public company, it always provides insight.
Now, it should be no surprise to regular readers that AUO had a horrible Q1 with weak demand in all the key market of TV, monitors and notebook displays, as all panel makers are suffering at the moment. Although AUO, like the other established panel makers, is trying to get away from reliance on these areas, but in Q1, they still took 77% of the revenue (although down from 79% a year ago, showing how hard it is to move away from them while maintaining overall business).
What really surprised me was the drop in ASP per square metre, which has declined from $512 in Q1 2015, to $349 now – a drop of 32% in a year and very dramatic. The only positive aspect was that the decline of 9.4% (and $36 per m²) was less in Q1 than the 12.7% in Q4. That was also despite an increase from Q4 in the small/medium volume. AUO also said that it is seeing signs of some recovery and expects Q2 to be up both in area terms and in terms of blended ASP as loading increases.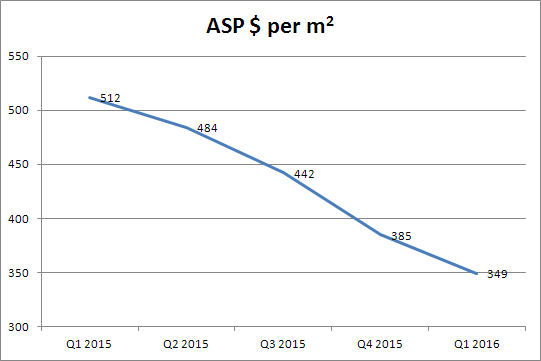 Q1 looks as though it was the bottom of the trough for the panel industry as inventories in the channel have now been cleared and there is hope that the Olympics and the Euros might help boost demand. That might help some prices to recover slightly.
AUO said in its call that demand for differentiated and premium products is reasonably good and the firm is seeing a shift to these, but the question remains as to whether the markets for premium products are big enough to support the companies that want to compete there – which is basically the non-Chinese panel makers. Although buyers often would like to buy premium products, macroeconomic conditions remain tough in many parts of the world and that will push buyers to continue to buy value products. We have seen this in some of our monitor market data. After the Euro's drop at the beginning of 2015, there was a stall in the shift to wider viewing angle technologies as buyers shifted to TN. I have heard that some of those that made the change back to TN were surprised "the colours look different". Well, at least some will learn a hard lesson about why VA and IPS are better!
In the TV market, AUO is one of only two companies that can make curved, bezel-less, GOA TV panels and that is helping to avoid simply fighting for the volume. Curved is increasing in TV share and AUO sees the technology moving towards the mainstream and AUO will extend sizes down to 43″.
The longer term question is whether there is enough demand for special, added value and differentiated products to support all the panel makers that want to supply them.
Bob