Panasonic had its usual press event on its booth and Laurent Abadie, who seems to love the 'show business' aspects of his Panasonic Europe CEO position. Abadie started by saying that Panasonic is involved in every level of communications including physical communications and transport and he said that the firm expects partial autonomous driving by 2025 and full autonomous driving in 2030.
Looking at future transport, the company has been developing Hyperloop technology and is working with the University in Munich where there is a real interest in Hyperloop technology. It took part in the recent tests in the US conducted by Elon Musk (for those that haven't been watching this technology, the idea is to develop transport systems that run in tubes in partial or full vacuums so that air resistance is eliminated as a source of resistance to motion, meaning much faster travel. Systems also use magnetic levitation to eliminate rolling resistance).
Last year at IFA, Abadie talked about a project that Panasonic had been involved in to create street lights with charging for electric vehicles. Now the firm has made a step forward with high speed connectivity, using high speed powerline networking. The technology has been used in the Baltic on the German holiday island of Usedom in the town of Heringsdorf. During the summer, there is a 3X increase in the local population and holiday makers, these days, want internet access on holiday, so the town has put Wi-fi hotspots in its lighting.
Solingen in Germany is well known for making knives and scissors. Recently, local authorities upgraded their street lighting to add pollution and air quality sensors. Emergency buttons and cameras have been put on street lights and there are also speakers for public announcements in case of emergencies. Last year, Abadie talked about the "Future Living" project in Berlin and this year, he said, the houses are nearly ready for occupation and have an Energy management System from Panasonic. Abadie then covered the heat pumps, solar cells and management systems.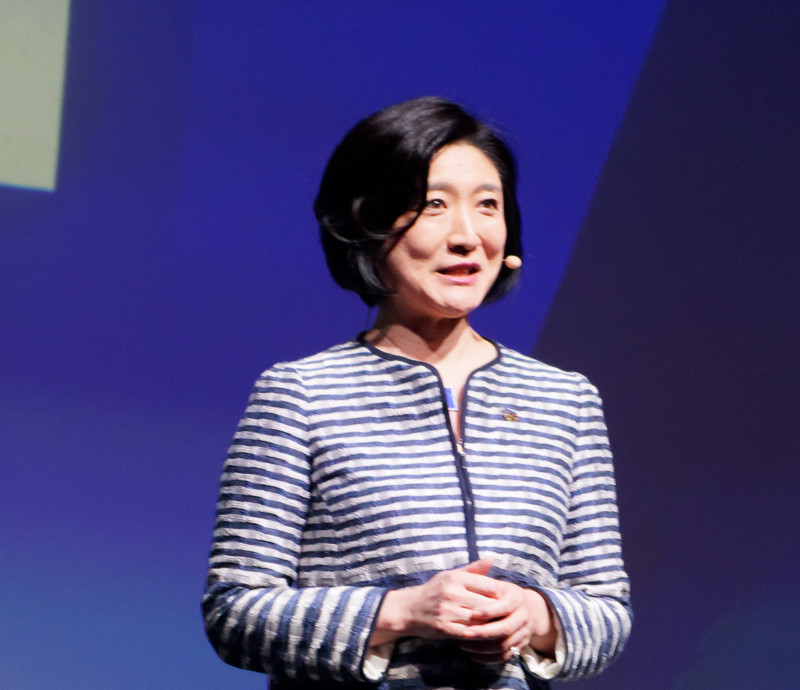 This year sees 100 years of Panasonic from 1918 to 2018. Mishiko Ogawa is a VP & CTO of the Panasonic Appliances company. She said that the first product that Panasonic made was a double light socket for ironing under electric light. Electricity was originally only in the home only for lighting and if you used an iron, you couldn't see, before this adaptor.
The company has a lot of appliances and includes cookers and air conditioning – Panasonic made the first window-type cooler. It developed other new products such as microwave ovens and home bakery appliances. These days devices are getting more intelligent and will increasingly have to work together. Panasonics TVs, smart speakers and other appliances will work with Google Assistant and Alexa for voice control.
Panasonic has the first TV to integrate into DigitalStrom and will integrated the smart speaker, GA10. DigitalStrom uses IP networking over the domestic power system to create an IoT environment.
Panasonic is supporting Low Power Wide Area (LPWA) technology which puts cellular modems in each device for connecting to local networks with no Wi-Fi pairing. The firm is conducting pilot programmes with a telco in Japan. It will do the same in Europe with Vodafone – starting with air conditioning control. Ogawa brought on an executive from Vodafone, Erik Brenneis, who said that narrowband IoT (NB IoT) is now a 'recognised industry standard'. The technology can support 10K devices per cell, with a range of up to 10 kilometres and with a 10 year battery life. Cost is said to be cheaper than other solutions. Vodafone has 74m IOT connections so far on its network and the technology is starting to be used for meters/medical/smart parking meters. "From connected cars to connected cows", he said.
Ogawa then came back on to say that Panasonic will focus its consumer design facilities in Kyoto, where traditional aesthetics can be combined with consumer research. Complexity should be hidden behind simplicity, Ogawa said. Technology should merge into the ambient. She said that Panasonic won awards in the Milano Design Award competition two years running (and only six in total are awarded each year).
Panasonic is making a big push with its 'Experience Fresh' premium kitchen appliances and which is inspired by Japanese cookery.
Finally turning to TV, Ogawa talked about the HDR10+ dynamic metadata technology which is being promoted with 20th Century Fox and Samsung and which was announced last year. Several months ago the group started a licensing programme and the technology is now available "essentially free of charge".
Ms Ogawa also said that from the end of August an HDR10+ firmware upgrade would be rolled out to 2018 UHD sets (both OLED and LCD) from the firm. Supporters from the content side include 20th Century Fox, Warner Bros and Prime Video. 20th Century Fox is looking at HDR10+ releases and Warner Bros has said that it will release all its UltraHD content with HDR10+ support. (We have noted that reviewers of Panasonic's edge-lit IPS LCD sets have pointed out that HDR performance is not great and adding HDR10+ won't help much to improve this).
Ogawa pointed out that the firm won the recent HDTV Test shoot out in the UK (Panasonic FZ802 Wins Top Prize at HDTVTest 2018 TV Shootout)
Ogawa then turned to Technics, which she has been involved with for some time. The company's new turntables have won a lot of awards. She talked about Ottava, a new brand for 'premium new technology' a and now there is an Ottava S ('Style') player which is a smart speaker with bluetooth and support for Spotify etc. It will start to sell 'soon'.
Panasonic regards the European market as especially important because of the sophisticated consumers and wants to be still in the market in another hundred years.
Booth
On the booth, the company was highlighting OLED performance and the HDR10+ technology. It had the usual demonstration of the latest technologies in very dark demo areas on the edge of the booth, including a demonstration of HDR10 vs HDR10+, but nothing that really added anything to what has been shown in recent times. The HDR10+ content did look better than the regular HDR10, on a side by side basis, but on its own the HDR10 content would also have been judged as good.