I'm not a tribal guy. When folks in the neighborhood bar scream for the New York Giants, I quietly order another glass of Cabernet. And when LG touts the superiority of OLED-TV, I can't help but observe that LG has lost a lot of money on this business.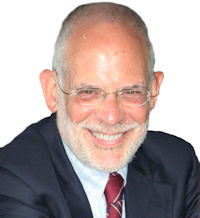 When fanboys cheer Apple's adoption of OLED displays for its top-of-the-line smartphones, I am forced to say that the initially disappointing sales left Samsung with a glut of displays in inventory. And when Samsung and LG promote the wonders of flexible OLEDs, I grumpily comment that the displays may be flexible but the phones they go into aren't.
I can't help it. When I hear hype, my natural reaction is supply a counterweight. But that doesn't mean there isn't genuinely good new in the OLED world, and, recently, there's been a lot of it.
On the macro end of things, Display Supply Chain Consultants (DSCC) forecasted in its "Quarterly OLED Shipment and Fab Utilization Report" on September 6 that OLED revenue to will grow to $50 billion in 2022, nearly double the $26 billion of 2018 (Fig. 1). DSCC also forecasts that flexible OLEDs will grow 32% over the same period.
Fig. 1. Revenues from AMOLED displays are projected to nearly double from this year through 2022. (Data and graphic: DSCC Quarterly OLED Shipment and Fab Utilization Report)
The dominance of smartphones as the primary driver of OLED display revenue will decline modestly from 86% in 2018 to 75% in 2022 because of declining prices and more rapid growth in other applications. DSCC expects OLED-TV revenues to grow 62% and quantum-dot OLED TVs to grow in 82% over the period.
Wait! What was that? Quantum-dot OLED TVs? This is new to me. Would DSCC's Bob O'Brien like to wade in here?
DSCC also projects that rigid and flexible OLED smartphone displays will overtake LCDs as prices decline. Maybe, but DSCC's figures show that rigid 6-inch OLEDs have a 50% price premium over 6-inch LCDs now (Q4'18), a percentage that has not changed since the beginning of 2017, although both prices have declined. The premium for a flexible 6-inch OLED over an LCD is currently $60 (Fig. 2). That gap will surely shrink, but will it shrink enough to make smartphones with flexible OLED displays anything other smartphone Bentleys for the foreseeable future?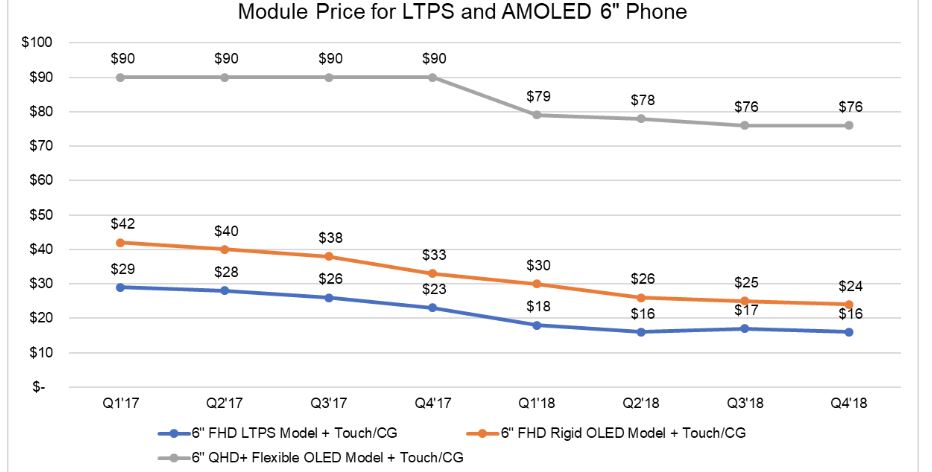 Fig. 2. Currently, a rigid 6-inch OLED display costs 50% more than an LCD, while a 6-inch flexible OLED commands a $60 premium. (Data and graphic: DSCC Quarterly OLED Shipment and Fab Utilization Report)
Speaking of Bentleys, D. J. Koh, the CEO of Samsung's mobile division, said on September 4 that his division will introduce a foldable smartphone at the Samsung Developers Conference in November. According to Koh, the company is working on how to make the phone, when not folded, distinct from a tablet. But isn't the whole point of such a device to combine the functions of a phone and tablet in a single device, so you don't have to carry both of them?
Almost from the moment Hon Hai Precision Industry purchased Sharp, there were rumors that Hon Hai CEO Terry Gou was pressing Sharp executives to manufacture OLED displays. In October 2016, the company said it would invest $570 million to build in pilot lines. In Q1'18 the company said it was initiating production of flexible OLED displays for its own smartphones. In August 2018, according to Digitimes, Sharp's Executive VP Katsuaki Nomura said that volume production of OLED displays was initiated in June and that Sharp will begin shipping Aquos OLED smartphones in Q4'18. To be sure, charts of the global market shares of smarphone makers generally list the first five or six, and then bury Sharp well down in "others." But the company makes between 5% and 10% of smartphone displays (LCD up until now), so its display activities are significant for the industry as a whole.
OLED manufacturing is accelerating. The folks at Universal Display Corporation must be very happy. – Ken Werner
Ken Werner is Principal of Nutmeg Consultants, specializing in the display industry, manufacturing, technology, and applications, including mobile devices, automotive, and television. He consults for attorneys, investment analysts, and companies re-positioning themselves within the display industry or using displays in their products. He is the 2017 recipient of the Society for Information Display's Lewis and Beatrice Winner Award. You can reach him at [email protected].