Nvidia has been steadily investing in and expanding the capabilities of its Shield product line, combined with the Grid server system. The original product, the Shield Portable, which is a game controller with an attached screen, was a kind of "toe in the water" for Nvidia to enter into the consumer electronics business. The next product was the Shield Tablet, which also was a consumer electronics product, but Nvidia shared it with its partners (e.g., EVGA).
Last week at GDC in San Francisco, Nvidia unveiled its latest Shield product, the Shield Console, an Android TV-like device with a game controller and an optional remote control stick (like Apple's Apple TV controller, only black instead of silver).
Nvidia has also set up an Nvidia game store with over 50 games, and users will be able to sign up for a subscription (price TBD, but obviously it will be in line with Amazon and others). For an easy comparison, you could say Nvidia's Shield console was like Amazon's Fire TV.
However, Nvidia has been nibbling at milliseconds since it brought out the first Shield Portable, and the differentiation between Nvidia's Shield console and all other Android TV/consoles will be response time, latency and throughput – Nvidia's will be faster. One of the reasons is because it controls both ends of the pipe – the server and the client.
The company has been, and is, also working very closely with the game developers, and is reporting lots of favorites as well as new games. These games will run at an honest 4k and even better at HD.
The cabinet is lovely to look at with sharp diagonal lines, and multi-reflective surfaces and is about the size of a thin book, 8 x 5 inches, and 1 inch thick.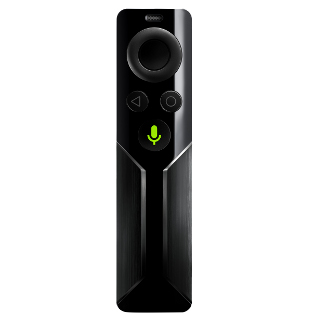 The system, which sells for $199, comes with the Shield processor cabinet (specs below), a stand for it, a game controller and a power supply. The optional TV controller is $30. The stand by the way, has an amazingly sticky nano surface on the bottom and once you put it on a flat surface like a table, it's hard as hell to pull off. The cabinet slips neatly and firmly into the stand.
In the demo I got at Nvidia's facilities in Santa Clara, the system was very responsive and I even asked where the server was, assuming it had to be in the room. I was told it was in Seattle. That was a surprise because it was so fast – there was no noticeable latency, no sound mis-sync, and it was driving a full 4k screen wirelessly (the system uses 802.11 a/c).
Nvidia Shield Specifications
Processor
Nvidia Tegra X1 processor with 256-core Maxwell GPU with 3GB RAM
Video Features
4k Ultra-HD Ready with 4k playback and capture up to 60fps (VP9, H265, H264)
Audio
7.1 and 5.1 surround sound pass through over HDMI
High-resolution audio playback up to 24-bit/192kHz over HDMI and USB
High-resolution audio up-sample to 24-bit/192kHz over USB
Storage
16 GB
Wireless
802.11ac 2X2 MIMO 2.4 GHz and 5 GHz Wi-Fi
Bluetooth 4.1 /BLE
Interfaces
Gigabit Ethernet
HDMI 2.0
Two USB 3.0 (Type A)
Micro-USB 2.0
MicroSD slot (supports 128GB cards)
IR Receiver (compatible with Logitech Harmony)
Gaming Features
Nvidia Grid streaming service
Nvidia GameStream
SW Updates
Shield software upgrades directly from Nvidia
Power
40W adapter
Weight and Size
Weight: 23oz / 654g
Height: 5.1in / 130mm
Width: 8.3 in / 210mm
Depth: 1.0in / 25mm
Operating System
Android TV, Google Cast Ready
Bundled Apps
Plex
In the Box
Nvidia Shield
Nvidia Shield controller
HDMI cable (high speed), USB cable (Micro-USB to USB)
Power adapter (includes plugs for North America, Europe, UK)
Requirements
TV with HDMI input, Internet access
Options
Shield controller, Shield remote, Shield stand
Source: Nvidia/JPR
What do we think?
This product marks a major step for Nvidia, one it has been building toward for decades, and that is to be a full service consumer electronics company. Nvidia has been saying for a few years now, "We are not a semiconductor company". The Grid, Telsa, Quadro and other products are ample proof of that. Yes, it does sell semiconductors and the company also sells components (like the recently announced automotive subsystems). But it really wants to be like Apple. And with the Shield console and its ecosystem, the company is one step closer to doing that. The main difference between Apple and Nvidia (other than size) is that Nvidia uses a freely available OS. Nvidia sees that as an advantage in that it can leverage all the app development work, the APIs, and the OS itself, and not have to carry the expense of doing all that work.
The new console is truly delightful, and I'm looking forward to getting one. – Jon Peddie