CES 2018 isn't the only major trade show affecting Display Daily readers this month, although you might think it is from the CES media blitz. The National Retail Federation (NRF) is holding what they call Retail's Big Show in New York on January 14 – 16 at the Javits Center in New York, just after the close of CES.

Entrance to the 2017 NRF Big Show (Credit: M. Brennesholtz)
The CES and NRF shows complement each other and have almost no overlap of exhibitors or attendees. The CES exhibition has literally thousands of products containing displays that target consumers including televisions, smart phones gadgets, cars, etc. You name it: if it targets consumers and contains technology, it will be at CES. The NRF exhibition has literally thousands of products that contain displays and target the retail industry including digital signage, point-of-sale terminals, robots for retail, "endless aisle" systems to extend the brick and mortar shopping experience into the virtual domain, etc. There are also a lot of non-display related exhibits, most notably companies selling their "Big Data" solutions for retail. If it contains technology and targets the retail industry, it will be at NRF.
OKPOS Point of Sale Terminals at NRF 2017 (Credit: M. Brennesholtz)
While the NRF show isn't as big as CES, it isn't small, either. 35,000 attendees are expected, representing 18,000 different retailers and 3500 companies. All these attendees are there to visit the 600+ exhibitors. Although it's called the "National" Retail Federation, don't let that fool you into thinking it's a US-only show – attendees and exhibitors will be coming from 95 countries.
While CES and the NRF's Big Show target different industries, much of what is at both shows is driven by the same forces. The Internet of Things. Artificial Intelligence. Big Data. Advanced wireless systems, including 5G. 4K and higher resolution displays. The rise of VR and AR.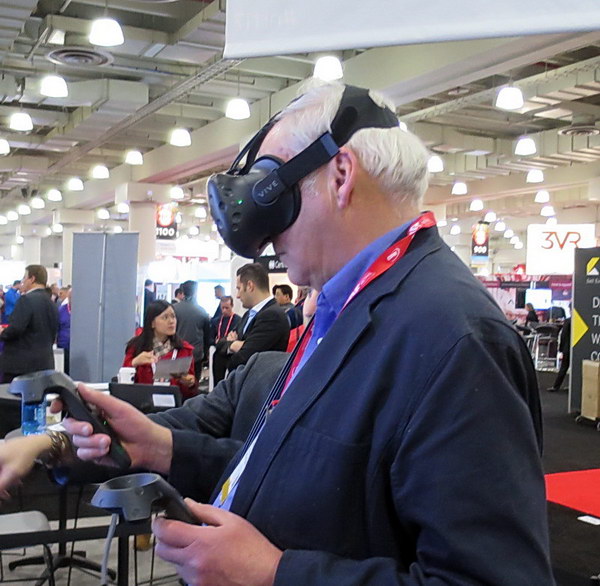 Trying VR in a retail environment at NRF 2017 (Credit: M. Brennesholtz)
Big corporate names will be there. For example, the Chairman's Circle Sponsors are American Express, IBM, Microsoft, SAP and Toshiba. The "featured Speaker," i.e. keynote speaker, will be Doug McMillon, President and CEO of Walmart, talking about "The Changing Face of Retail."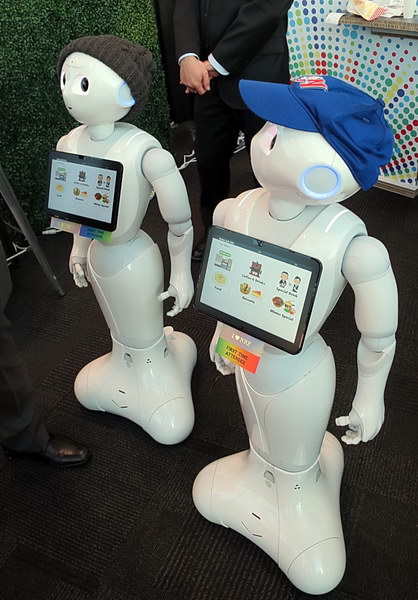 OPOS Robots for greeting retail customers at NRF 2017 (Credit: M. Brennesholtz)
As everybody knows, or should know, the face of retail is changing and changing rapidly. Amazon and other on-line retailers are causing the decrease (but not yet and probably not ever the demise) of retail sales in brick and mortar stores. While the NRF still concentrates on brick and mortar stores, there is plenty of evidence these stores, and vendors supplying technology to them, are adopting to these changing conditions. While Amazon doesn't have a booth at NRF 2018, Amazon Web Services (AWS) does. Many people don't realize that AWS is the biggest cloud computing company in the world, not only now, but for the last 10 years as well. Even more don't realize that (as of Q1 2016) AWS provided Amazon with 56% of its total profits. Number 2 and 3 in the cloud computing business are Microsoft and Google respectively, and both of them will have booths at the NRF was well.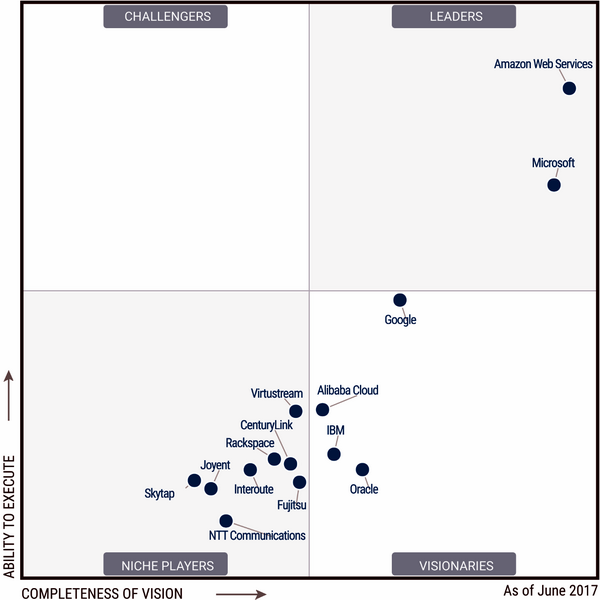 Amazon Web Services leads the cloud computing pack. (Credit: Gartner Inc., June 2017)
These cloud computing services provide a lot of help to the retail industry. For example, AWS says it provides services to the retail industry that include big data, data mining & warehousing, e-commerce, enterprise resource planning (ERP), in-store analytics, logistics, multichannel, order fulfillment systems, POS systems integration and retail technology solutions.
Besides the exhibition, the NRF Big Show provides a long list of programs and talks with speakers from A to Z. For example, Lee McCabe, North American VP of the Alibaba Group will give a talk titled "Designed in China: Alibaba and the future of retail" and Shan-lyn Ma, CEO and Founder of Zola.com, will be on a panel titled "On the eve of disruption: Meet next-gen retailers on the rise."
Celebrities flock to CES and I saw a CES press release listing 25 by name including basketball star Shaquille O'Neal at the Ring booth (42525) and North America Scrabble Champion Will Anderson at the ITRI booth (25611). While the retail industry may not be as sexy as consumer electronics, it is, in fact, a major consumer of displays of all sorts from hand-held POS terminals to giant digital signage installations. Subscribers will see a complete report on the show later in January. –Matthew Brennesholtz