Rajeev Suri, CEO of Nokia, confirmed the company's plans to re-enter the smartphone market at MWC. This did not come as a huge shock, of course – we have been reporting on rumours to the same effect since last April (Rumour: Nokia Getting Back into the Phone Business?)!
Suri implied that Nokia will license its name to other companies, rather than making the phones itself. However, he did tell reporters, "We want to be in a position to design the devices in question with appropriate control measures in case they don't meet expectations".
There is "no rush" to get back into the smartphone market. "It could happen in 2016, it could happen later", Suri said (considering that Nokia is not allowed to use its own brand name on a smartphone until Q4'16 at the earliest, we'd bet on 2017 for a market entry – TA).
Nokia's stand was dedicated mainly to infrastructure. We saw several interesting 5G demonstrations, including a 'stadium'. In this, a semicircle of phones was set up and receiving live video from a single phone pointing to the centre of the space. Half of the phones were receiving video over a simulated 4G network, and half over simulated 5G – the idea being that an operator could provide a live stream of a sports event for people sitting in bad seats. Latency in such an application would be very harmful, as the crowd would react before an action appeared on-screen.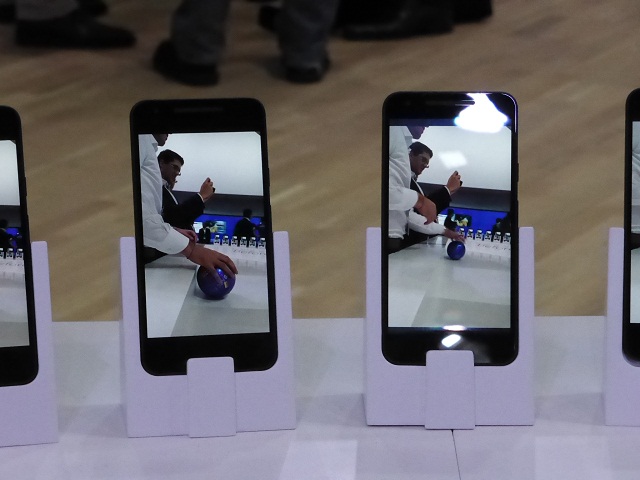 Nokia's 5G stadium demo. The 4G phone is on the left and the 5G model on the right.A trial of a 4G multi-cast system, like the one described above, took place in Wembley Stadium recently. 250ms of latency was recorded. Nokia artificially introduced 500ms of latency to the 4G phones. The 5G models, meanwhile, had just 2ms of latency (although decoding also added a small amount). The result was that actions appeared almost instantly on the 5G phones, but with 2+ seconds of delay on the 4G phones.
5G, unlike 4G, is not being built specifically as a mobile data system. It will have many other applications, such as machine-to-machine communications. In another area of Nokia's stand, we saw a demonstration of toy autonomous cars 'driving' in a figure of eight on a track. When one car was stopped, i.e. because of an incident (simulated by putting a hand in front of one car), it would communicate with the others; they would slow down or stop, depending on where they were on the track.
Nokia was also showing its Ozo 360° camera (Nokia Announces Ozo VR Camera for Professional Users). The combination of very high-resolution (8k) video, 360° audio and accurate colour (10-bit and sRGB) made for a very immersive viewing experience – enough that I experienced some motion sickness, for the first time ever while using a VR headset!