In a rather nondescript pipe and drape booth at the SIGGRAPH VR Village earlier this month two Google employees sat under a – well, cardboard sign that simply read Google Cardboard. It is evidence of the latest initiative by the search engine behemoth to establish a beach head in the nascent VR – AR (Virtual Reality, Augmented Reality) space that some see as the next technology wave, particularly in education and gaming.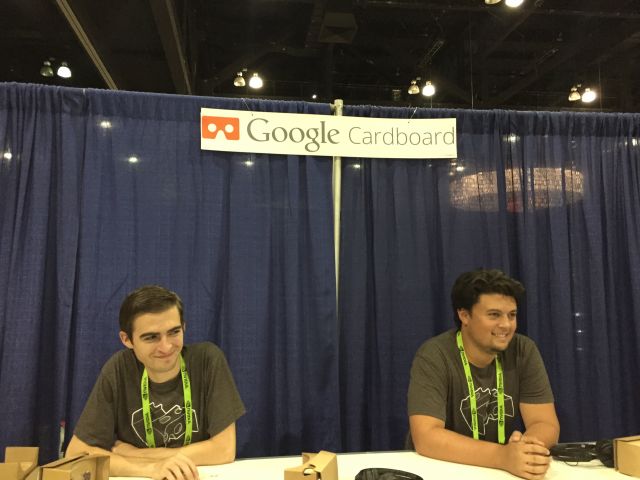 Google's cardboard initiative is well documented as an ingenious, low cost way to disseminate 3D content that somewhat simulates a VR experience. The do-it-yourself virtual reality headset is assembled in minutes from mostly cardboard, a magnet and some very inexpensive optics, plus your smartphone running the App. Content comes from many sources including YouTube, and Google is supporting an initiative called Expeditions offered to schools that "bring students to places a school bus can't" according to the Google/edu/expeditions web site.
Google in education is nothing new for the company as its suite of applications for education is broad and diverse. This includes tools, devices (like Chromebook, and now cardboard) and content.
Google in ED
The company already supports a well honed group that is helping communities push the boundaries of education as the field (particularly research) continues to evolve around the Internet (and more importantly to Google, search engine technology). Google points out that the web extends learning beyond the classroom (i.e. project Expedition), and offers a differentiated learning experience available no other way. This includes the pace and modality at which each student learns best. Think web based video, text and interactive drill/testing, all ways to enhance the learning experience. Beyond this, the web offers expanded breadth of learning opportunities, anytime access to knowledge, as well as expanding access to the larger community of parents, and other stake holders. (Anytime access to a student's progress, communication with teachers, etc.) Perhaps the most compelling reason for Google to be in this space, and for education to be looking in this direction, is that working with technology has become the norm so this approach to education prepares kids for their careers.
In short, VR is really an extension of what Google has been doing in education for quite some time. For VR content, Google is relying on its tried and true developer network to create next generation applications, and the list is growing.
Some VR Games at SIGGRAPH
Other key areas that will help usher in virtual reality include gaming apps, and beyond Expedition, examples include an app from Otherworld Entertainment called Sisters that was also shown at SIGGRAPH. It's a creepy (OK horror) simulation game that has you in a thunderstorm with 360-degree viewing, black-outs from the thunderstorm and other experiences to creep you out. The game is proving to be quite popular and in April 2015 surpassed 100K downloads on Google Play alone. Now it's ranked by TechRadar as one of the top 10 VR apps on iPhone (Yep- horror sells.)
On the more benign side, a third company at SIGGRAPH, Vancouver, BC based Archiact was passing out the disposable cardboard device with links to its latest Lamper VR, a Firefly Rescue game that first launched on the Samsung Gear VR, then on Google Play and Apple App stores. Archiat is a self-described full service VR studio that develops VR experiences for clients that include games, publishing and specific B2B or B2C solutions.
We see the presence of Google at the SIGGRAPH (and in the VR Village in particular) as a telling sign the company is looking to extend its presence in the VR space, first perhaps through education then the sky's the limit. For Google it's not really about getting out it's low cost cardboard device, and trends were evident that the space is moving beyond disposable cardboard accessory into affordable goggles like Mattel's new VR View-master. Make no mistake AR and VR are here to stay and life will likely never be the same, yet again. – Steve Sechrist