On the 57th floor of World Trace Center 4, Acer held on April 21 [email protected], a standing-room only global press conference and product exhibition. Jason Chen, President and CEO of Acer since Jan 1 2014 when he was appointed to over see the transformation of Acer, hosted the press conference. Previous to Acer, Mr. Chen had held positions at TSMC and Intel.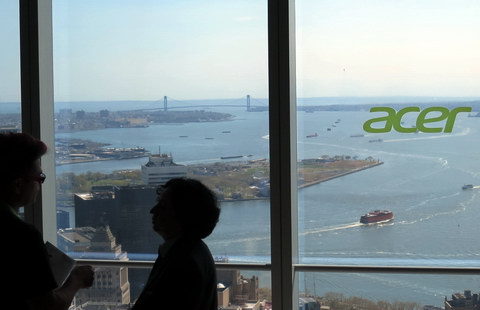 The complete press conference was streamed live and recorded for on-line viewing. It is available both on the Acer website and YouTube. The first 2:18 of the 1 hour [email protected] video is a pre-recorded clip showing Acer's history in the mobile computer business. The live portion of the press conference with Mr. Chen begins after this clip.
The press conference celebrated the 40th year since Acer's founding in 1976. Acer is best known in the US and Europe as a consumer electronics company, but its sales in the commercial arena are increasing. They have gone from about 33% of Acer's world wide sales in 2013 to about 38% of sales in 2015. In some regions, especially India and China, a majority of Acer's sales have been commercial rather than consumer.
A number of new Acer products were introduced at the press conference and discussed at least briefly by Mr. Chen and his colleagues, including men from Nvidia, Intel and Microsoft as well as Acer.
Chromebook 14 for Work – This is Acer's first Chromebook compliant with Google's Chrome for Work initiative. Acer says this is the fastest Chromebook on the market and it features an Intel Core i processor (i3, i5 or i7). The Chromebook was designed for durability and it is the world's first notebook with a Vibrant Corning Gorilla Glass case and a spill-resistant keyboard.
The unit adheres to the notebook computer Military Standard (MIL-STND 810G). The military standard calls for testing eight parameters: drop from the height of 48 inches (122 cm), high temperature, low temperature, humidity, vibration, rain, sand and dust. It also boasts 12 hours of battery life. The Gorilla Glass is actually part of the case of the Chromebook 14 and not laminated to a metal case. This glass can have corporate logos, images or other designs ink-jet printed on the back side of the glass, leaving the easily cleanable and scratch resistant Gorilla Glass as the outer surface. The panels are not interchangeable and the design must be chosen before the Chromebook is assembled.
While Acer was showing a variety of designs and provided a sample of printed Gorilla Glass as part of the press kit, they are not yet ready to supply custom orders. Only the Chromebook 14 for Work includes the Gorilla Glass panel, the regular Chromebook 14 has an all-metal case. The Chromebook 14 for Work weighs 3.2 pounds (1.45kg) and measures just 13.0W x 8.9D x 0.88H inches (330.9 x 227 x 22.4 mm). The 14" display has a narrow bezel and allows the overall size of the Chromebook to be minimized. The display is available in Full HD (1920 x 1080) or HD (1366 x 768) resolution. Several models in the Chromebook 14 for Work line (CP5-471) will be available in May starting at $349 in the United States and €249 in EMEA.
There is also an optional USB Type-C dock to extend the capabilities of the unit. Among other things, the dock contains connections business users need, including DisplayPort, HDMI, two USB 3.1 Type-C ports and three USB 3.1 Type-A ports, audio input for a microphone and audio output for speakers.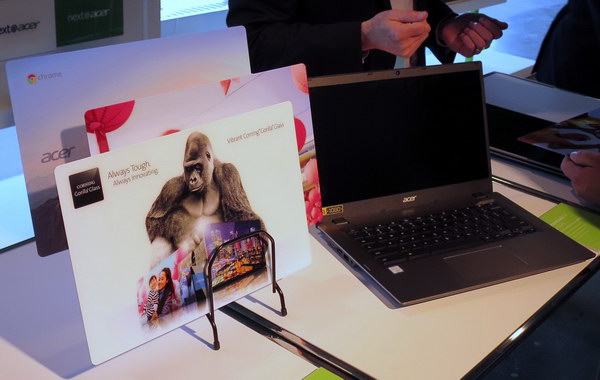 Acer Chromebook 14 for Work with sample Vibrant Corning Gorilla Glass panels
Switch Alpha 12 – This 2-in-1 notebook is liquid-cooled for reliable and silent operation with no fan or liquid pump required. The system uses a heat pipe and what Acer calls "LiquidLoop" technology. According to Acer, it's the industry's first fanless 2-in-1 notebook to use a 6th Generation Intel Core i processor. It features a versatile kick-stand design, a 12-inch 2160 x 1440 display and an optional backlit keyboard. According to Mr. Chen, the 2-in-1 market is very fast growing and in 2015 had grown to 42 million units per year. He added that Acer currently is number 2 world-wide in market share.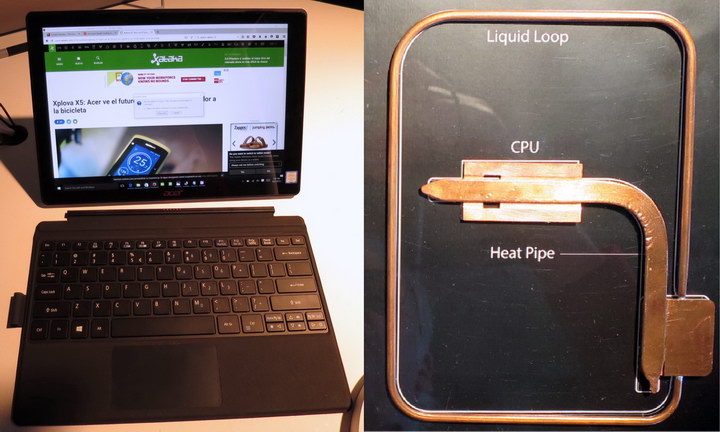 Acer Switch Alpha 12 with its keyboard detached and the LiquidLoop technology which allows fanless operation
Predator 17X gaming notebook – This notebook is specifically designed for gamers and brings overclocking and desktop-grade performance to mobile gaming. With the heat produced by the high performance CPU and GPU, a passive cooling system such as the LiquidLoop used in the Switch Alpha 12 wasn't an option. Instead, the 17X has a custom triple-fan cooling system to ensure the system doesn't overheat. Acer says "it delivers an uncompromising combination of power and portability." The 17X is equipped with a Nvidia GeForce GTX 980 graphics processor, an Intel Core i7 CPU and comes standard with a 17.3" FHD (1920 x 1080) IPS display. Optionally, a 4K (3840 x 2160) IPS display is available. Battery life is said to be 3 hours. Performance comes with a price – this notebook weights 10 pounds (4.55 Kg). The Predator 17X will be available in North America in June with prices starting at $2,799; in Europe in June with prices starting at €2,499; and in China in May with prices starting at ¥39,999.
Predator G1 gaming desktop – This small and transportable PC is designed for gamers and Acer says it is 'perfect for LAN parties'. It includes a full-sized Nvidia GeForce GTX graphics card (up to Titan X), 6th Generation Intel Core processors and up to 64GB DDR4 RAM. A custom aluminum-shelled wheeled suitcase is available for it and one will be given free to the first 1000 buyers. The Predator G1 desktops will be available in North America in July with prices starting at $2,299; in Europe in June with prices starting at €1,199; and in China in July with prices starting at ¥10,999.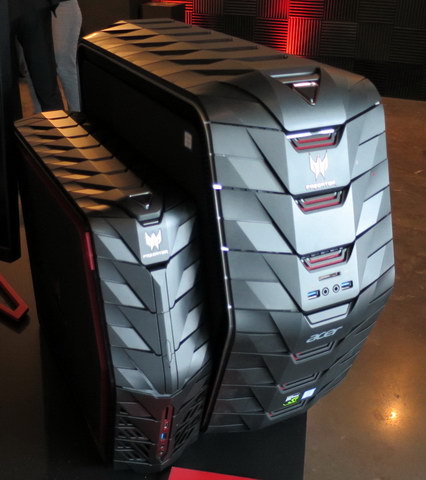 Predator G1 (left) compared to the previous G6 (right)
The Predator 17X and the Predator G1 both come with high-end Nvidia graphics processors. During the press conference, Jason Paul, General Manager of Virtual Reality at Nvidia, said that virtual reality requires about 7x the throughput from the graphics processor compared to normal computer games (PC gaming: 1920 x 1080 @ 30FPS = 60MP/S, VR: 3024 x 1680 @ 90FPS = 450MP/S). He said the GTX 980 used in the Predator 17X notebook was actually designed for a desktop system and is the only graphics solution usable in a mobile computer that provides this throughput. In the demo area of [email protected], the Predator 17X and G1 were used to drive four different VR headsets from Oculus, HTC, OSVR and StarVR. (See the separate article on this demonstration. Four VR Headsets Compared at [email protected])
Predator Z1 series monitors – Acer's first curved 27-inch gaming monitor features Nvidia G-Sync technology and numerous other features. The Z1 series will be available in 27" (1920 x 1080, 16:9, 144Hz), 30" (2560 x 1080, 21:9, 200 Hz) and 31.5" sizes (1920 x 1080, 16:9, 144Hz) sizes. All have VA panels with 4mS response and a 1800R curvature. The Predator Z1 monitors will be available in North America in June with prices starting at $599; in Europe in June with prices starting at €599; and in China in May with prices starting at ¥4,999.
Predator Z850 projector is intended for gamers, like the rest of the predator line. It is an ultra-short throw (0.25:1) single panel DLP projector with UWHD (1920 x 720) resolution and a 24:9 aspect ratio. The lens is designed to produce a 120" image at 47Cm. The laser-phosphor design produces 3,000 ANSI lumens (2400 Eco) and has a lamp life of up to 20,000 hours (30,000 Eco). This $5000 projector was not introduced at [email protected] but had been introduced earlier in April (Acer Brings Laser to Gaming) and was demonstrated at [email protected]. It is available now.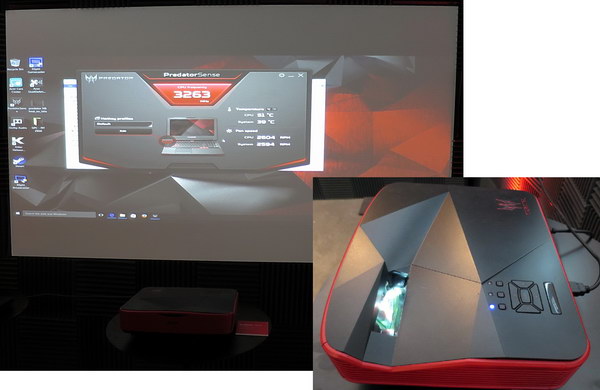 Acer Predator Z850 projector
S 13 ultrathin notebook – This notebook is sleek, angular and lightweight at just 3.13 pounds. It is packed with performance and features for work and play. With a wallet-friendly starting price of $699, it is available in Obsidian Black and includes 6th Generation Core processors, Full HD IPS displays (touch screen optional), and offers up to 13 hours of battery life.
R 15 convertible notebook – This newly designed ultra-thin convertible offers an excellent blend of design, usability and performance. Its metal lid pairs with a body made of a glass fiber and silver particles to improve rigidity while maintaining a thin profile. Depending on model, it includes 6th Generation Intel Core processors, up to 12GB DDR4 memory, up to NVIDIA GeForce 940MX graphics and a 15.6-inch FHD IPS display.
The Xplova X5 – This is said to be the industry's first cycling computer with video recording capabilities. Xplova was founded in 2008 by cycling enthusiasts and was acquired in 2015 by Acer. The touchscreen transflective color display on the X5 can be used in a variety of modes, including a dashboard mode showing speed, distance, heart rate (with a bracelet), etc.; a map mode showing your pre-planned route and uses the built in GPS to show where you are on the route; and a video mode for display and simple editing. The X5 is waterproof (IPX7) and has a 16+ hour battery life, in part enabled by the low-power transflective display. Previously, cyclists had to control cameras manually and either leave them on for the entire ride, resulting in hours of video, or had to control them manually, distracting the cyclist at critical times which was a safety hazard. The X5 uses "Smart Video" and can automatically turn itself on according to pre-programmed criteria. These can include heart rate, cycle speed or GPS position. This last allows you to pre-program video for what you expect to be the most interesting parts of your ride. The Xplova X5 will be available in Q3. Price has not been announced.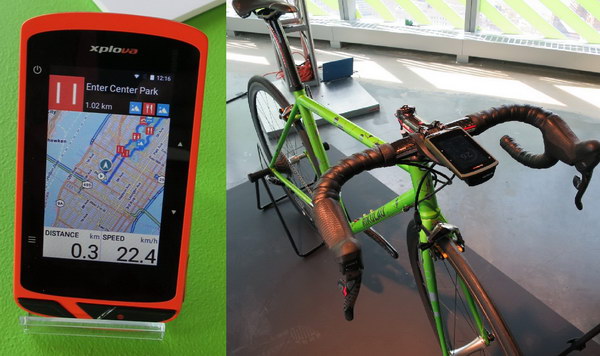 Explova X5 bike computer in map mode and mounted on a bike. The X5 needs to be mounted horizontally so the 720p camera points straight ahead.
Other products introduced at [email protected] and shown in the demonstration area but not discussed by Mr. Chen included:
F 15 Consumer Notebook is said by Acer to be the perfect blend of style and performance for everyday use. It has been updated to include all new premium-finish metal covers available in five colors. It also features 6th Generation Intel Core processors, up to Nvidia GeForce GTX950M graphics with GDDR5 VRAM, and DDR4 RAM)
E14/15/17 Consumer Notebooks were refreshed with seven color options, and are now equipped with 6th Generation Intel Core processors. They also have upgraded graphics processors, with the highest end using the Nvidia GeForce GTX950M graphics with GDDR5 VRAM, and DDR4 RAM.
ES 15 Consumer Notebook was refreshed with the latest 6th Generation Intel Core processors and three new colors.
TravelMate P658 Commercial notebook was introduced. It comes with either Windows10 or Windows 7 Pro 64-bit. Two displays are available: 15.6″ FHD IPS (1920 x 1080) or HD (1366 x 768). Connectivity includes a USB 3.1 Type-C port with ThunderBolt 3 support; three USB 3.0 ports, one with power-off charging; and WiGig technology for high performance wireless data transfer. In addition to the TravelMate P658, there were a number of new commercially-oriented accessories announced, including the ProDock Wireless, ProDock3, and USB 3.1 Type-C Docking Stations.
F7 Series Large Venue Projectors were introduced. These DLP units are intended to be professional installation projectors and use five interchangeable lenses along with horizontal and vertical lens shift to optimize the image on the screen. There are three F7 series projectors, WUXGA (F7600), 1080p (F7500), and XGA (F7200). The F7200 is 6000 lumens (4800 Eco) and the other two models are 5000 lumens (4200 Eco for the F7500, 4400 for the F7600) with a lamp life of up to 3,500 hours in the Eco mode. They all support industry-standard input options such as RGBHV (5-BNC), DisplayPort, HDMI, and DVI-D. The F7 series projectors will be available in EMEA in June with prices starting at €2,999; and in China in June with prices starting at ¥79,999.

Acer F7200 and its interchangeable lenses on display at [email protected]
In addition to these newly introduced products, Mr. Chen discussed the latest Acer smartphones and their connectivity options and technology. These smartphones and a wide variety of other Acer products were on display in the demonstration area. –Matthew Brennesholtz