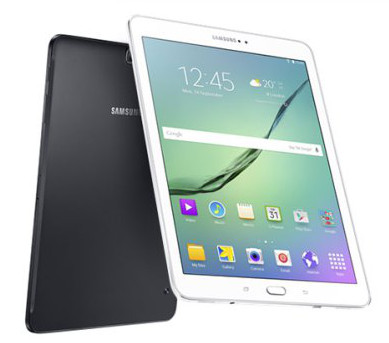 Samsung has announced the Galaxy Tab S2 which is available in two sizes (8″ and 9.7″ diagonal). As with the Tab S, the display has an OLED display, but with lower resolution at 2048 x 1536 (3 megapixels) rather than the 2560 x 1600 of last year's Tab S. The new tablet is just 5.6mm thick, compared to 6.6mm last time and 6.1mm for the iPad Air. The display is said to have 94% of AdobeRGB coverage.
The tablet includes a touch-enabled fingerprint scanner which just uses a press against the home key (the S needed a 'swipe'). The processor is an octacore device with quad 1.9GHz (A57) and quad 1.3GHz (A53) cores, similar to last year's model, but using the Samsung Exynos 5433 processor and a Mali T760MP6 GPU. There will be versions with mobile connectivity as well as Wi-Fi. Internal flash memory has been boosted to 32 or 64GB while RAM stays the same at 3GB. Video processing is boosted to 1440p at 30Hz, compared to 1080p. The battery capacity drops from 4900mAh to 4000 in the 8″, from 7,900 mAh to 5,870 for the 9.7″.
Cameras have the same specification as last year's model at 8MP at the front and 2.1MP on the rear. The software is quoted as Android 5.0 (Lollipop), without the previous Samsung front end.
While the tablet has microUSB, the MHL support has been dropped from the new model.
Availability will be from August. Pricing will be:
Galaxy Tab S2 8.0 Wi-Fi: €399
Galaxy Tab S2 8.0 LTE: €469
Galaxy Tab S2 9.7 Wi-Fi: €499
Galaxy Tab S2 9.7 LTE: €569
Separately, Samsung has announced the Galaxy A8 smartphone, which has a 5.7″ FullHD (386ppi) AMOLED and is said to be the thinnest Samsung phone to date at 5.9mm. The Android 5.1 phone uses an eight core Qualcomm Snapdragon 615 8939 (A53/Adreno 405) with 2GB of memory and 32GB of flash. Initially it looked as though the phone would be released in China, but Korea and Germany have also been mentioned in reports.
Analyst Comment
This is quite a minor renewal. The resolution of the display has gone down, which has, presumably, helped with the power consumption, which has also allowed a smaller battery. My own tablet is a Galaxy S 8.4″. I bought it because I couldn't resist the display – it's fantastic. However, whether I would see a significant difference in performance between the two models, I don't know. I can't say that I have thought that the tablet needed to be thinner, although slightly lighter when used as an eBook it might be an advantage. (BR)