NEC's stand was once again arranged by application area, with sections dedicated to broadcast, shopping, education, public displays and more. The focus was on high brightness, high resolution and outdoor displays. Because large screens are getting better, broadcast is a new area for NEC. However, new products were in short supply – most models were developments of existing units.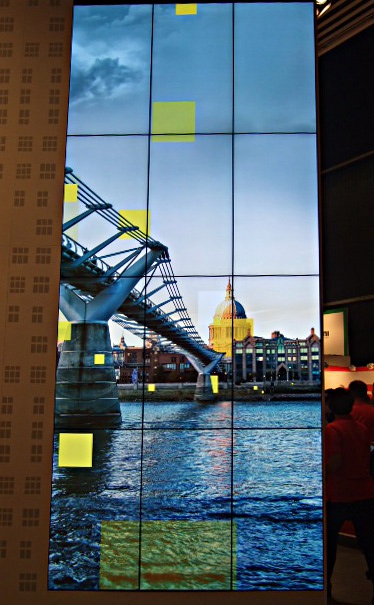 A 46″ ultra-narrow bezel (3.5mm) unit will be released in March, supplementing the 55″ X554UNS already available (Display Monitor Vol 21 No 5). In addition a large high-brightness LCD display will be released in the summer, similar to the 47″ X474HB (New Brightness Level Achieved by NEC) that arrived last year.
The company will add a 65″ UltraHD LCD model in March, with a 55″ following in the summer; it is also now shipping the X981UHD display. Baanto's Shadowsense touch was being shown, and is able to be applied to all of NEC's P- and E-Series displays, we heard.
NEC has been manufacturing 10mm LEDs for some time. On the stand it was demonstrating a 2mm product, for indoor use in applications including broadcast. Unfortunately, no more information was available on this display. There was a special demonstration of the 2mm LED being used as a background for a broadcast studio, with the wall being filmed in UltraHD and shown on an NEC UltraHD monitor.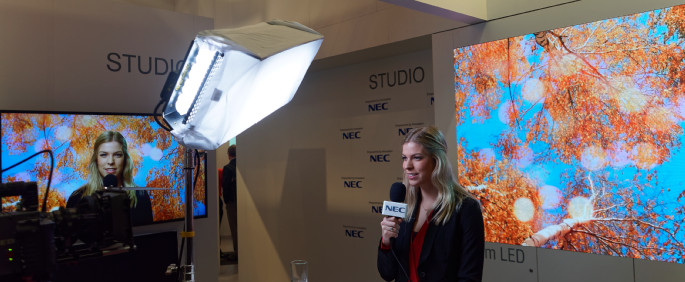 The NEC 2mm LED display was used as the background on an UltraHD recording.
NEC was one of the companies that was showing a 55″ transparent OLED – but NEC had it in a private suite and not on public view.