Two years ago, Arthur wrote an article about Mojo Vision (Small Thinking at Mojo Vision May Lead to Big Developments in AR). Since then we've mentioned the firm a few times, but the DSCC VR/AR event was the first chance that this writer has had to cover the firm.

At the time that Arthur wrote about Mojo Vision, he suggested that its microLED might be used in contact lenses. At the recent DSCC AR/VR conference event, Naamah Argaman, Sr. Director of Display Product Management, discussed the firm's plan for augmented reality contact lenses. Every firm likes to make its displays or AR glasses less 'clunky' but Mojo Vision wants to make its contact lenses 'invisible'. Argaman started by showing a video of a use case – in this application the user was using information on the contact lens to support a run – with the device showing various items of data.
The Mojo lens consists of four different layers. There's a basic contact lens and behind that is a 'cosmetic iris' to hide the Mojo hardware. The Mojo lens display is on the next layer with the power, sensors and communication components including an RF radio. Behind the lens, there is an option for a prescription lens to meet the function of a regular contact lens.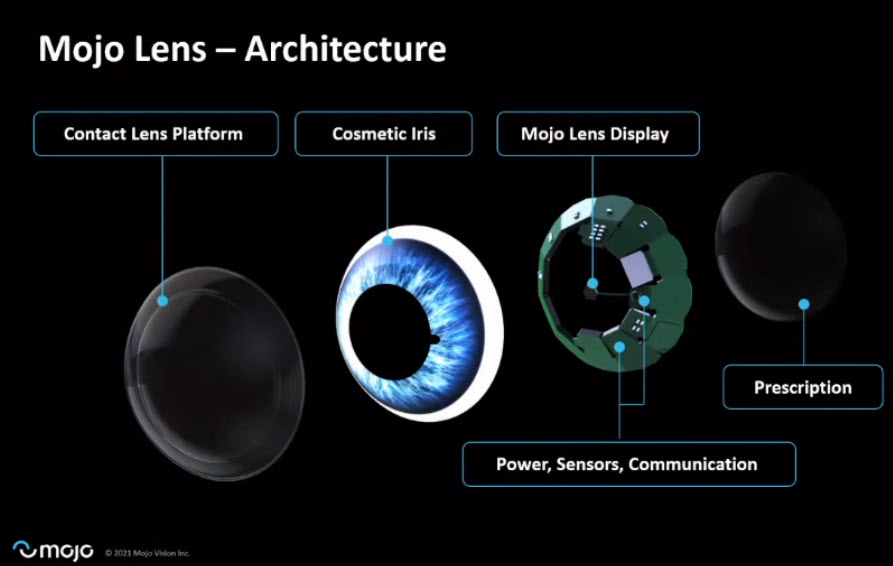 The display is very tiny – just around 0.45mm across. The company chose microLED as its technology of choice to provide efficiency as high as possible and the firm has made a device with 14K ppi in green with 'usable quantities'. However, it is looking to push this up to 28K ppi. By my calculation, if the display stays at 0.45mm, it would have about 500 pixels at its peak width. That also means a sub-pixel pitch of <1 micron. The long term stability of inorganic LED was also part of the attraction of the technology, although she conceded that some microOLEDs are heading towards the same kind of pixel pitch.
As we have reported many times, the problem with really small pixels, especially for red, is that the efficiency of devices drops very sharply so the firm has decided to adopt quantum dots for colour conversion and blue GaN LEDs. Argaman said that the firm likes the consistent colour wavelength of quantum dots and that they can achieve a very wide gamut. The quantum dots are 'made in house' and are said to have more than 90% conversion efficiency.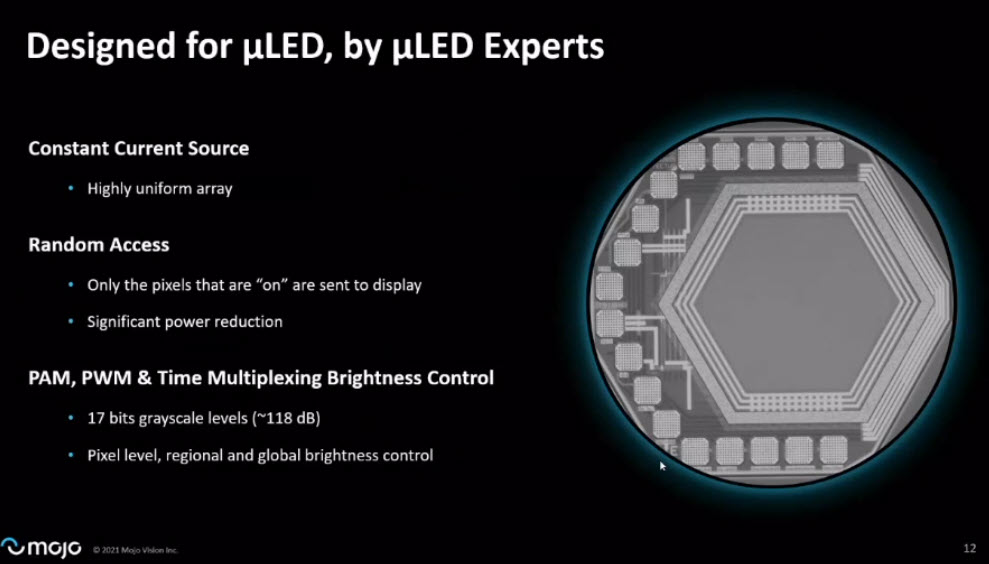 The design of the display, she said, is based on 'random access constant current driving' to minimise the use of power. The display is intended to support up to 17 bits of grey scale and is capable of producing 10 million candelas/m2 (although it's likely to be restricted to around 15K cd/m2 for comfort reasons.
Having developed the display for the specific application Mojo Vision is open to enquiries for them in other applications. Argaman said that the nanoLEDs are particularly useful where you need a 'sparse matrix' with significant space between the sub-pixels for transparency or to allow the addition of sensors. It feels that the very small pixels may be useful in other AR engines and light field displays.
The display is made on a 'wafer level' process and sits on top of CMOS drivers with hybrid bonding. Argaman said that the firm is still in its 'early days' but is optimistic that it will be able to achieve what it wants. She said that it is difficult to deposit the QDs onto the LEDs because the devices are so small and there are challenges in blue leakage and stability.
An extra complication that makes progress more difficult is that contact lenses are considered as medical devices so products need FDA approval. That doesn't apply to glasses or other headsets.
One topic that came up in questions was that with all the confusion in recent years over the definition of microLED, it could be said that we really don't need another category. However, there are particular challenges at <1 micron pitch, so I'm happy to accept that as a reasonable definition of the term. (BR)
The DSCC conference is still available online for another couple of weeks and has a lot of content on waveguides, microdisplays and AR and VR in general.