Business and Strategy – Ever wonder what happens to a guy's iPhone 5 after he waits in line all night and gets the latest and greatest, an iPhone 6? Does he generate e-waste by throwing it away? 
Generally, something as new as an iPhone 5 would get handed down to a friend, sibling, parent or somebody, who in turn may pass their old phone down. At the end of the chain, there is an old phone that goes in a drawer and is forgotten.
According to Bamboo Mobile, at the end of 2013 there were 370 million idle, non-active mobile devices (cell phones, tablets, MP3 players, etc.) in the US market. That number is forecast to increase to 461 million by 2018. The number of mobile devices recycled in 2013 was 60 million, forecast to increase to 174 million by 2018. Yet there will still be a huge discrepancy between the number of mobile devices available for recycling and the number actually recycled. The US EPA estimates that less than 20% of all unwanted cell phones are recycled each year.
There are numerous places that accept electronics for recycling. For example, Best Buy will accept three mobile phones per customer per day at any of its stores. Yet if you have a working iPhone 5 you don't want and all your friends already have an iPhone 5, iPhone 6 or a Samsung Galaxy S5 (and wouldn't touch an iPhone with a ten-foot pole), it doesn't seem right to just give it away for recycling, keep it idle in a drawer or bury it in a landfill.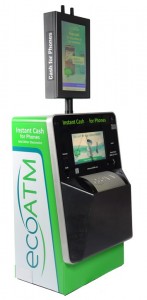 ecoATM (San Diego, CA), a brand name of Outerwall Inc. (Bellevue, WA), has a solution for you – the compan will buy your old phone with minimum hassle and for cash.   I'd never heard of ecoATM or Outerwall before I went to Pepcom recently and got a demo of how an ecoATM kiosk works. While I'd never heard of Outerwall, I had heard of (and used) two of its other kiosk-based brands, Coinstar and Redbox.
ecoATM will accept any device, regardless of whether it is working or not. The one exception is a device that has been reported stolen – more about that later. For example, it will buy an Apple iPhone 5s 64GB from AT&T for $34 – $220, depending on condition. These are likely to be refurbished and re-sold rather than recycled. Some mobile devices have no value in terms of the resale market. For example, ecoATM puts the Acer beTouch E100 mobile phone (no, I've never heard of it either) in this no re-sale value category, even if it works and rather than buying the phone, it will recycle it for you and donate $1 to the charity of your choice.
The ecoATM representative at Pepcom walked me through the process of selling your cell phone through the kiosk at Pepcom. After you start the process through the touch screen display, the door opens and you put your phone  (his PR person's phone, actually, in the demo) down on a glass plate. The door closes and the top and bottom of the phone is inspected.  This inspection is looking for damage and also identification of what type of device it is. After the visual inspection is complete, the door opens again and the ecoATM presents you with a cable matched to your type of device. Attach the cable and put the device back on the glass plate and the door closes again. At this point, the ecoATM checks the system electronically to make sure it functions and then makes you an offer for the device. If you accept, cash comes out and the ecoATM keeps your phone. If you decline the offer, the door opens again and you take your phone away with you. At Pepcom, the ecoATM kiosk just dispensed play money, not real dollars and the rep opened the machine, showed me the inside and got the phone back from the padded bin. He says that once a week or so, an armored car comes by and retrieves all the phones and refills the cash dispenser.
I asked the ecoATM represnative about stolen devices. He said that ecoATM never knowingly buys stolen cell phones. If the cell phone it is evaluating is on a list of stolen items, the door opens and you get the phone back, the system does not keep the phone. The rep said that in most jurisdictions, they would not be allowed to keep a phone and turn it over to the police, but this policy of returning it is used in all jurisdictions.
When I asked him about phones stolen so recently they weren't on a list yet, he said the process wasn't totally automated, each transaction was monitored and controlled by an operator in San Diego. In addition, there are three things that deter thieves. First, the transaction is recorded and the thief's photo would be on file. Second,  the ecoATM requires a state driver's license. One of the things the San Diego operator does is compare the driver's license photo to the customer photo to make it hard to use a stolen driver's license. Thirdly, to complete the transaction, you must put your thumb on a thumbprint sensor. Only a few thieves are that stupid.
The rep said that occasionally an ecoATM does buy a stolen phone. The phone is returned to the rightful owner (no charge to the owner) and the image, driver's license information and thumb print are turned over to the police. One of the limitations on ecoATM and others who accept used mobile devices is the local second-hand dealer laws. Bamboo Mobile posted a long blog on the topic in July. Currently there are no ecoATMs in New York City because of the City's local law, although they are in other parts of New York State.
So if you have a drawer full of dead cell phones, take it to your local ecoATM and either get cash or recycle them. ecoATM has posted a YouTube video on the sales process, also posted below. – Matthew Brennesholtz