The last financial results from Microsoft for the 4th quarter of calendar year 2014, which is the 2nd quarter of the Microsoft fiscal year, are showing a positive development overall. The following chart shows the top level view.
Source: Microsoft
The total revenue grew by 8% over the same period a year ago, while the gross margin grew by only 1%. The operating income went down by 2% driven by a US$243 million charge. In more detail Microsoft showed revenue growth both in the commercial as well as in the commercial segment. 
Looking at the breakdown by business segments, we can see that phone hardware grew from 0 to $2.284 billion, driven by the acquisition of Nokia. The only other segments showing any growth were Consumer Devices and Commercial Other. All other segments show a small or moderate decline. When you look at the above numbers, you can see that the revenue stemming from the purchase of Nokia made up for all the revenue increase. As a matter of fact, without the phone hardware, Microsoft would have shown a small revenue decline. However, we have to keep in mind that the Nokia business contributed in former quarters to other Microsoft segments, that they value at $650 million from the Nokia commercial licensing agreement.
The worst areas for revenue decline as Microsoft points out are in the Devices and Consumer Licensing segment, where Windows phone lost 61%, Windows OEM with 13% and Office Consumer with 25%. These are some of the most traditional business segments at Microsoft.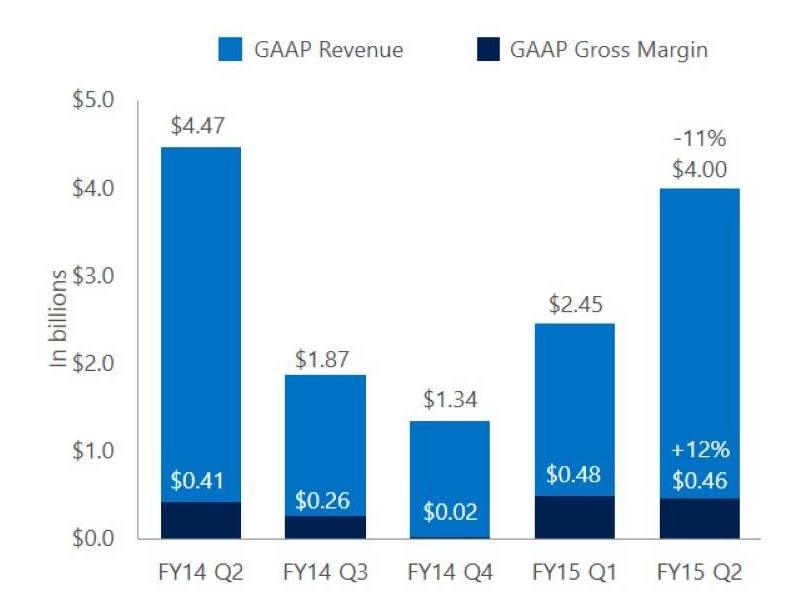 Source: Microsoft – Computing and Hardware Segment
On the positive side, the Computing and Gaming Hardware segment showed some good growth, which is even more impressive considering that the Xbox platform had a decline of 20%. The winner in this area was the Surface Pro 3 and accessories with an increase of 24%. 
While the phone hardware segment was not quite as impressive, Microsoft managed to sell 10.5 million Lumia phones, which was however offset by decreasing sales of non-smartphones. nevertheless, the phone hardware segment managed a gross margin of 14% with the existing device mix.
Microsoft had the strongest growth with 30% over last year in the 'Devices & Consumer Other' segment.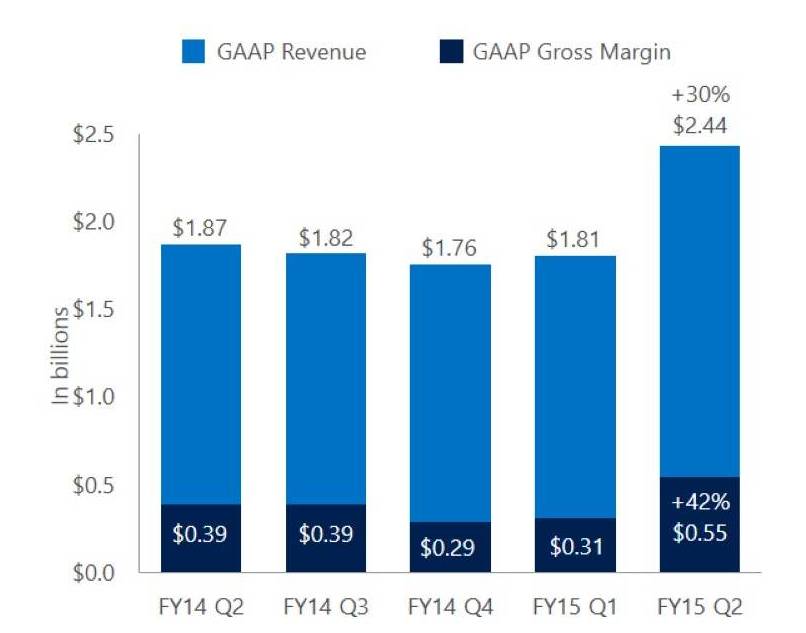 This segment includes first party games, Xbox Live, online advertising, Office 365, and others. 
Analyst Comments
Overall we seem to see a change in the business direction within Microsoft. When the company developed the Surface Tablet and the Windows Phone, many analysts saw a change in business direction from the strongest IT position in the world. With the rise of the smartphone and tablet, the effective monopoly that Microsoft had enjoyed on operating systems seemed doomed.
These latest business results suggest that the new direction within Microsoft is starting to show its first results. While some of the traditional businesses of Microsoft are starting a slow decline, other product areas in the consumer area are starting to grow. These include not only devices, but also software and services. This is a relatively new field for Microsoft and its traditional commercial side is still showing a strong and solid revenue stream. This income stream will help Microsoft to develop in consumer-related segments. Microsoft is no Apple, by any means, when it comes to consumer devices, but the company is working hard to establish itself in this market as a viable competitor. – Norbert Hildebrand
---