Amazon held a one-day sale of the Fire Phone (Display Monitor Vol 21 No 25) in the UK last week, cutting the price of the 32GB model to £85 ($130) and the 64GB to £125 ($190). The phones were locked to the O2 network. It is possible that the sale was a way to clear stock before a successor model is announced at MWC next month.
Dell's M3800 mobile workstation has been updated; it is now available with a 15.6″ UltraHD touch display (using IGZO technology), Thunderbolt 2 port and an additional 1TB of SSD storage (boosting total storage to 2TB). The product can be purchased now for $1,700.
The G Flex 2 (LG Stresses Importance of Colour, Display Monitor Vol 22 No 3) from LG will be available to pre-order outside Korea on the 28th February, and will be launched on the 19th March.
The successor to Microsoft's Lumia 1020 (Display Monitor Vol 20 No 28) will be launched in March, the online rumour mill claims. Features apparently include an aluminium body; 5.7″ OLED display (1280 x 720 (we have our doubts – TA); 50MP camera (improving on the 42MP camera of the Lumia 1020); Windows Phone 8.1 (we can safely discount the Windows 10 rumours, I feel); Snapdragon 400 CPU chipset; quad-core Cortex A7 CPU; 32GB of storage; and 16GB of RAM.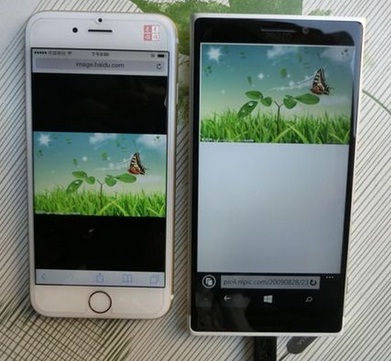 Leaked photos of the 1030 appeared last December
Microsoft has confirmed that it is no longer manufacturing the Surface 2 tablet (Display Monitor Vol 20 No 41), bringing an official end to the short-lived and poorly-received Windows RT operating system. A Windows 8.1 version of the tablet, the Surface Pro 2, is still available.
In a recent update to its Toughbook 31, Panasonic has extended the laptop's battery life to 18 hours – or 27 hours with an optional second battery. A new processor (2.3GHz Intel Core i5) is integrated, as well as new Intel HD 5500 graphics and support for 802.11ac WiFi. The laptop will be available in February, starting at $3,700.
The Galaxy A3 and A5 smartphones (Samsung Goes After Mid-Range Market,Display Monitor Vol 21 No 43) from Samsung have now reached the UK.