A USB 3.0-to-DisplayPort graphics adapter has been released by Diamond Multimedia and supporting UltraHD resolution. The BVU5500 uses DisplayLink's DL-5500 chipset (Display Monitor Vol 21 No 3) and is compatible with Windows 7, 8 and 8.1, as well as MacOS versions from 10.8 to 10.10. Users can use the adapter to send signals from a USB source to a DisplayPort screen. It is available now, for $70.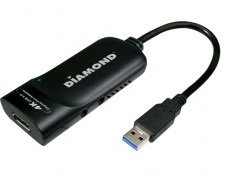 The Handheld Group has updated its Aligiz 10X 10.1″ tablet with Windows 8.1 Pro and a more powerful processor (quad-core 1.83GHz Intel N2930).
Microsoft's affordable smartphone, the Lumia 435 (New Price Point Achieved for Lumia Series, Display Monitor Vol 22 No 4), can now be pre-ordered in the UK. It costs £75 and will be shipped on the 1st March.
Microtips Technology in the USA has produced a new 7″ LCD display module, using a 6-bit LVDS interface. An earlier, similar product used a TTL interface. The 13-070WMLB00A has 800 x 400 resolution, an LED backlight providing 1,000 cd/m² of brightness and a 500:1 contrast ratio. It will operate in -20° – 70° temperatures, and can be ordered now. Price is on application.
A new 7″ industrial TFT-LCD module (800 x 480) has been introduced by Mitsubishi Electric, with vibration resistance 'seven times greater than that of conventional modules'. The module has 6.8G resistance, can be operated between -40° and 85° temperatures and high brightness (1,500cd/m²). The module is being distributed in Europe through  Avnet Embedded EMEA; price is on application.
The Razer Blade 2015 model improves on the 2014 version with a new GPU. The same 14″ touchscreen (3200 x 1800 with IGZO TFTs) is featured, with Nvidia's GTX 970M – making the 2015 Blade the smallest laptop using the device. The processor is a quad-core Core i7 (3.66GHz in Turbo), with 16GB of RAM. The laptop is on sale now for $2,200.
Technisat's newest Android smartphone, the Techniphone 5, features mid-range specs and a price to match. The phone has dual SIM slots, a 1.2GHz quad-core processor and 4.7″ display, with 1280 x 720 resolution, an IPS panel and Dragon Trail glass. There is also 16GB of storage and access to an FM radio. The phone is on sale now, for €250.
All prices are ex VAT.
---