As a leading design house of LED driver IC, Macroblock is devoted to providing customers outstanding products and excellent services through a combination of innovative technology and design passion. It is our honor to assist Mirage Virtual Production Studio to build up a first-class LED virtual production studio in Beijing and jointly promote the transformation of the filming industry.
1 Macroblock partners with Mirage to transform the filming industry through LED displays – photo credit:Mirage
Macroblock had faith that the LED displays would revolutionize the filming industry two years ago; therefore, the company has extended the product line to the virtual production application. After working together with numerous industry partners these years, we already have significant cognition of the specification that LED displays must have in a shooting environment. Macroblock develops specific driver ICs for this application, and this IC series can be applied to different forms of virtual production shooting, including commercials, music videos or high-end movies. LED displays with Macroblock's ICs embedded within can achieve HDR performance and meet shooting requirements, like high brightness, high grayscale, high refresh rate and high resolution, and so on.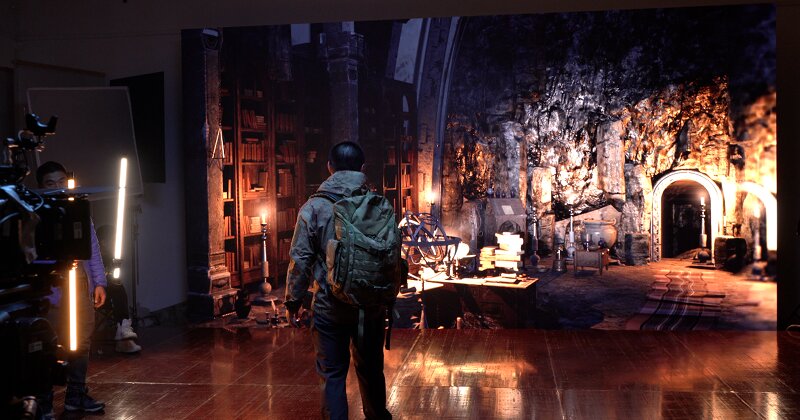 Mirage adopts Macroblocks MBI5264 to achieve 16 bit grayscale and 3840Hz refresh rate – photo credit:Mirage Mirage was founded in Beijing in 2021. They integrate LED displays, professional shooting equipment and instant 3D creation tools to offer video creators an "efficient, easy, and cost-effective" virtual production shooting solution. This studio owns a 22m2 LED wall of pitch 1.8mm. Embedded with Macroblock's MBI5264, the LED wall has a spec of 16-bit grayscale and 3840Hz refresh rate to present wonderful image details and also meet camera shooting requirements. Furthermore, with a 20m2 LED ceiling, the studio can simulate real environment lighting situation.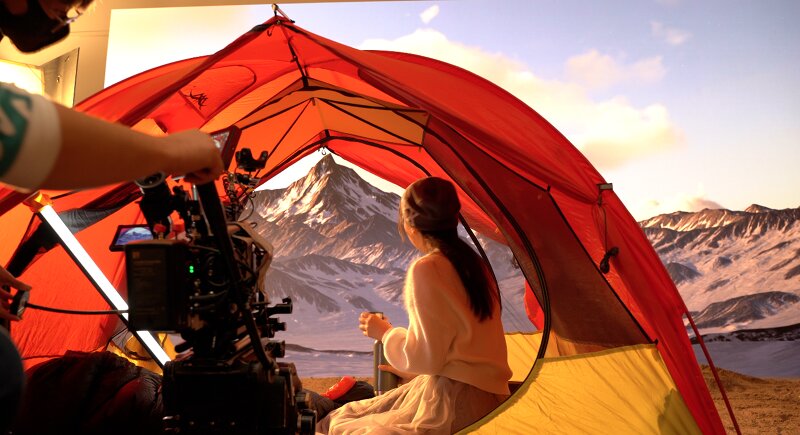 LED virtual production frees film producers from limitations of space and time – photo credit:Mirage
Mirage studio has serviced over 20 production crews. This place is really suitable for shooting commercials, campaign videos, music videos, documentaries and movie financing videos. The founder, Mr. Shen, indicates that "Virtual production will be one of the essential processes for future filming. It is an innovative filming method and will bring incredible transformation to the whole shooting process. Applying virtual production will accelerate film production speed and keep the cost down. By combining real figures and virtual scenes, LED virtual production may shorten the overall production time and make the shooting execution more controllable. For example, it can flexibly change various natural scenes as well as light at any time, and more exciting thing is that the shooting process will not be affected by the weather at all. It can be concluded that LED virtual production frees film producers from previous limitations. Through continually improving techniques and abilities, Mirage looks forward to providing creative ideas and numerous possibilities to video creators through virtual production.