As someone who sat through numerous online press conferences and prowled virtual trade shows booths at last week's CES 2021 show, I have to say the experience was less than satisfying. Seeing a new product in a manufacturer-provided photograph and reading about it in a company press release always leaves me wanting.

I particularly enjoy plowing through the crowds to get my own pictures of new products, often capturing views not seen in press kit photos. Sometimes I'm even fortunate enough to find someone in a booth – or in a LVCC suite, or off-site in a hotel – who can provide me with the missing details, filling in some, if not all, of the blanks. And other times it may take a few ad hoc conversations to drill down and get to the facts.
Unfortunately, those opportunities weren't available to me this time around. Oft times I felt like a kid standing outside a closed toy store, staring at all the goodies in the window but unable to pick them up and examine them.
And so it went with one product announced by LG Electronics during its press event and featured in the online press kit: A 31.5" Ultra HD OLED monitor, using not WOLEDs but RGB OLEDs. The LG UltraFine Display OLED Pro (model 32EP950) is billed by LG as "an ideal solution for creative industry professionals such as visual effects artists and producers working in film or animation studios."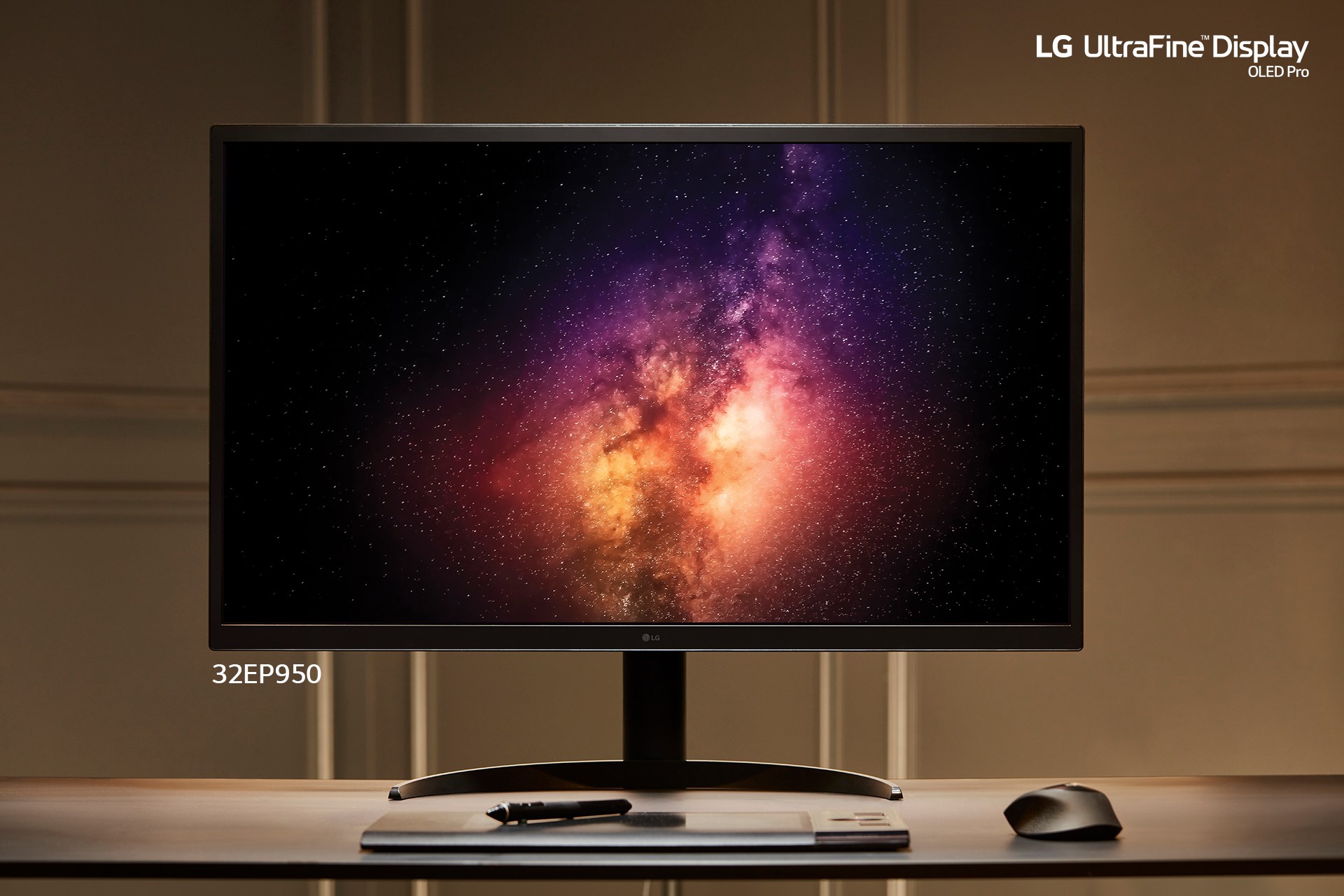 The press release was frustratingly sparse on details, other than claiming a 1,000,000:1 contrast ratio and 99% coverage of both DCI p3 and sRGB color spaces. It's billed as ideal for working with both standard dynamic range and high dynamic range content, although no luminance specification was provided. The display panel is a 10-bit version, essential for HDR production. And LG has provided a hardware calibration solution for end-users; most likely one that would work with Portrait Displays' color analyzer head and software that is used to calibrate LG WOLED TVs.
There are also plenty of connectors, including a USB Type-C with 90W Class 2 power for charging a laptop, two DisplayPort connections (no version given; hopefully 1.3/1.4 but probably 1.2), one HDMI port (again, no version given, but likely 2.0), and three USB 3.0 ports. No word on whether any of the USB 3.0 ports support Alternate Mode.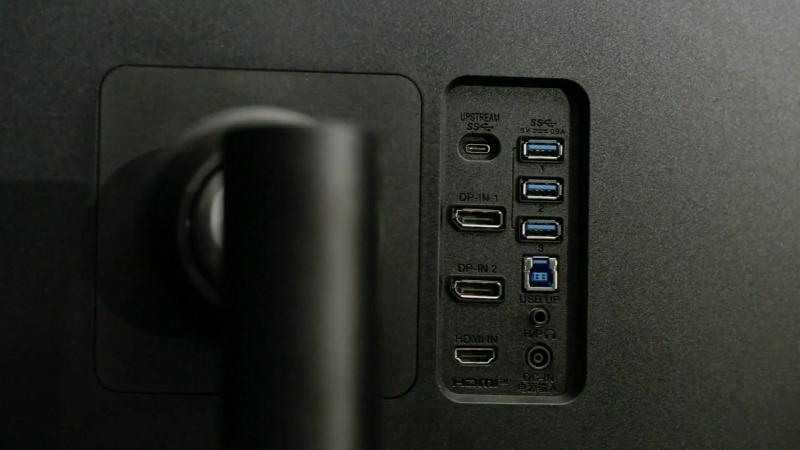 All impressive. However, what really caught my eye is the RGB (or likely RGBB) OLED panel, which isn't sourced in Korea but comes from JOLED. The latter company was quite happy to issue a press release on January 13 touting the use of its printed OLED technology in this panel. In the past, we've seen Japanese companies like Sony sourcing glass from Korean panel makers, but it's not common for the sourcing to go the other way.
LG's jump into a RGB OLED desktop monitor product leaves me with many questions. Are they acknowledging any shortcomings of a WOLED display for reference and color work? The market for these kinds of displays is quite small compared to digital signs and televisions, and the products are accordingly pricey. Does LG see an opportunity to fill a niche? Many post houses already use calibrated LG OLED TVs for screening and production work, so they're comfortable with the technology.
Interestingly, the major player in reference/grading monitors – Sony – moved away from RGB OLEDs for its top-of-the-line products to dual-cell LCDs or with dense "mini" LED backlights to achieve high dynamic range performance. It was difficult for Sony to achieve 1000 cd/m2 as a small-area/specular luminance level for its RGB OLED monitors, due to differential aging of the blue emitters. And those panels also came out of JOLED.
So many questions remain unanswered. What's different this time around for an RGB OLED reference/grading monitor? When will we see more detailed performance specifications from LG on this product? How much will it cost? Does LG want to compete with (and if so, why) the likes of Sony, Eizo, Boland, Flanders, and Canon? What's the expected lifespan of the blue emitters (which again, I assume are in a RGBB matrix)?
Stay tuned… (PP)