A multi-touch best practice guide is to be introduced by 3M (8.F300). The guide will include advice from 3M and its European partners, to show where and how touch technology can be used.
A media server capable of delivering uncompressed 3Gbps playback will be introduced by 7thSense Design (10.R114). The Delta Infinity Media Server has enough bandwidth to power 8k at 60fps, or true 8k (8k x 4k) at 30fps, as a single-box configuration. The player can play native uncompressed video with full timeline control, warp, blend, full dome and abstract mesh screen modes.
Arthur Holm (9.D122) is a specialist in embedded monitors. The company will show the Dynamic1H Talk at ISE: a motorised unit that folds and unfolds from a desk. The screen can be a multi-touch display. A vertically-retractable double-sided wide screen with Linux-based software – the Dynamic Name Tag – will also be on show.
Aten (10.R136) is to show off the 'industry's first' UltraHD seamless matrix switch. The VM6404H supports UltraHD at 60fps via HDMI (four I/O ports) and is intended for videowall installations. Switching speed is close to instant, and content is played back in real-time, without latency. There is a built-in scaler and a web GUI to create up to eight connection profiles.
The HDF-W30 FLEX from Barco (11.F78 and H75) is a 3DLP model with a modular design and preview mode. It raises the HDF family's maximum brightness to 30,000 lumens, from 26,000, and will be available in April.
An UltraHD version of Black Box's (10.P481) iCompel system will be shown. An AIO signage solution, the iCompel player features several layouts in its pre-installed software and can split a single DVI source between up to four displays. Scaling and rotation of content are supported. Black Box will also show an IP-based switching matrix/extender called the Media Cento IPX, which – new at ISE – will support bi-directional USB. The unit can be used to distribute HD content to up to 256 displays. Finally, an IP extender/controller called InvisaPC will also be shown.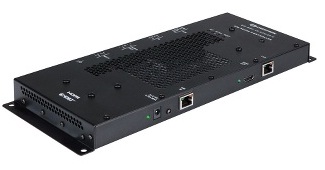 High resolution will be Crestron's (2.C24) focus, with every new product built to handle DCI-4k. Crestron has also established the DigitalMedia 3.0 (DM 3.0) standard, for AV distribution. It consists of four main parts: uncompressed bit-for-bit DCI-4k 60fps distribution and scaling; streaming AV; enterprise-class IT solution; and end-to-end scalable solutions.
In terms of products, Crestron will have a DCI-4k 60fps scaler (DM-RMC-4K-SCALER-C); a presentation system (DMPS3-4K-150-C) handling switching (10×1) and scaling (although DCI-4k is limited to 30fps); a single-gang wall plate transmitter (DM-TX1-4K-C-1G) and receiver (DM-RX1-4K-C-1G), using CEC; new HDBaseT input cards supporting DCI-4k for DM switchers, with (DMC-4K-C-DSP) and without (DMC-4K-C) down-mixing; DCI-4k HDMI output cards (DMC-4K-HDO), with two ports; 1×2 (HD-DA2-4K-E), 1×4 (HD-DA4-4K-E) and 1×8 (HD-DA8-4K-E) distribution amplifers for DCI-4k over HDMI; and a DigitalMedia Ultra Cable (DM-CBL-ULTRA-LSZH), which delivers DCI-4k over HDBaseT, up to 100m. It is a CAT-7a shielded twisted pair cable.
Ekta Vision (11.E52) is to launch a new 2.6mm-pitch LED display, for the rental market. It is part of the FrameLED series; all FrameLED products are compatible with each other and can be joined together in large displays. A BladeLED model, which is 9.5cm deep and IP65-compliant on the front and rear, will also be shown, alongside Ekta's own control system, Ermac SPU.
LG (11.K75) will introduce large-format 98″ and 105″ interactive displays, with four of the (non-touch) 98″ UltraHD units forming a videowall at the front of the stand (15360 x 8640). Additionally, there will be new HDBaseT and OPS integration devices, as well as 55″ interactive menu boards, introduced with Beaver Group. In the Retail area, a 55″ transflective videowall display, with an IPS panel and 3.5mm bezels, will be a key product.
Two 7″ displays will be shown by Nexxt Solutions (8.H380), from Munich. Designed for room reservation systems, the 'dSign' screens are compatible with Nexxt's own Book-IT software (based on Outlook). The first screen is called Power dSign, for new builds; it has PoE or a 5V power supply. It also features an integrated camera for QR code recognition and an optional RGB LED stripe. For existing conference areas, Nexxt offers the Air dSign, which uses electrochromic technology, taking power from a battery (estimated lifetime: five years). A camera is also optional on this unit.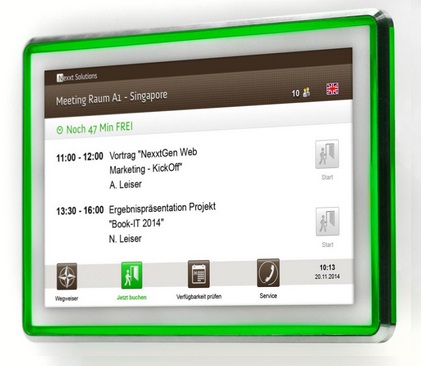 Orad will show its Powerwall videowall display on Leyard's stand (11.P66). Powerwall is a turnkey system based on Orad's HDVG4 platform, providing up to 15360 x 2160 resolution from a single box. The platform outputs eight gen-locked 3G or 16 HD-SDI signals, which can be tiled across the wall. Orad's new web-based Layout Configurator tool will also be shown.
Germany's Squadrat (11.N35) will show a new SMD LED video display with a 6mm pixel pitch and 100,000-hour lifetime. A new display controller, the SX NT v4, will also be shown.
Celebrating its first year in the European industrial market, Toshiba's (4.S60) 2015 stand will be larger than the 2014 location, with new videowall products and professional signage displays on show. New signage software will also be showcased, to ease set-up and management of displays. Standout displays will be an 8k videowall formed of 16 1920 x 1080 screens; ultra-slim bezel UltraHD models; and displays for specific sectors, such as retail (the same virtual fitting room solution that was shown at CES).
A networked videowall will be shown by Userful (10.R116), demonstrating the company's newest display software, which delivers UltraHD and higher content in real-time. New features include 'any angle' rotation of individual displays and support for up to 25 displays from a single Core i7 PC. The network will use new displays from Userful's partner Viewsonic: 3.5mm-bezel units with IPS panels, 1920 x 1080 resolution, 178° viewing angles and HDMI and DVI ports.