Lenovo held its press event offsite, so we didn't hear about it until it was too late to get there, which was a shame, but we got a good look around the booth and at the Showstoppers event.
Lenovo continues to innovate and there was lots to look at at the show. The first new product we checked out was the Yoga Book, which has a 'touchscreen keyboard. The convertible dispenses with a keyboard made of switches and instead uses the whole area where the keyboard would be as a touch input area. The areas taken by the keys are highlighted when the unit is set to keyboard mode and it also provides some tactile feedback.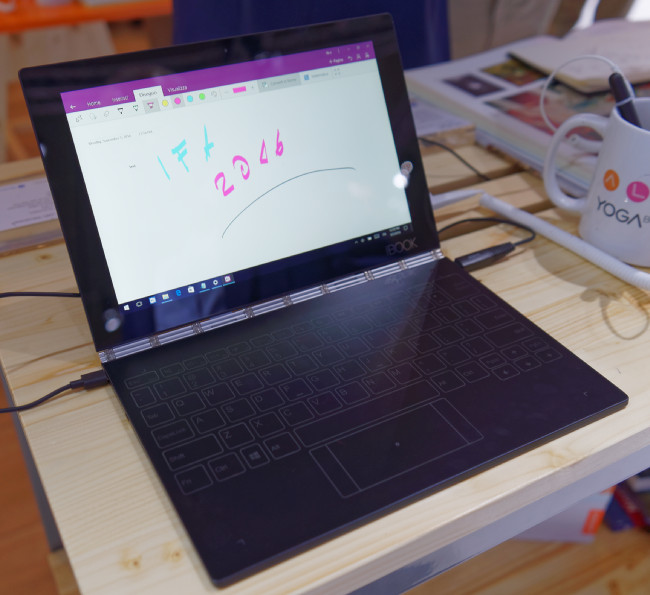 Lenovo's Yoga Book. Image:Meko
However, Lenovo has also made the whole area a Wacom pen input surface to allow easy note taking. A pad of paper can be put in a special magnetic holder and placed over the keyboard. A passive pen (with ink) can then be used to take notes or to hand write. As well as having the physical paper record, the input can be stored as a graphics object on the PC. It has a 10″ display with 1920 x 1200 resolution and runs on an Intel Atom x5 CPU with 4GB of RAM and 64GB of expandable storage. The case is made out of magnesium and aluminum. It costs $499 running Android, or $549 running windows 10. It has 12 hours of battery life.
The previously announced X1 Yoga with the OLED screen was being shown, but only in a glass case. It seems that supply of the OLED-equipped notebooks is currently very limited.
The Yoga 910 uses the latest Intel 7th-generation Core processors (up to i7) with up to 16GB of RAM, 1TB of flash and Intel HD graphics. A really nice feature is that the case size is basically the same as the previous generation of 13.3″ notebooks, but the display is a 13.9″ with very narrow bezels at the top and sides. The camera has had to be moved to the bottom of the display, along with the Wi-Fi aerials.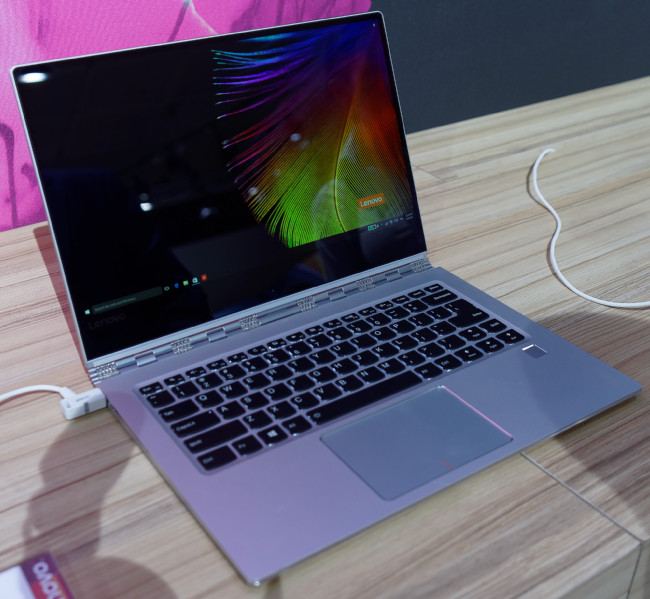 Lenovo Yoga 910 uses a 13.9″ display in a 13.3″ chassis. Image:Meko
The display is available in FullHD or UltraHD with touch (although we heard that the FullHD is a more practical solution). There are two USB Type-C ports, one with support for DisplayPort Alt Mode and the other with charging. There's also an 'always on' USB connector. Weight is 1.38kg and thickness is 13.3mm, The 910 has an illuminated keyboard and the latest version of the watchband hinge which has been stiffened to reduce the movement of the display when it's used for touch.
The Yoga Tab 3 Plus is a new 10.2″ 2560 x 1600 resolution (299ppi) tablet that has Technicolor colour enhancement technology. It is available in Wi-Fi or LTE SKUs and uses a Qualcomm Snapdragon 652 (octa core) with an Adreno 510 GPU, 3GB of RAM and 32GB of storage. There are four JBL speakers and the battery is a 9300mAh unit (in one edge as before on Lenovo tablets) for 18 hours of operation. There a 13mp camera on the rear and 5mp camera for selfies. The tablet runs Android and will sell for $300 when it starts shipping in October.
The Miix 510 is a convertible Windows tablet that competes with some of the Microsoft Surface range. The display is a 12.2″ 1920 x 1200 (16:10) IPS display with 320 cd/m² of brightness and fitted with Gorilla Glass. It uses processors up to 6th generation Intel Core i7 and up to 8GB of Ram and 1TB of SSD storage. Connectivity includes LTE and there is a USB type C connector as well as a USB 3.0 port (always on). The weight with the keyboard is 2.76 lbs (1.25kg). The Miix supports pen input.
Moto Adds Camera Module Effectively
We then turned to the Motorola phones and were pleasantly surprised at what we found. The Moto Z and Z Force have 5.5″ displays with 1440 x 2560 resolution (535ppi) and while the Z uses Gorilla Glass 4, the Force has a 5 layer shatter resistance system. Processing is from a Snapdragon 820 with 4GB of RAM and 32/64GB of flash. The camera is a 13 megapixel unit with F1.8 aperture, OIS and laser autofocus and there is support for 2160P30 video capture.
Base connectivity is via USB Type-C but the big feature is a special connector to allow the addition of extra modules. The first we looked at is a Hassleblad camera add on that includes a 10X optical zoom and support of the RAW image format to allow sophisticated off-camera correction. There's als a Xenon flash unit. The camera add-on is much slimmer than, for example, the Sony DSC-QX10 and seems significantly more ergonomic than the LG camera module.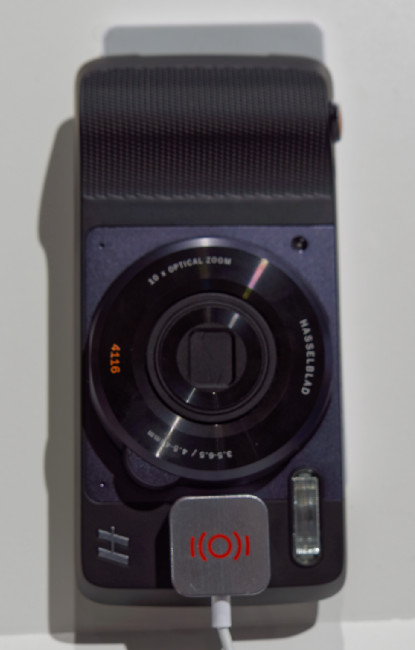 Moto Hassleblad mod. Image:Meko
There are other modules including a $299 'Insta-share' projector with support for images up to 70″ and a 1100 mAh battery to support an hour of operation. Weight is just 125 gms and the resolution is 854 x 480 with 50 lumens of output and a throw ratio of 1.2. It can be charged using USB Type-C.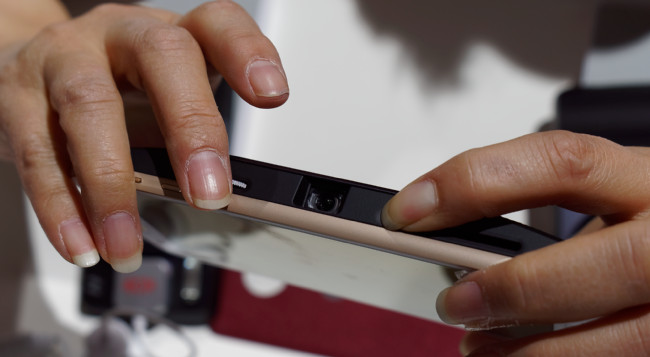 Moto Projector mod. Image:Meko
Also available is a JBL Sound add on, the Soundboost, which sounded pretty good when we tried it. It adds around 10 hours of battery life (1,000 mHh) for the audio and features dual 27mm speakers rated at 3W per speaker. The charging is again via USB Type-C and output is rated at 80 dB at 0.5m. It costs $79.
Finally, there is an 'offGrid' power pack, $60 (although on special offer if bought with a phone at the time of writing) that can provide 22 hours of extra battery life from its 2220 mAh capacity. There is a wireless charging option and there will also be a version with higher capacity that can support 50 hours of phone use.
Lenovo told us that 'more Mods are coming' although they wouldn't be drawn on exactly what.
Like other vendors, Lenovo has been promoting itself among gamers and there were plenty of enthusiasts
Analyst Comment
The idea of the Yoga book keyboard is good and the lack of physical keys means that the device can be very slim, but even with the haptic feedback, we really couldn't get on with typing on it. It might be OK for 'hunt and peck' typists.
The Moto add ons look like a much more practical option than some of the Project Ara concepts and more ergonomic than the LG concept. (BR)