As I write this, ISE has just ended and the Display Monitor team is gearing up to bring you the event report. It is set to be a good one, and hopefully shorter than our CES behemoth!
The show this year felt much busier for us than 2014, as we've expanded our coverage to new areas of the industry. The change to four days in 2016 (9th – 12th February) will help us to dedicate more time to 'new' companies – although we heard a few grumbles from exhibitors about the extension!
The main application that it seemed everyone wanted to enter was LED, which just keeps getting better. Pixel pitches down to 1mm were in evidence across the halls, and Aoto had a prototype 0.75mm display. The company was also showing another interesting (but expensive, we imagine!) piece of kit: an LED display in the form factor of a 65″ TV. NEC and Samsung had new LED boards on show as well, while Christie and Barco were demonstrating their existing displays.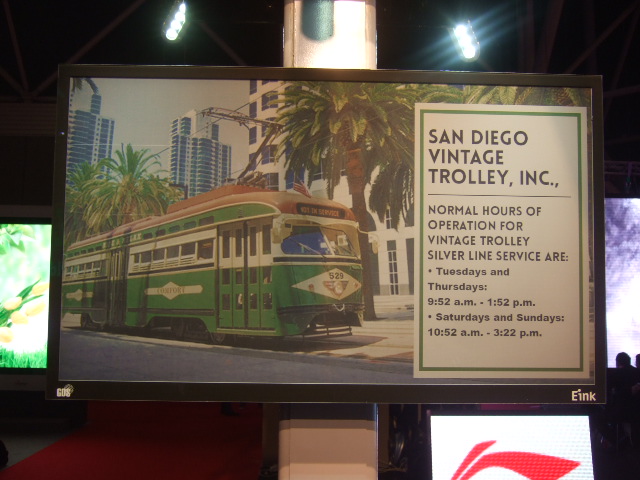 We saw an E Ink display from Global Display Solutions, which showed full colour imagery. The colours were naturally more muted than you'd see in a backlit display, but looked well suited to showing content that might otherwise be printed, for example. E Ink draws no power to show a static image, so these displays could see a use in museums or emergency signage. Mass production will begin next year.
Everyone was talking about the 55″ transparent OLED at Planar Displays' stand (Planar Debuts Large-Format Transparent OLED), although other companies (eyevis, NEC, Samsung Display) were showing similar models in back rooms. Price, release and specifications were all TBC, so it's up to Planar to see whether the interest can be maintained while the screen is readied for a mainstream release.
We've reported on Swedish touch company, Flat Frog, several times over recent years and we have wondered why the firm hadn't extended its technology to larger screens. This year, it showed its system on much larger screens, including a 70″ curved Samsung TV. We'll be posting a video interview shortly on this, so watch our video channel. https://vimeo.com/user29724909
We've seen "mirror" displays for a number of years from Philips, Toshiba and others. However, this time, Samsung Display had a demonstration in its private suite of an extremely good looking mirror display using a large OLED. Colour was saturated and of high quality and mirror function was very good. We would see high end retailers jumping on this technology.