Industrial LCD manufacturer KOE (Kaohsiung Opto Electronics) have announced the introduction of a new 13.3-inch TFT display module. The TX34D200VM0BAA features 4K2K (3840 x 2160 pixels) resolution, IPS (in-plane switching) technology, a 16:9 wide aspect ratio, and a super slim, compact mechanical design.
The 13.3-inch display has a pixel pitch of 0.0765mm (w) x 0.0765mm (h), which corresponds to a pixel density of 332ppi (pixels per inch). The 3840 x 2160 pixel resolution display module provides a significantly higher pixel density – an increase of 400% – when compared to a Full HD (1920 x 1080 pixel) display.
Ideal for high resolution monitoring, machine vision and media applications, the latest IPS display technology delivers exceptional image stability, colour saturation and deep black levels. Viewing angles of up to 176° are supported in all directions (vertical, horizontal). The fully integrated white LED backlight delivers a specified brightness rating of 350cd/m², which combined with a high contrast ratio of 1500:1, ensures that display images are colourful, concise and accurately reproduced.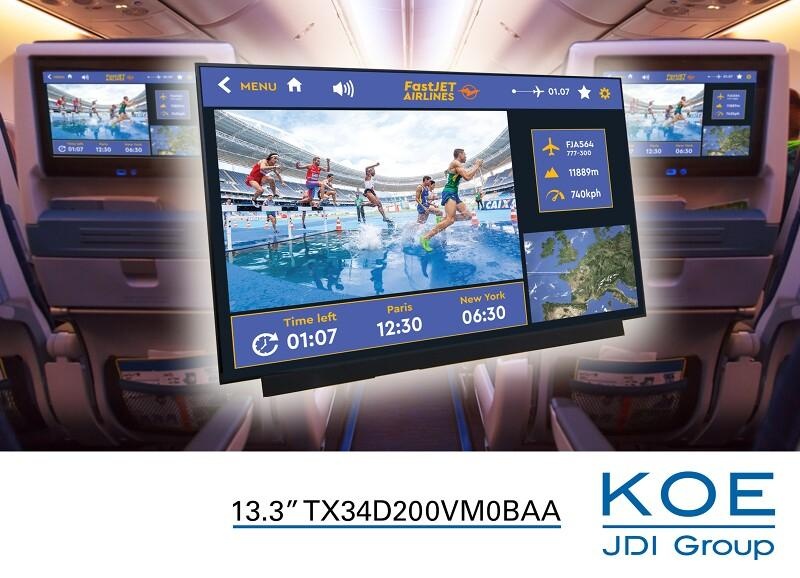 Benson Huang, marketing manager, KOE said, "The new 13.3-inch 4K2K TFT display provides exceptional optical performance in a highly compact mechanical form factor which aids integration into a wide range of equipment and systems. The TX34D200VM0BAA provides the ideal solution for medical monitoring and media applications where accurate reproduction and presentation of high resolution display images is essential."
An 8-bit RGB, 40-pin data interface features 4lane 5.4Gbps eDP1.4 (embedded DisplayPort) which supports a colour palette of up to 16.7m colours. The display module features compact mechanical outline dimensions of 298.46mm (w) x 175.69mm (h) x 2.0mm (d). The active LCD area is 293.76mm (w) x 165.24mm (h). An operating temperature range of 0°C to +50°C is supported. The display module weighs just 170 grams.
The 13.3-inch display features a TFT LCD cell which is produced using a LTPS (low temperature poly-silicon) manufacturing process. LTPS provides a higher LCD transmittance and an enhanced pixel aperture ratio which helps to reduce overall power consumption and internal heat generation from the LED backlight.
Typical applications for 13.3-inch 4K2K display include in-vehicle and in-flight entertainment, broadcast equipment, medical monitors, industrial machine-vision and security systems. The new 13.3-inch TX34D200VM0BAA TFT display module is available immediately from KOE's sales channel and distribution partners.
About KOE (Kaohsiung Opto-Electronics)
Kaohsiung Opto-Electronics (KOE) is a wholly owned subsidiary of Japan Display Inc., Japan. With headquarters and manufacturing facilities in Taiwan, KOE provides the industrial market and product focus for Japan Display Inc. KOE has extensive experience in the design, development and manufacture of high performance LCD modules. www.koe.j-display.com
About Japan Display Inc
Japan Display Inc (JDI) was formed by the merger of the small and medium size LCD panel businesses of Hitachi, Sony and Toshiba in conjunction with the Innovation Network Corporation of Japan (INCJ). INCJ invested $2.6 billion and is the largest shareholder in Japan Display Inc. Japan Display Inc has extensive fabrication facilities in Japan and commenced operations in the spring of 2012. Japan Display Inc is one of the world's largest manufacturer of small to medium size LCD and produces displays for mobile phones, tablet computers, automotive and medical equipment www.j-display.com/english/index.html