Jon Peddie Research held its annual Siggraph Press lunch and we went along.
Peddie himself opened the proceedings by giving a very brief outline of the development of the CG market, which is doing very well at the moment, partly driven by the huge investments in content by Netflix and others. His forecast flattens off, but that is partly just because he finds it hard to believe that it will just simply keep going, although it has done so for a long time. One feature of the data he presented is that there is a good balance between the value of the hardware and software segments. If there is more hardware than software, it may be that the technology is looking for an application, whereas software without hardware sales means that there may be only limited demand.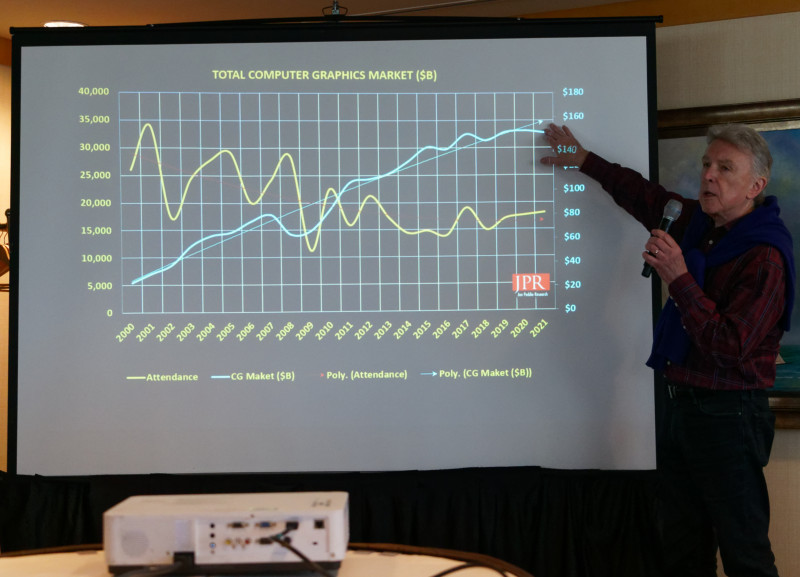 Jon Peddie showed that Siggraph is not scaling with the industry. Image:Meko
Siggraph has gone down in attendance over the last few years and he said that the figures show that this continues (although the chart looks as though it may be tipping up, to us). The support for Vancouver has been good, even better than Los Angeles last year. In 2019, the event goes back to LA, which should get good support, but Peddie is nervous about a move to Washington DC in 2020.
Panel Session
Kathleen Maher of JPR then led a panel session and started by setting out that there is a real revolution happening based on virtualisation and the cloud. It can make little difference to the user whether the application is running on AWS or Azure and "Where is my computer?" is a real question. However, you still need a client PC, so the workstation market will not disappear.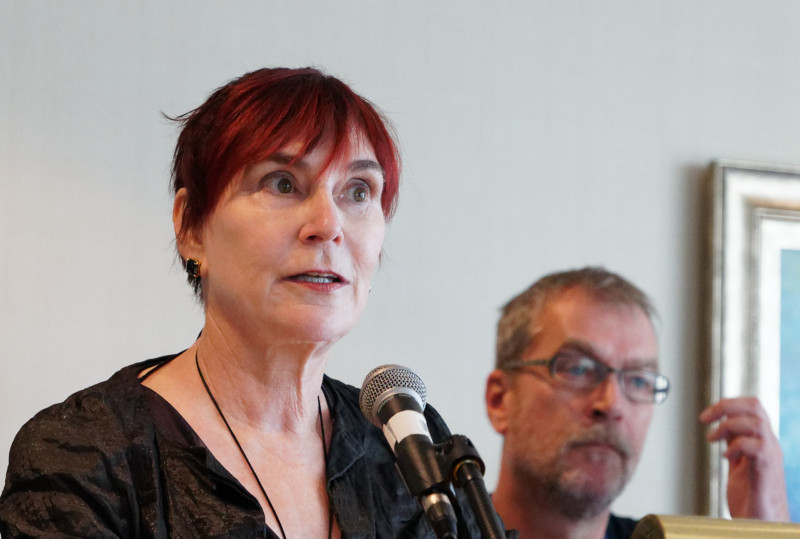 Kathleen Maher of JPR led the panel. Image:Meko
The members of the panel were:
Jean-Colas Prunier, CEO of PocketStudio – which is developing a new application
Ton Roosendaal – founder of the Blender Foundation
Mathieu Mazerolle – a senior Product Manager at Foundry which makes software including Nuke
Ian Spriggs – a freelance character artist
Jeremy Smith – CTO at Jellyfish Pictures – a London studio
Prunier has been developing a new content creation software package and started by pointing out that most of the creative tools that are being used are 20 or so years old. They are complex partly because they have needed complexity as they developed because of the need for high quality. However, he asked "What if you started again?". Could you design simpler tools? You certainly could ensure that they worked both locally and in the cloud.
Roosendaal said that developments should be open source, but at the moment, the position of code in the cloud is unclear. That's important as cloud/online operation is both logical and inevitable but he doesn't believe that the cloud should be commercial only. There is a question, though, of how to get to it to allow open source development? Who owns code in the cloud and who controls it?
Mazerolle said that workflows are often 'hybrid' at the moment, with a mixture of local and cloud software and using a range of applications. That can make it very complicated to set up now, but one day it should be seamless. The aim is to reduce the complexity and exploit the great advantage of cloud architectures – that artists and creatives can collaborate globally. He said that software licences should not be based on the choice of platform, nor should you need IT departments to deal with the complexity of using tools.
Spriggs, looking from a content creator's point of view pointed out that although the digital characters that he creates in the cloud using digital tools are seen as technical creations, not as art, as they would be if the same image was created as a painted picture or photo.
Smith said that his company has exploited cloud technology to overcome some of the problems of using London as a base. Central London has become very expensive, so his company is looking to expand outside the capital, which it can with cloud-based He also highlighted that it is not simple to allow creatives in multiple locations to collaborate. The artist simply doesn't want or need to know where the content is or where the processing is being done. From the company point of view, the 'pool of talent' can be drawn wider without the need to ensure that artists can travel to the main location. It is relatively easy and cheap to increase the team which can be remotely provisioned, compared to dealing with a lot of hardware.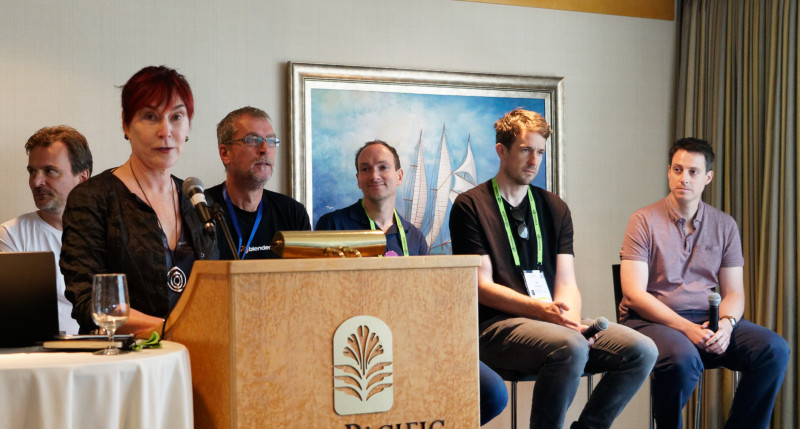 The panel from left to right – Prunier, Roosendaal, Mazerolle, Spriggs, Smith Image:Meko
Mazerolle said that 'the cloud can give you superpowers' by liberating you from geography and can also allow you to have 'different machines for different jobs' economically as you don't pay if you don't use them. Growth can also be easier – for a particular project you might need to add thirty people and that would mean a lot of capex without cloud services. That reduces the barriers to market entry by new and smaller and specialised companies.
Maher agreed, highlighting that there has been a big boost in the demand for content compared to previous years, and the flexibility to cope with that has been partly provided by the cloud.
Prunier said that cloud means different things to different companies with Adobe providing cloud access to then download apps to run locally, while others put the whole machine in the cloud and others just put the data in the cloud for sharing purposes. He quite likes a configuration that allows an app to process locally, with content being rendered to the cloud for real-time collaboration, which he sees as the 'killer app' for the cloud and which he sees as a fundamental part of the human creative process. He would also like to see any client device to be available – "Why can't you work anywhere on a tablet?", he asked.
He also sees technology developing to the point where video content becomes interactive – allowing the development, effectively of a new medium.
Roosendaal said that Blender has a massive outreach but there is a challenge with current software architectures where vendors are working in separate 'walled gardens'. However, creatives want to be able to use different apps. Licensing is also a challenge to be sorted out as there are many different approaches.
Mazerolle said that because of the challenges at the moment, the Foundry is looking at possible alternative licensing models that would decouple the licence from the workstation and is looking to find a way to allow usage locally or in the cloud. However, it is taking 'baby steps' and there are lots more steps to be taken to achieve this. Some systems and processes will need to be through out and started again.
Spriggs said that virtualisation allows much more specialisation. When he worked for a studio, he often had to spend time doing work such as buildings and scenery, but he likes creating characters. As a freelance, he can simply focus on that and move from project to project.
The panel then looked at issues that can affect the reliability of the cloud. It was pointed out that whether you are local or remote, you still depend on external resources such as power. Roosendaal pointed out two potential problems with cloud creation. To use the cloud, you have to really trust the supplier. Would major studios put major content assets in the cloud, for fear of them leaking? Also, what happens if you can't pay the cloud company? Can you then still access the content? Can you even keep on working? It was pointed out by other speakers that you can have a private cloud, as well as using the public cloud.
Award and Prize Time
After the panel, Peddie presented an award to Jensen Huang of Nvidia (accepted on his behalf by Greg Estes, VP of Developer Marketing) and said
"We all owe Nvidia a huge debt for everything done for the industry".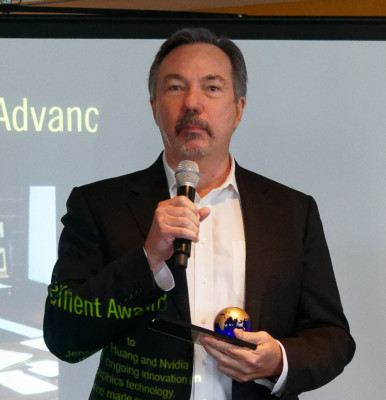 Greg Estes from Nvidia accepted the Award on behalf of Jensen Huang. Image:Meko
Peddie said that one of the key things that Huang had done was to invite some of the brightest people in the industry to come to the company to create its products. Estes said that one of the aspects that not everybody understands is that Nvidia works very closely with software companies to ensure that its products work well and widely and that although it is seen as a hardware company, it has more engineers developing software than hardware.
After the award presentation, there was a raffle – with some fantastic prizes donated by sponsors. Unfortunately, I wasn't lucky – I had my eye on the Lenovo P1 workstation. (Really!)