JOLED, Panasonic Production Engineering and Screen Finetech Solutions have concluded a business cooperation agreement related to the manufacture of large-sized printed OLED displays, intended mainly for use in TVs.
JOLED plans to license its OLED printing method and technology to companies manufacturing OLED displays for use in large-sized TVs. The three companies will jointly develop businesses for the development, manufacture, sale and servicing of OLED printing equipment for customers. The trio say they will strive to commercialise the business swiftly to promote the broad use of this printing method and facilitate their own growth and business expansion by capturing growing demand in the continually expanding OLED TV market.
The method involves the coating and forming of OLED materials through printing. JOLED says it simplifies the production process compared to the conventional chemical vapour-deposition method and is expected to offer considerable benefits in efficiency of material use and capital investment, especially for the production of large-sized displays.
Panasonic Corporation began developing printed OLED displays in 2006 and since its founding in 2015, JOLED and Panasonic Production Engineering have continued joint development of printing equipment while JOLED has established mass-production technologies. At present, the 21.6″ Ultra HD OLED displays manufactured on the pilot line are shipped for use in applications such as medical and high-end monitors.
JOLED's technology licensing activities include the provision of technologies for the manufacture of printed OLED displays and supporting their adoption. Drawing on its experience in the area, Panasonic Production Engineering will handle the design and development of the printing equipment. Using its network and experience providing various types of equipment used in display manufacturing to customers around the world, Screen Finetech Solutions will manufacture printing equipment under license to Panasonic Production Engineering, sell it and provide maintenance and other services, together with JOLED.
JOLED says that all three companies will combine their technologies and knowledge to develop a full-fledged structure for supporting customers' adoption of this technology, while also striving diligently toward its swift commercialisation.
Separately, JOLED also announced that it has raised a total of ¥47 billion ($422.6 million) in capital through the third-party allocation of new shares to mass-produce OLED displays using its printing method. The company plans to start mass-production of OLED displays in 2020 at its facility in Nomi, Japan, in cooperation with Japan Display. JOLED will use the funds raised through this capital increase to develop its printed OLED display mass-production line. The company also plans to raise funds at appropriate times as needed in the future.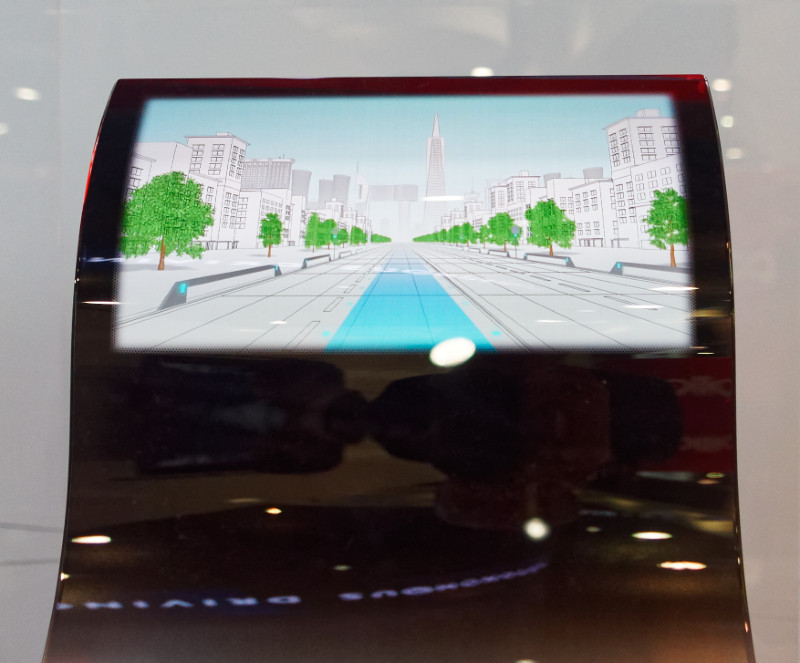 Denso had this Flexible Display at CES although it had nothing to say about it. We suspect that it was made by JOLED. Image:Meko
With the addition of these new shareholders, JOLED says it will accelerate commercialisation of printed OLED displays by further enhancing cooperation with shareholders in areas such as joint R&D, business tie-ups and the development of sales channels under a new governance structure. Specifically, it will cooperate with Denso, which develops and produces auto parts, in the R&D and business development of onboard displays, supported by Toyota Tsusho. The company also says it will expand its cooperation with Sumitomo Chemical.
Analyst Comment
JOLED, which has struggled to raise enough investment for its current plans for small to medium OLEDs and up to monitor size, is unlikely to be able to find the capital to build a TV scale fab, which would need to be G10 or above to be competitive. If the company is successful at helping someone get to inkjet printing of OLED, it could be quite disruptive to the TV business. (BR)