The ISTE 2016 educational conference held in late June, with over 16,000 in attendance hailing from 76 countries, is the largest ed-tech conference held in the U.S. This year's ed-tech extravaganza left me dizzy with new ideas, new technologies, and new opportunities. Let's zoom in on some of the developments emerging from this huge U.S. educational technology event.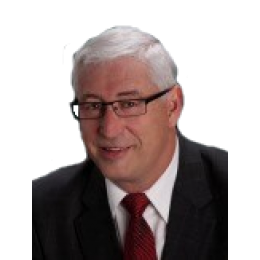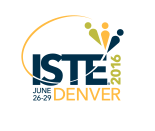 The Educational Expo. For the last few years, exhibit hall activity at ISTE has been tepid. For years, many teachers would do anything to escape the clutches of ed-tech vendors, avoiding the expo hall altogether. That has now reversed. Schools now have more money and have begun the slow creep back from the recessionary disillusionment of the last few years. The ISTE 2016 expo was remarkable, fresh, and even dizzying: packed, queued, and vibrant.
Microsoft is Back. Yes, Microsoft was back in front of educators this year, but this time in a big way. Not only did they have a booth teeming with activity, they offered many breakout sessions (Minecraft, Surface, and more) that were so popular, people would stand in line for 90 minutes to gain entry. And they offered interactive opportunities at various locations throughout the conference venue for educators to take their picture wearing Minecraft gear while standing in front of Minecraft landscapes. Haven't seen such buzz and interest in years. A big win—a big presence—for Microsoft.
Amazon Gears Up. Guess who won a "best of show" award at ISTE 2016, despite a diminutive booth? That's right: Amazon. In their small yet portentous booth, Amazon quietly entered the fray as a digital curator of educational resources, throwing their considerable weight into the ed-tech content procurement and middleman arena. Basically, Amazon has created (invitation only and beta, so far) a procurement clearinghouse—a digital hub—for the ed marketplace using exciting new technology (translated: their existing e-commerce technology) called Amazon Inspire. Amazon Inspire will offer both commercial and open educational resources (OER) on their well-known platform, en masse. With Inspire, educators are offered smart search, simple upload, and rating features. Teachers will also be able to create personalized 'collections' of resources with the ability to share their own collections with other educators. Amazon is plainly aiming to disrupt the educational market considerably with their new digital hub for acquiring learning materials, software, digital content, and OER resources.
Projection Gears Down. I visited every projector manufacturer's booth in the expo and noticed that many of these venerated companies had sized down their booth one notch since last year. Even Epson seemed to have a smaller footprint than last year. Nothing much new here, but, despite its primitively small size, the Vivitek booth clearly offered the most stunning laser projector imagery in the entire exhibit hall. Still, I wonder if passersby even noticed, given the smallness of their booth…
Collaboration Continues. The display-friendly "collaboration space" meme continued on its merry way at ISTE 2016. Shhhh! Don't tell anyone, but the coming 2016 Horizon Report is going to give the "learning space redesign" and "collaboration space" notions, a big bump upwards.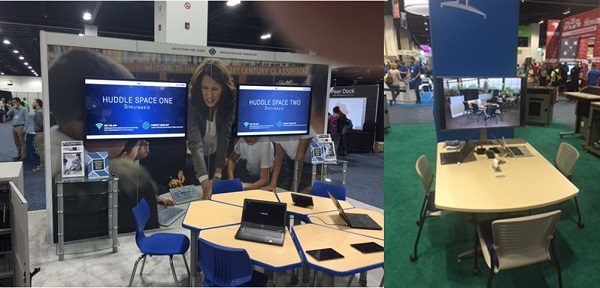 Displays featured at many ISTE collaboration spaces
3D and VR. Suffice it to say that both 3D and VR technologies evidenced a huge presence at the ISTE 2016 conference with over forty-six 3D-VR-AR-related events in their slate of sessions and more than thirteen vendors in the exhibit hall. This meme is deserving of a dedicated discussion, so I will follow up with a revealing deep-dive article on this theme later next month.
–Len Scrogan
---