Mobile Displays – A recent iPhone 6 teardown report published by IHS confirms Apple is sourcing both its 4.7″ and 5.5″ AMLCD panels from LG Display and JDI (Japan Display Inc). 
The company is paying $45 for the (smaller version) LTPS touch screen display and $52.50 for the larger iPhone Plus panel that brings Apple close to smartphone display size parity with chief rival Samsung.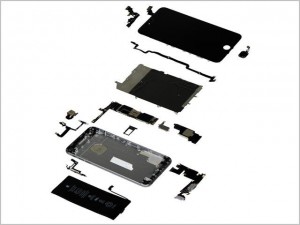 IHS also said profitability on the devices is growing too, as this relatively low investment in the display upgrade (plus other components) allows Apple to charge $100 more as a starting MSRP for the iPhone 6 Plus (over the iPhone 6).  In all, the iPhone 6 is about $16 more to produce than the previous generation smartphone from Apple, offering a handsome return of up to 70% profit (for 128 GB models) to the bottom line for one of the world's richest (by market value) companies. Apple reported they sold over 10M iPhone 6 and 6 Plus devices on the first launch weekend alone, and could have sold more had inventory been available. In many markets it was the more profitable iPhone 6 Plus that sold out first.
IHS's Andrew Rassweiler who directs the Benchmarking Service for the company commented on the new details from the iPhone 6 teardown. In a recent IHS press release, he stated, "Apple has always been adept at offering higher-end iPhone models with enhanced, desirable features – and then pricing those versions for maximum profitability". Total BOM (bill of materials) cost is $196 for the 16 GB (NAND flash memory) version of the iPhone 6, (entry level device) by the IHS Mobile Handset Intelligence group's reckoning. The price up strategy for Apple includes the "phablet" larger display device that cost just $15.50 more to produce (that's $215.60) over the iPhone6 but reaps a whopping $100 more with its $749 MSRP for the iPhone 6 Plus model (off-contract).  It's $649 for the iPhone 6 base model with 16GB – without a contract subsidy from a wireless carrier.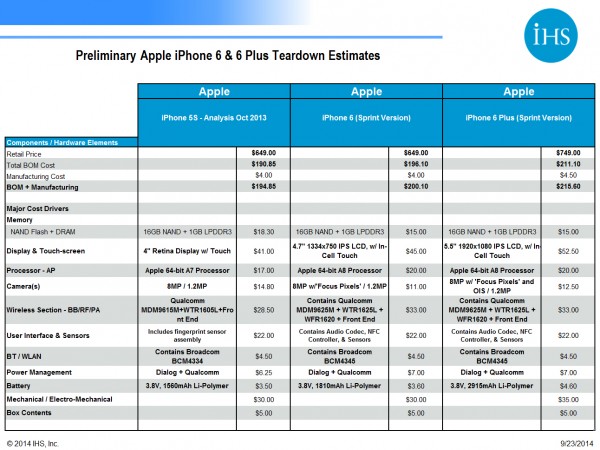 Beyond the display (the most expensive component), IHS reports that Apple is continuing to use its past cash-cow strategy with NAND memory upgrades. The company is able to charge between $100 and $200 more for memory upgrade options that top out at 128 GB, at a cost of only $47 for the higher memory option chips. It's that double whammy combination of larger screen and higher memory that pushes the profitability into the stratosphere for Apple topping out at 70%.
IHS said Apple has been good at steadily increasing gross margin with each generation of iPhone release. The very first iPhone that came out in 2007 returned an enviable 55% and that number steadily increased to the iPhone 5 launch last year. The entry level version 5C launched in 2012 hit 68% gross margin and the former flagship 5S mentioned above is at 68%.
Meanwhile the larger display camera and battery sub-systems in the iPhone 6 Plus add just $7.50 to the BOM cost of that device (over the 6); and it is important to note these costs account for parts and manufacture of the phones only, they do not account for any licensing fees, royalty or NRE (non recurring engineering) expenses associated with production or R&D. Still they go a long way to help account for Apple's massive market cap based on profitability.
So there you have it. Apple has once again made the display (size and resolution) the nexus of its flagship product launch, and savvy buyers for the company were able to deliver the new iPhone 6 Plus including a larger display panel and newer components for just $15.50 more for the company to make. One reason the run-up on Apple stock is not likely to stop any time soon, market acceptance for both new devices is bolstered by high reviews. CNET and TechRadar gave the new phone 4 ½ out of 5 stars, Engadget 4 stars, and Stuff.tv gave it the full 5 stars. –  Steve Sechrist