Dxomark has tested the iPhone 15 Pro Max display. The 6.7 inch AMOLED sees little change from the iPhone 14 Pro Ma, in terms of performance, and lags behind Samsung, Google, and Honor on the charts.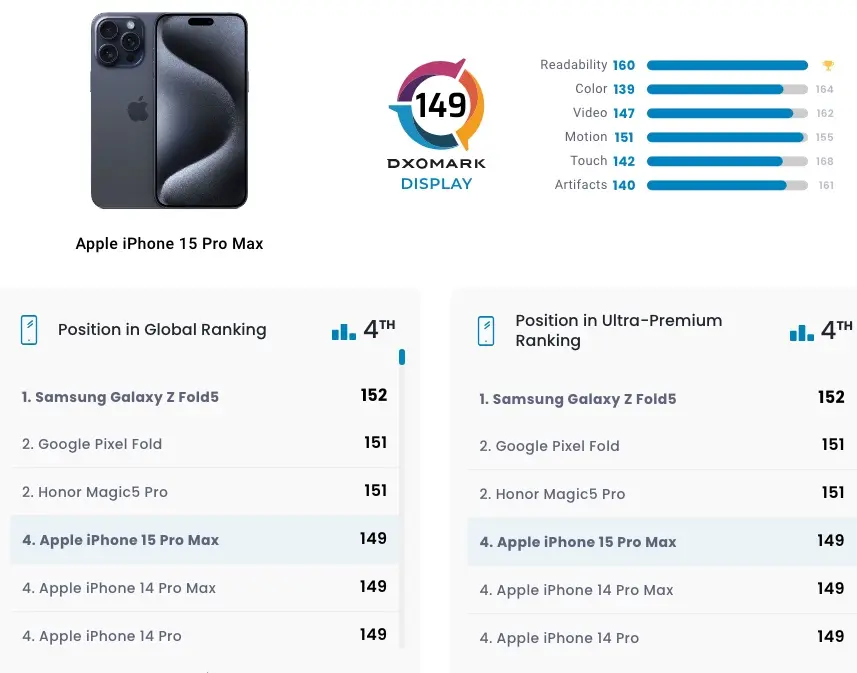 The iPhone 15 Pro Max excels in terms of readability. It is easily readable under diverse conditions, including challenging outdoor environments. Notably, the device can achieve an astounding 2260 nits on a 20% average picture level (APL) white pattern when outdoors. This is quite impressive, though the brightness does wane at higher APLs. This decline suggests that while the device is more suitable for photo viewing outdoors, it might not be the best choice for extensive web browsing in such conditions. Another noteworthy improvement is the screen uniformity. Past models showed pronounced shadows, especially around the notch area, but this year's model presents only a negligible shadow, elevating the overall display experience.
When it comes to color rendering, the iPhone 15 Pro Max's default display leans towards a slightly saturated representation, especially of sRGB content. While this renders photographs more vibrant and captivating, it can sometimes result in an overemphasis, particularly when viewing under direct sunlight at high brightness levels. For instance, facial images may appear with skin tones that don't resonate as natural. On examining the device under 1000 lux, the colors remain consistent and true for both sRGB and Display-P3 formats. However, it is noteworthy that the Display-P3 content tends to desaturate under powerful ambient lighting. Conversely, in low-light conditions, sRGB colors come across more saturated than usual.
Video playback, especially in SDR, on the iPhone 15 Pro Max tends to mirror its still photo color rendering approach. SDR videos viewed under dim lighting conditions come off as more saturated than standard. HDR10 video content exhibits an orange hue, which distorts the natural appearance of skin tones. Even though there has been a marked improvement from the iPhone 14 Pro Max, there's a noticeable lack of contrast in midtones for videos. In terms of motion, the iPhone 15 Pro Max showcases an almost impeccable frame drop performance, ensuring smooth video playback. Only on rare occasions do frame drops occur, and occasionally, discrepancies arise when playing video games. The artifacts attribute brings to light the iPhone 15 Pro Max's low flicker frequency. However, the improved screen-to-body-ratio, enhanced reflectance ratio performance, and the commendable control of aliasing in video games indicate clear advancements over the previous model.