This year saw the return of the Digital Signage Summit to its long term home in Munich. It took place in the Hilton Munich Airport on 6th and 7th July. To coincide with the event, Invidis released its annual 'state of the industry report' which can be freely downloaded here. Invidis arranges the event with ISE Events.

When Meko, the publisher of Display Daily, was researching the digital signage market in Europe, we worked with Invidis by providing data about the sales of large format public displays for the yearbook. Now, the report says, it relies on company reports and 'estimates of an advisory board'.
Samsung was estimated to have 34%, LG was at 14% and PPDS (which runs the Philips Professional range) had 7%. It's intriguing that NEC Sharp chose not to disclose its share! Invidis quotes the global market at 6.9 million units in 2021, with EMEA at 23% – which would mean around 1.58 million sets with Samsung at over half a million. Value is estimated at $16 billion for the world, with $3.4 billion in Europe.
Sales globally were up 21% on 2020, but up 26% in Europe, Invidis reports based on data from Futuresource.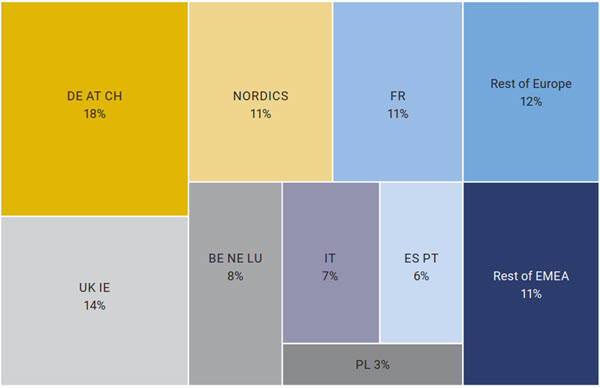 Invidis estimated these regional shares based on company data and estimates
In this report, Invidis collaborated with Canada-based Dave Haynes of Sixteen-Nine.net and between them, they looked at developments in the market of solution providers in Europe and North America. In Europe there is significant consolidation going on and Invidis expects this to continue. Major players are Trison, M-Cube and Zeta Display. The firm looks at the market in different regions around Europe.
The collaboration with Haynes meant a look at the US for the first time in the report and he identifies the three digital signage leaders as Diversified, Stratacache and FWI. However there are are plenty of other players.
Technology
Turning to technology, the report looks at LEDs, but not in any detail.
A development that had passed me by was that Microsoft has a new feature for hybrid video conferencing. Unusually, the application is designed to work on displays of 21:9 format and at least 1080 lines of resolution. Ideally, Microsoft has said, a 5040 x 2160 would be ideal. Jupiter had a 21:9 display showing the application at ISE. This is a topic that I plan to return to.
The report looks at the improvements in projectors which have made the technology more appealing for a range of applications such as retail.
A section that I found particularly interesting in the report was on displays with application processors, known in this market as System on Chip (SoC) displays. The report includes a performance index created by Signage OS that takes Windows-based players as the benchmark and compares SoCs and their development over time. More than 100 SoC displays from major brands have been tested since 2013.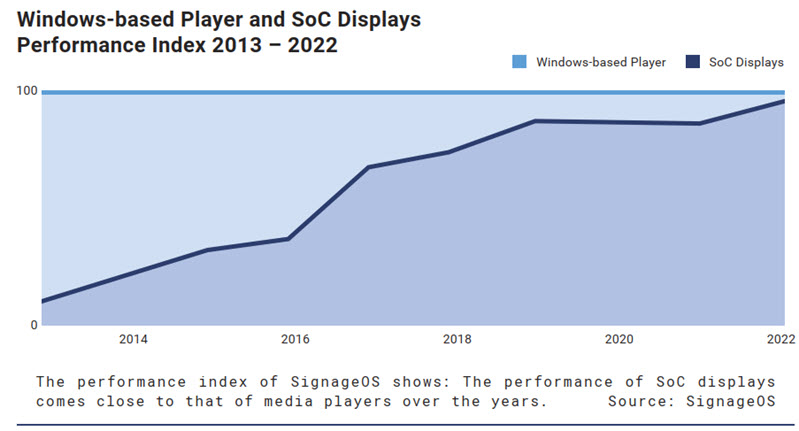 The comparison for an SoC is an external player with Windows 10 Pro, and Intel Core i5 and 4GB of RAM. The report also looks at how installations have developed from Generation 1 & 2 ("hang-and-bang", "touch", and "local experiences") – around 2/3 of current systems, with Generation 3 ("connected signage") and Generation 4 ("business critical"). Generation 3 has peaked about the end of 2021, and Generation 4 is increasing rapidly so by the end of 2024, around 2/3 of the installed base will be Generations 3 and 4. Again, this is a topic I plan to return to.
The report looks briefly at the competition from standalone digital signage players and includes an article about Google's latest attempt to enter digital signage with the latest Chrome OS Flex operating system, based on the technology it acquired from Cloudready developer Neverware in 2020. (Cloudready developed software to convert older PCs into Chromebooks – during the pandemic, I used it to convert a number of old notebooks for local families that were struggling with EFH with not enough devices during the pandemic).
Cloud-based solutions and options are reviewed with a move, Invidis explains, from ""one-trick pony" digital signage silo applications (DS) to fully integrated digital signage experience platforms (DSXP).
Invidis was involved with Expo 2020 which eventually opened late in 2021 and the report reviews a range of ways that displays were used in the experiences. It also looks at the use of displays in Las Vegas.
An interesting segment of the report details all the screens available for DOOH advertising and it seems that there are 136,004 in Germany, 15,465 in Austria and 14,345 in Switzerland. There's a great deal of detail and a run through the lists is a good way to get a sense of the different verticals that are available to advertisers. DOOH, as I have written for a couple of decades, always struggles with weak metrics – especially when compared to online advertising with its "views and clicks". To help the German DOOH business, a new company the Institute for Digital Out of Home Media – IDOOH for short – was launched early in 2022 and Frank Goldberg, the Institute's MD, gives an introduction into what it hopes to achieve.,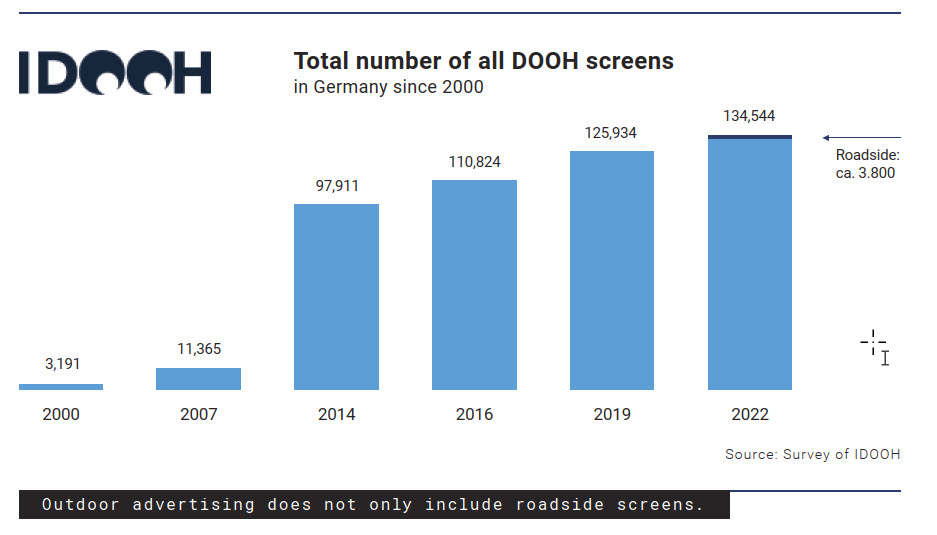 Finally, there is a directory of some companies in the market. (BR)