A few days ago, I mentioned a really novel looking display that I saw from Innolux at Display Week, so I thought I'd dig a bit more into it Naoki Sumi from Innolux presented on the Kirameki Display that he described as having 'Natural Texture and Natural 3D'.
There was no paper presented during Display Week, but Sumi gave a short talk in the Exhibitors' Forum. However, he presented on a couple of autostereo solutions, one for several viewers and another for medical applications, before he got to that one.
Natural3D
Innolux has developed what it calls Natural 3D (N3D) for several users that is usable over a 120 deg viewing angle. The input for the display is a 2D image plus a depth map and Innolux has achieved real time rendering even at 60fps using an FPGA. Sumi looked a the issue of convergence and accomodation conflict in typical conventional 3D displays. This issue arises because the eye is focusing on the display surface, while if, for example, the object appears to be in front of the screen, the eyes are converged there. The conflict between Vergence and accomodation and the discomfort it causes is a regular theme in stereo displays.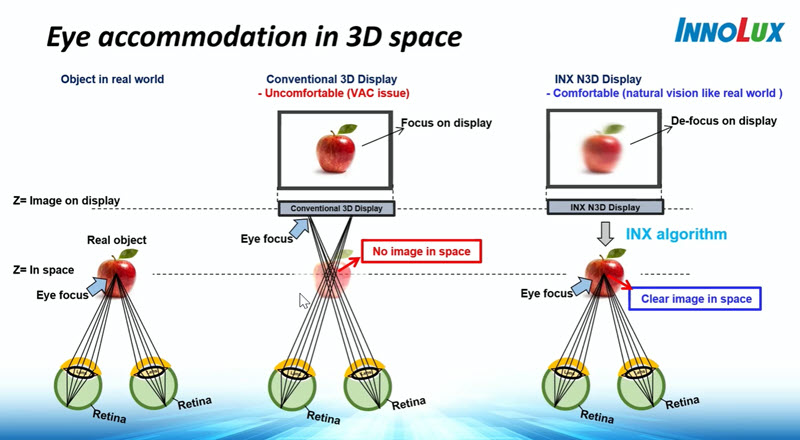 He compared the advantages and disadvantages of different types of 3D display. Glasses type can work well, but users don't like them. Single user autostereo (no glasses) displays can give a good result, but only for a single user. Multi-view autostereo displays can increase the number of users, but suffer a significant loss of resolution. Innolux believes that its Natural 3D solution avoids these disadvantages. Unfortunately, Sumi didn't give any details about how the technology works and we hadn't been able to dig any details out by press time other than that it uses a special film.. We'll keep digging.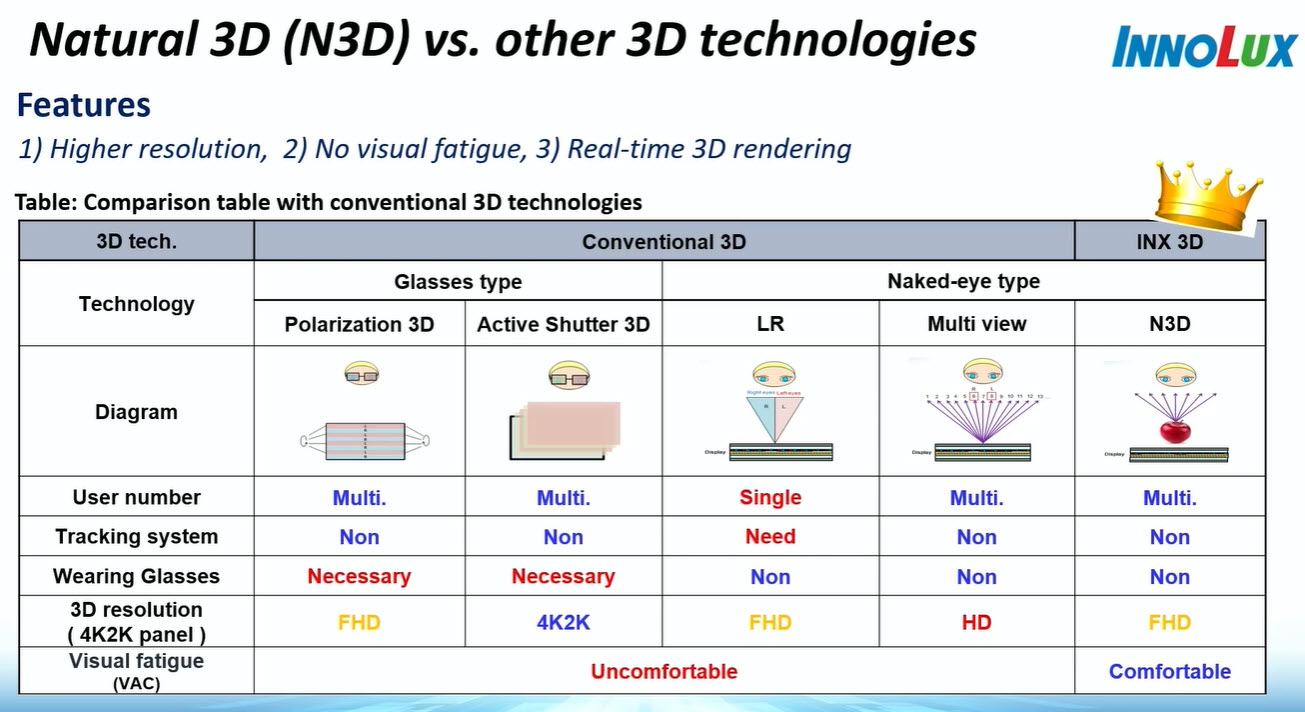 Next he described the way that the firm has developed a Natural 3D medical display that can support the input of standard Dicom medical image files, such as used in CT or MRI scanners and render them with accurate depth perception in real time. Features include a depth blur reduction engine. That leads to a high resolution display with low visual fatigue.
This system can show a very clear image of slices – and there could be 512 slices in an MRI, for example. Although experienced doctors can extrapolate from the 2D data, younger doctors are helped a lot by viewing in 3D, Sumi said. Seeing all the slices as a volume significantly reduces the time taken in diagnosis. This helps with surgery planning and also for diagnosis and radiology. It can also be helpful in education. Innolux has had very positive feedback on the technology from medical specialists.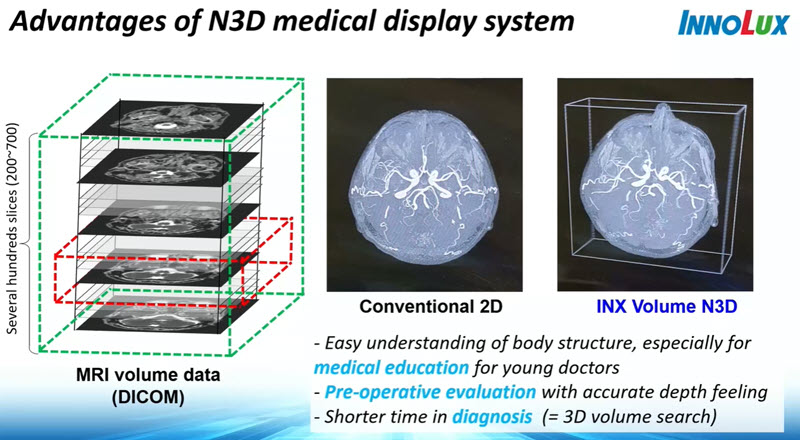 Finally, Sumi turned to the Kirameki display which uses light field display and can create an image of 'aroundFullHD' from an UltraHD display. It can make displays from 13.3″ to 65″ using IPS LCD displays. The angular resolution is from 31-256 views. Kirameki is a Japanese word that is used to express a sense of shining or glitter – for example of precious stones or metallic surfaces or even the colours on a butterfly's wing.
The Kirameki display scatters the light with light being emitted with different colours and brightness in different directions. That is the opposite of traditional displays. The Kirameki displays simulate the kind of scattering you would get from textured and shiny objects. As you move your eyes, you see different colours and brightness.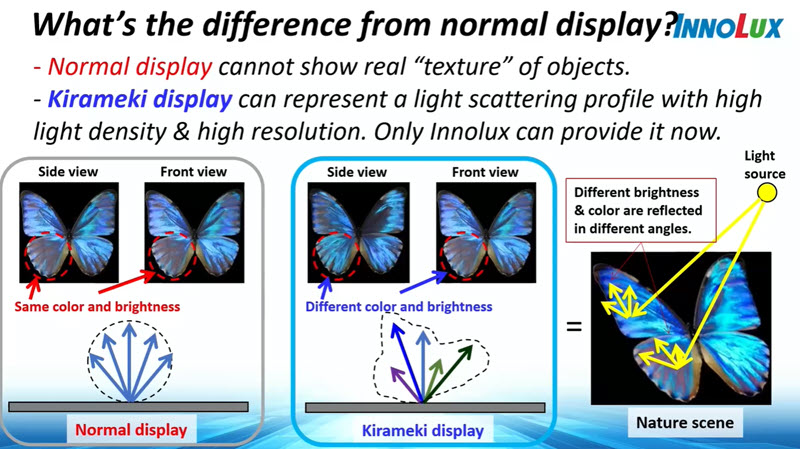 Applications are likely to be in public spaces – the display can show very good texture in silk, for example, as well as metallic objects such as watches. Even food (including sushi) can look better on this kind of display. As well as retail applications, Innolux imagines the displays being used for object design with a better sense of texture.
Casino games are also an important application and the Kirameki can show the gold or silver coins very well. The display can also be used to give a sense of brush texture on reproductions of oil paintings. The Kirameki display is particularly good for representing the 'shallow bumps' of brush strokes. 3D displays are not so suitable for this kind of very shallow depth. By turning off any spotlight, you can eliminate this effect, if it's annoying.
There is a video from Innolux online here.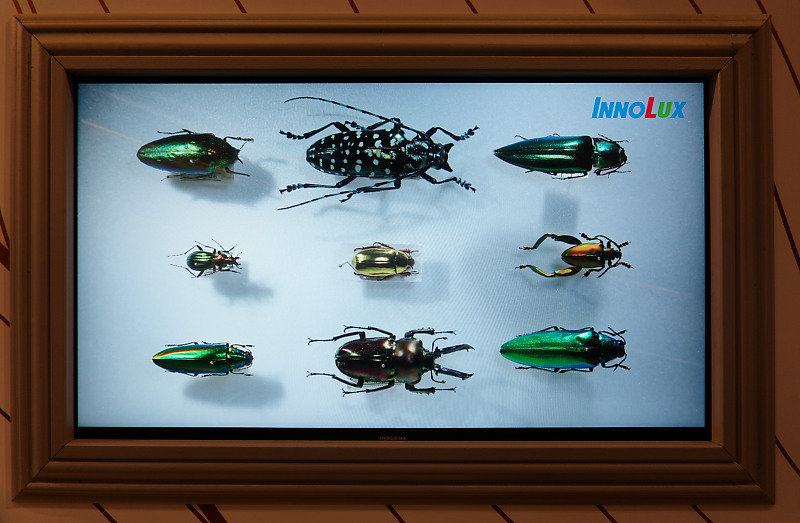 The Kirameki Display at Display Week. Image:Meko
When I saw the effect at Display Week, I admit that I had assumed that there was some kind of foil that gave particular effects for particular metals, but it seems that it is much more general purpose than that. On that basis, I think it could be a really useful technology for any integrators in retail, hospitaluty, entertainment, transport, gaming and casinos or digital signage. Well done to Innolux for something genuinely novel! (BR)