3M was showing a new 65″ PCap table display that will be available in August. The company was also highlighting the object recognition and metal mesh technology that it showed at ISE. The 65″ C6587PQ has ultraHD resolution and a 'glass to edge' design. The surface of the glass is engineered to reduce stiction and the glass is heat-tempered and treated for anti-glare.
Aoto is one of the more advanced of the Chinese LED brands and was highlighting its 1.15mm pitch products which support front or rear access for service. The frame is made of carbon fibre for low weight. The other new item since we reported on the firm at Pro Light & Sound was a new 8K controller (others need up to eight to run this resolution, the firm told us). It can be controlled by an LCD touch panel and has an optical fibre output available.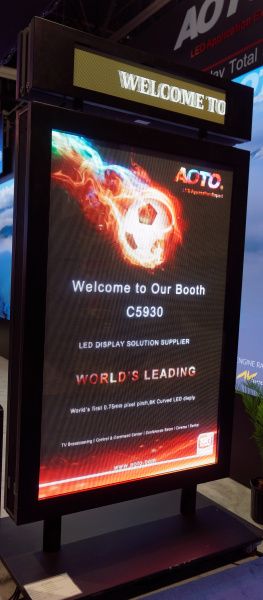 Aoto's LED totem will be used in New York. Image:Meko
Also new were dual sided LED totems for outdoor use, which have 2.8mm pitch on one side and 4.8mm on the other. Aoto has won an order from JCDecaux for 60 of these to be installed in bus shelters in New York. The displays will be glass covered and will include fully integrated driving systems. They will also have wireless support.
Aptovision spoke at the Display Summit, but on the show floor it had a good demonstration of different compression and transmission systems to show how the codecs distort the images. The images were its own BlueRiver NT+, H.264/265, VC-2 and MJPEG 2000. The Aptovision system showed significantly better quality on the graphics, especially fine lines. The company also showed how its Plethora engine could be used for switching and scaling. Later in the year, the chip will be usable for multiview applications.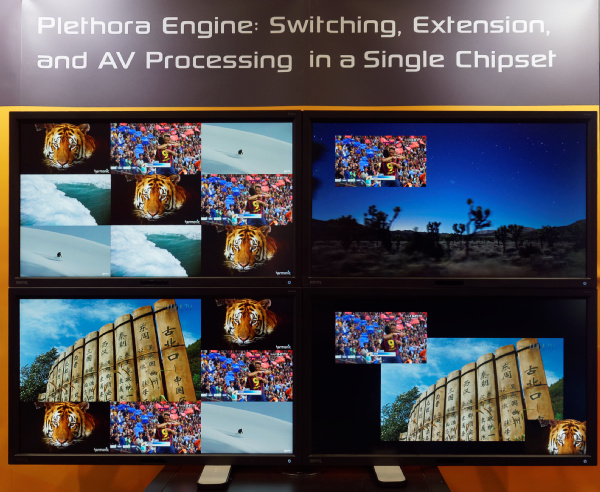 Aptovision will be able to support multiviewer operation through its Plethora engine. Image:Meko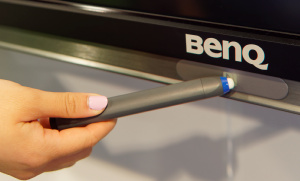 BenQ was highlighting its 65″, 70″ and 75″ FullHD interactive displays, which use infrared touch and were shown at ISE. The units have pricing at $4,299, $5,499 and $6,599 at MSRP, respectively. Features include an anti-bacterial coating and an NFC reader which can recognise a tag in a pen to allow differentiation between multiple simultaneous users. The boards can run DisplayNote software, as they have complete integrated Android support. As well as this software, BenQ has its own PC-based software which can be downloaded freely by clients.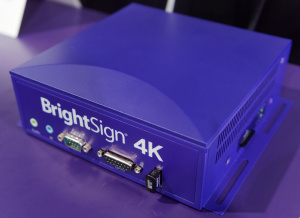 Brightsign, the supplier of media players, has a new feature in its software which supports two way bluetooth connectivity with its players. The facility in its UltraHD boxes now, although they need a USB bluetooth dongle, and will be implemented in other boxes later. The software supports use of a dongle as a beacon, but because it is bidirectional, the beacon can initiate direct communication with the mobile device of a user.
BSI is a value added reseller of LCDs that works on high brightness and outdoor LCDs. The company was showing its high brightness LCDs that use panels with HighTNI LC material from LG Display. The company has displays up to 2,000 cd/m² and was also showing a
Canon launched its 2410 monitor last year. It's much lighter and smaller than previous Canon monitors, and is designed for use on sets for previewing of captured content. The company has been developing firmware upgrades and was showing a live feed with de-bayer from its C300 Mk2 camera.
The current monitor is 400 cd/m² brightness. We asked about mastering for the UHD Alliance Premium logo, which requires 1000 cd/m² and the firm told us that it would have a suitable monitor in the future. We've covered the Canon projector news in our round up (Projector Round Up)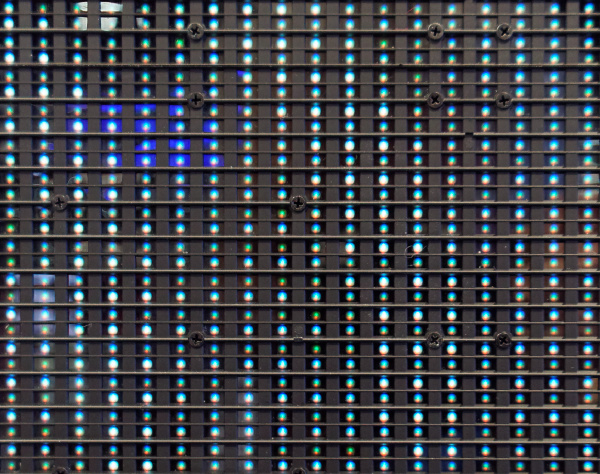 CCDL's 3D LED uses different vertical and horizontal pitches. Image:Meko
CCDL is from China and is working on 3D LEDs, either autostereo or with polarising filter. There was a talk at the Display Summit by Prof. Li (DS20 Li Solves the Problem with 3D) when he explained how to eliminate the problems with discomfort when watching 3D. In the Infocomm North Hall, the firm was showing a large LED display using polarisation. The pixels had half the pixel pitch vertically, compared to the horizontal pitch. We were impressed with the comfort and quality of the stereo3D effect, although the amount of depth was, perhaps, too extreme.
Christie did not have much news on the direct view display side, although we did go to the Westgate to have a look at the big LED wall there. The company told us that was also showing the 1.2mm Apex LED display for the first time in the US. The point was made that most of the competition was not showing video content, but mainly still images. Producing good video on an LED wall is not trivial and Christie believes it has a real advantage, there. It also highlighted the three year warranty and the UL certification at system level. The company is using 1:1 format cabinets for the Merit series, but the Apex is in 16:9, ready for video applications. A 0.9mm Apex solution is 'coming'.
A 55″ 1.8mm super narrow bezel has 1.8mm bezels and will start to ship from September. A value version is also being developed with 16mm bezels and there is a new 49″ LCD monitor also on its way.
Cima Nanotech was highlighting its support of pens on PCap touch displays made with its silver nanowire materials and exploiting technology from Anoto. The company was also showing water and object rejection and an 84″ interactive display that was optically bonded (by VIA Optronics).
CreateLED was showing its LED displays and highlighted that it uses a constant cabinet size for flexibility. It had a 1.6mm display that lists at $70,000 per m2.
CVTE is a manufacturer of TV main boards, based in Guangzhou, China and told us that it supplies 55 million main boards per year. However, it also makes Interactive Flat Panels from 55″ to 98″ with 10 point infrared touch using its own sensors and boards which it designs internally. It uses its own brand in China, but supplies through OEMs and ODMs in export markets. As well as hardware, it has its own collaboration software. The sets can include a slot in module to add PC functionality.
CVTE is developing its capability to add PCap touch and expects to have 65″ and 70″ units next year, as they are at an early stage of development.
Daktronics was clearly not enjoying the show and, grumpily, told us that it had nothing new since ISE.
We reported on DeepSky at ISE and SID, so there was not much news at Infocomm, but the company is getting close to the first installation of its innovative small pitch LED products.
Dell had a meeting room at the end of the North Hall as it was showing current products in the large format area, but also some new concepts. The company showed us the WR517, a wireless module that fits on the back of Dell's conference room monitors and connects via HDMI. It supports wireless connections from Windows 7 (with a download) and 8.1 and 10 (out of box). The box also supports Android 5.0 (but there is no mention of iOS). It is shipping in the US at the moment as approvals are not in place for other regions. The box was being used with the C7016 70″ conference monitor and it can operate at ranges of 10 metres.
The currently shipping 4350 projector has an unusual feature. The set has a removable panel that allows access to a USB port. That means that a dongle for wireless connectivity can be added but then concealed inside the case, keeping the outside clear. The 4000 Ansi lumen projector uses a single chip (0.65″) DLP 1080p engine with BrilliantColor and 2,200:1 contrast. The lamp is a 260W Philips UHP type. The 4350 is selling at $1,199 on Dell's website.
High brightness monitor specialist supplier, Dynascan, was showing its most recent product, a 75″ LCD with 2,500 cd/m² of brightness which is shipping now. Other news was the same as we heard at ISE.
Displax of Portugal was showing its new SkinUltra metal mesh touch technology which it can use on displays from 20″ to 105″. The company told us that it can support 100 touches and has a response time of 5ms and the firm drew attention to the improved transparency and reduced visibility of the latest version of the technology. Displax said that it would be happy to compare its approach to the touch technology in Microsoft's Surface Hub and that it is happy to supply panels with touch or films for integration elsewhere.
Extron had a press briefing session before the opening of the show. After we negotiated the security, the company started by explaining how it is building its strategy around three platforms – fibre, being launched at the show and able to support 2160P60 video with HDCP 2.2. The second platform it describes as 'copper' and is based on HDBaseT. The third platform is for compressed video over 1GB ethernet using H.264. (We asked about uncompressed video over ethernet, but Extron said that it doesn't see this as a key area at the moment – it sees in-room latency as important, but 'out-of-room' latency as not so important). The company has been working hard on collaboration systems and has new software solutions (AV Framework) that automatically configure basic touch screen controllers to eliminate the need for programming. The company is also working on using beacon technology to help room identification and booking.
Flat Frog was showing its optical touch technology using object recognition 'pucks' that are supported by software from Interactive Scape in Berlin. (We saw this on several booths). The pucks have a pattern on the base that is recognised by the system. The company is increasing its vendor support with Lang, Utouch (as we reported from the NEC Showcase) and Volanti Displays in the US. One of the things we noticed was that there was quite a noticeable parallax issue with the display and this is because Flat Frog was using 3.2mm glass on its sample, although it told us that "thinner is no problem"

The HDBaseT Alliance was at the show to promote the interface. It is seeing wider adoption and was showing a Hitachi UST projector that includes HDBaseT. Sony has also included HDBaseT in its smaller projectors and Aja has a 4K camera with HDBaseT integrated, the RovoCam. The latest version is more robust – we heard that the older standard supported 70-100m, while the recent flavour supports up to 100M. The audio return channel is proving a useful facility in A/V applications. There is also a fibre option and Valens has developed the HDI bus at chip level which allows merging of streams into a single cable and also allows daisychaining of sources and sinks. The facility can also be used to support scaling of images and videos across multiple displays. The group told us that HDBaseT can support 50 'hops' and in some circumstances may be able to support 100.
Finally, we looked at a 160 x 160 switch for HDBaseT from Lightware (pictured)
Infiled was showing its EasyRental LED displays which are in 1000 mm x 500mm cabinets and can be supplied in 4.8mm, 5.9mm and 6.2mm for outdoor use and the products have 6500 cd/m² and conform to IP65. Although the cabinets are relatively large, they weigh just 12kg, making single person installation possible. The cabinets are also designed to use a single cable for each row of a wall. The modules can be removed from the front surface using a magnet for servicing. There is a special cart for moving the modules.
InFocus started by showing us its 40″ DigiEasel display in a digital easel application. The INF4030 costs $1,299. The product is aimed at huddle rooms and includes four HDMI and is an Android-based that supports 10 point PCap touch. It can be used with a stylus and has FullHD support. There are integrated 10W stereo speakers. Brightness is 300 cd/m² and contrast is 5,000:1. The display can support casting from Apple, Android and Chrome.
The company also had the latest INF6502WB 65″ JTouch product which costs "less than $4,000". It has FullHD resolution and uses the Cima Nanotech touch material to provide PCap operation. There is also a new 70″ UltraHD model. InFocus continues to sell its MondoPad and had the latest 65″ version at Infocomm. It also has an 80″ that uses infrared, still, and costs $14,000 or thereabouts. The company also showed the Anoto technology used with pens, as was shown by Cima at ISE.
Jiangsu TSD Electronics Technology from Shanghai was showing a range of touch monitors from 10.1″ to 65″ that was based on PCap technology. We asked about the materials being used and the firm told us that ITO is the material, even in the 65″. The displays have 10 point touch and the firm told us that touch data is available at 60Hz. The company said that it tends to work with AUO on touch panels and believes it is in the top three of suppliers of banking ATMs and kiosks in China.
LG Electronics was very much highlighting OLED at the show, although there was nothing new compared to the ISE displays. The 65″ UltraHD curved DualView OLED display still needs a firm price and delivery, while the FullHD DualView 55″ display is due to ship next month, although we couldn't get confirmed pricing. The 86″ stretched display was in evidence and was being shown in an array. The firm was also highlighting its software partners who are supporting WebOS and the firm told us that it has a new reseller programme.
Liantronics was showing its 1.4mm LED products in a 129″ FullHD configuration. The company told us that brightness is typically set in the range of 600 – 800 cd/m² and that such a display would cost around $120,000. The rear of the company's cabinets have been designed to look very clean with no visible cables and they have 320 x 360 resolution, which is 8:9 aspect ratio, making 16:9 a simple configuration. The rear panels of the cabinets also help with cooling which helps to influence the life of the display.
Macroblock of Taiwan was promoting its LED controller chips. The company was founded in 1999 and had an IPO in 2007. It claims to be the top supplier of chips with 70% market share of LED controllers, partly because it has high quality including, for example, being able to compensate for dead LEDs, which can cause crosstalk problems if action is not taken. It believes its chips are used by all the LEDs below 2.5mm (excluding, we suggested, Silicon Core). The company was also highlighting the improved grey scales on its MBI5153 chip which can support 13 or 14 bit colour depth.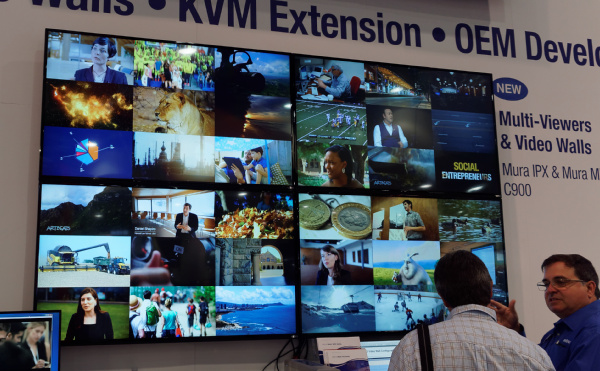 Matrox was supporting 32 steams of H.264. Image:Meko
Matrox was showing the Maevex system capturing 4K and 8K video and transmitting it over an IP network. It was also highlighting the C900 card that supports 3 x 3 video wall displays with a single card and was shown at ISE. The firm was also showing 36 streams at 720P running over a network to highlight the efficiency of the Open H.264 encoding.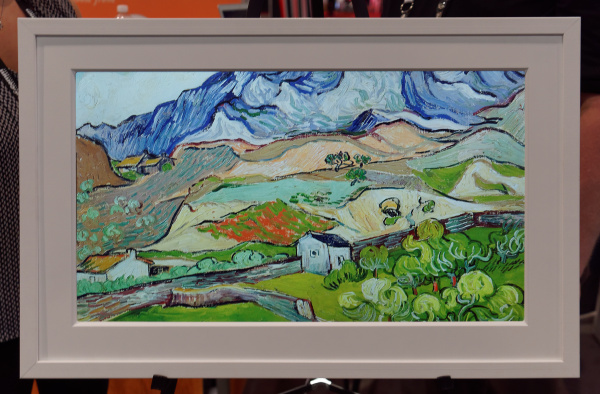 Meural's 30 inch monitor has a matt finish and seemed to show brush strokes very clearly. Image:Meko
Meural is a company that has a 30″ display that it is selling as a digital picture frame. The display has a matt surface and that, combined with well produced images, gave a very good impression of the art that was displayed. The frame has a couple of sensors that can be used to 'swipe' to the next image. The staff on the booth had little or no technical knowledge about the display, and the website is little help. Pricing is $595, with a show offer of $450 which includes access to the library of 20,000 images.
Mirage Vision was showing its outdoor TVs. The company takes standard TVs and waterproofs them, rather than putting them in enclosures. It has special "CryptoShield" waterproofing material which is applied to the circuit boards. The company has its own processor and scaler and can optimise performance for outdoor use as well as adding touch.
High end multi-user display developer, Multitaction, was at the show and was highlighting the latest version of its hardware and software which has improved latency in responding to touch. The 36 cameras that are in the system allow unlimited touch which is an advantage in museum and other showcase applications. The company has also developed an 'entry level' system that includes three displays and costs around $55,000.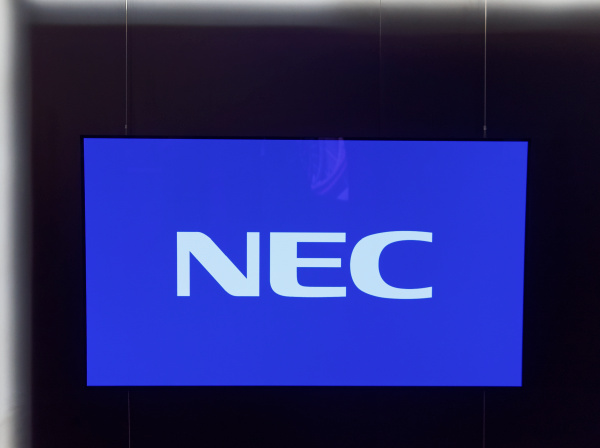 NEC showed this OLED but we thought it was showing image sticking of this logo on some images. Image:Meko
NEC was showing an OLED display for the first time, in public. The 55″ display had 400 cd/m² of brightness and used an external power supply. We asked about image sticking and were told that it wasn't an issue. When we pointed out that the bright NEC logo was visible in other images on the display, there was a surprise and when we went past the booth later in the show, the particular image that was showing the burn-in seemed to have been dropped from the cycle.
NEC's curved monitor will have a 1800mm radius. Image:Meko
There was a new 34″ curved EX-341R which will ship later in the year and has a 1800mm radius.
In LED, the company explained that the new system that it has for LED uses modules that are designed to be interchangeable, which means that you can 'mix and match' different pitch modules from 1.5mm upwards. The company was also showing its 4mm and 6mm outdoor products.
Next, we looked at a 3 x 2 interactive video wall, using Baanto's optical technology (We saw Baanot at the show and its main news is that the modular system that we reported on at ISE is now in production). There was also a new 55″ UN551S video wall LCD that has a 1.8mm gap between panels. It will start to ship in July.
Optotech had a 'proof of concept' display which consisted of a very low resolution (very big pixels) reflective display which uses triangular E Ink 'pixels' which are illuminated by LEDs which are just above each row of pixels. The aim is to create colour by using differently coloured LEDs.
Panasonic was highlighting the LightID technology that we have previously reported on. It was also showing its 1.8mm super narrow bezel LCDs which will start to ship in early 2017. The company was also highlighting an extension to its entry level LCD range with 75″ and 84″ units which use a better scaler than many sets in that class, and which is claimed to support 59 different resolutions. The panels are based on IPS technology, have 350 cd/m² of brightness and are rated for 16/7 operation. They are less than 3″ (7.6cm) deep, so meet ADA requirements and will be available from August.
The BF1 series is a set of infrared-based interactive displays and has been refreshed to include a 'Color Universal Design' concept which is intended to help users with colour blindness. The sets have an embedded OS and are available in 50″, 65″ and 80″ with 350 cd/m² of output from their VA LCD panels. The displays can also be used with PCs and support WiDi.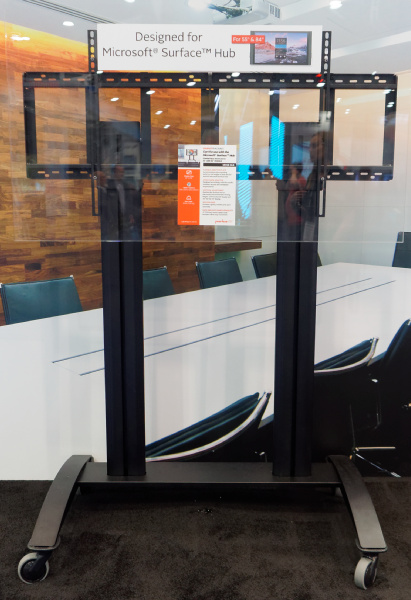 Peerless's Surface trolley is cheaper than Microsoft's. Image:Meko
Peerless had plenty to show at Infocomm, but ISE has become more and more important in recent years, so most of the products had been launched there. At Infocomm, a new trolley for the Microsoft Surface Hub (in either size) was the main announcement, as well as a quad monitor bracket system. The Surface Hub trolley is significantly cheaper than the Microsoft version. Peerless has an enclosure that works with the 86″ LG stretch display. An application that was intriguing was shown, where the company is working with Volta on electric car charging stations in the US and was just one of a number of 'kiosk' applications. We met up with Peerless after Infocomm and the company was in a buoyant mood. It has a new distribution warehouse in Dubai and is opening a second manufacturing plant in Taiwan to further develop the Peerless business as a global brand.
Philips launched a lot at ISE, so there was less to talk about at Infocomm. The company had 65″ and 75″ infrared-based 10 touch systems that are just starting to ship now. The firm also told us that the reaction to its adoption of Android for its smart displays has been extremely positive.
PQ Labs is a provider of infrared touch technology to a number of companies in the market. The company showed a system at ISE that detects pressure, by measuring the deflection of the glass. At Infocomm, the company had the latest version which can support detection of up to 1200 levels and can be used with Windows applications such as OneNote. Palm erasing has now been implimented. (We noted that there was significant parallax on the demo unit, but PQ Labs told us that the pressure system would work even on optically bonded panels. – Man. Ed.)
PQ Labs will have Gen 7 of its infrared technology in December 2016 and it was being shown. The new design uses mirrors to deflect light behind the surface of the display, allowing much smaller bezels (large bezels are a significant downside of infrared touch). The touch is also extremely close or directly on the glass. The version at the show was a first prototype and we heard that it is compatible with UltraHD panels and is more resistant to interference from sunlight.
Prysm continues to pivot to being a supplier of communication and collaboration systems and highlighted that it now has Skype for Business integration. It is also working with Office 365 and One Drive. The company also showed how a single small screen can be used in collaboration with the full video wall.
QSTech claims to have been the first company to start making LED displays in China, so has long experience in the market, as many as 24 years. The firm was highlighting the redundancy in its driving system which ensures that any problems do not cause a loss of image. The firm was showing a 3500 deg K configuration for TV studios and said that it is a specialist in customisation for special applications as it has its own controller and also uses Radiant calibration systems.


RCStars is a maker of kiosks and touch systems that is based in Shenzen (see pictures). We met the company's distributor in the UK at the Retail Signage Expo. The company was in bullish mode at Infocomm and had a range of kiosks on show. We looked at a portable system that included a full Windows 10 system and that uses a 27″ portrait display. It also had some 41″ stretch displays and also showed a dual display solution. It can supply systems with integrated Android or PC systems running Windows.
Ricoh was showing its 55″, 65″ (both FullHD) and 84″ (UltraHD) interactive displays at the show. It also showed a 21.5″ display that has touch and also an embedded camera and microphone. The company expects applications such as meeting room control and booking.
We reported on ROE from Pro Light & Sound in Frankfurt. At Infocomm, the company told us that it has a carbon fibre chassis under development but is also doing a lot of work with black body LEDs. The company was also showing its 'touring frame' for portability.
Samsung did not have a great amount of real news at the event. On the front of the booth, there were demonstrations of impact testing, waterproofing and vibration resistance. First, the company told us that its outdoor displays now have integrated PSUs, which was the result of requests from customers. It was also highlighting its latest narrow bezel products which have a claimed bezel of 1.7mm (combined) and produce 700 cd/m² of output. The company also had its mirror displays and we heard that they will start to ship in the second half of this year.
The latest interactive 'eBoards' are now using PCap technology and the firm is promoting its interactive displays under the heading "Attract/Engage/Collaborate".
Samsung has adopted Tizen for its Smart Signage displays.
Sharp was showing the 120″ class 8K 120Hz IGZO LCD set that is now shipping in Japan. However, there was also a 120″ UltraH 'technology demo' which uses a direct backlight and supports HDR and WCG. The company's 'best' range is the PNE range which includes Mini OPS and has been available in 42″, 49″ and 55″ but will now be joined by 60″, 70″ and 90″. The sets will be available in 'late fall' around October or November and can be used in landscape, portrait or table orientations. They include HDBasetT support using the OPS slot.
The PN-L803C is a new 80″ interactive display that uses 10 point PCap touch and supports FullHD at a brightness of 300 cd/m² and contrast of 4,000:1. The monitor will start to ship in August and the firm was showing how the display could be used in multi-screen and multi-user configurations. Also on show was the PN-L703W which is a 70″ unit (60″ also available) that supports Sharp's Pen, Display Connect and Touch Viewer software and includes a full wireless access point as well as supporting wireless display from Windows, iOS and Android devices. The unit also supports pen operation.
Sharp was also highlighting its existing UCCT technology for matching of video wall monitors and was showing a new 70″ class (69.5″) video wall display that was in a 1 x 3 configuration giving a display with 119″ diagonal. Other demonstrations at the show were of the existing ranges of products.
Silicon Core, as always, had an impressive booth and also had its displays on other stands. A highlight was the 0.95mm pitch display that had been shown at ISE and NAB. A new display to us was the Tulip 3.9mm outdoor display shown in a 124″ (3.15m) diagonal 640 x 512 configuration and with brightness rated at 4,500 cd/m². The company told us that its common cathode architecture means that it is around 30% more efficient than competitors. It's available now. Later the company plans to use dark surface devices, but it will aim to achieve the same brightness. We expected the firm to be showing new LED architectures, by now, but there is nothing public yet.
Unilumin was showing its second generation small pitch LED which is now being developed on a 16:9 cabinet aspect ratio to make it easier to build systems that can show high quality full screen video in 2K, 4K and 8K resolutions. The company is sticking with aluminium chassis for now, in contrast to the carbon fibre being used by others, and told us that "Carbon fibre is just too light".
ViewSonic was hiding away in the audio part of the showfloor and we almost missed the company. However, we were pleased we got to see a new 98″ UltraHD display that is designed for 24/7 use and includes features such as OPS, DisplayPort (1.2) loopthrough and outputs 500 cd/m² of brightness. The product is shipping now at an MSRP of $29,999 and the company told us that it had 'sold a few' into high end retail and for use in corporate lobbies.