In his SID keynote "Humanizing the Autonomous Car Experience," Sanjay Dhawan, president, connected services, at Harman International gave his keynote on five mega trends transforming the car market. These included smart audio, cockpit convergence, cloud connectivity, A-I, shared mobility and autonomous driving vehicles.
In fact the entire talk could be characterized as being at the mega trend level with lots of generalizations and very few specifics on exactly what (beyond initiatives) Harman is doing in the space. This perhaps could be due in part to the very recent Samsung takeover with little time to clear its messaging to the general display community.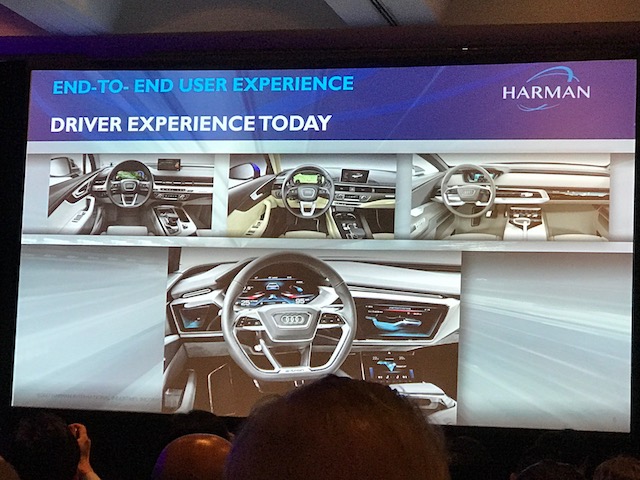 We were treated to an "end to end driver experience of tomorrow" that was juxtaposition against the current state of displays.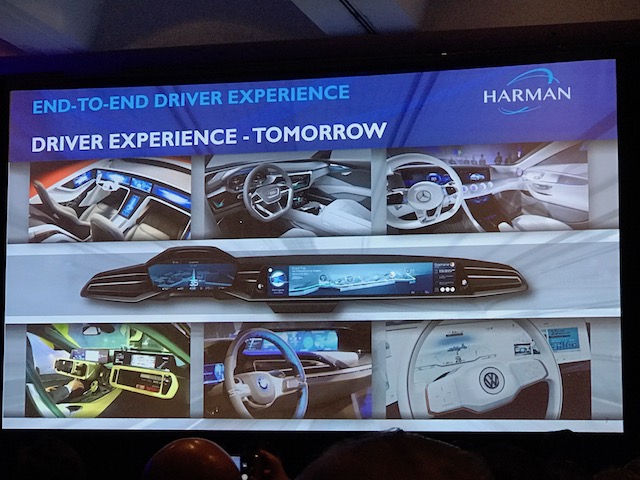 Enabling the vehicle of tomorrow according to Dhawan, touches on each of the mega trends mentioned above. A graphic was shown with AI at the center of the image and linked to advanced display systems including HUD, UI displays, rear seat entertainment, smartphones, plus assisted driving, security, cloud connectivity, big data analytics, a service delivery platform plus a host of other sensors.
Rapid deployment for manufacturers was an enabling theme, with "future proof" systems built in place that can enable new services and technologies as they emerge.
What was interesting was Dhawan's concept of "humanizing the connected car" with technologies that optimized the HMI (human machine interface. Here he sees the development of advanced interfaces that include "intelligent personalization" (again a bit vague). In this world, the car becomes a solution platform with "universal contextual solutions" that include haptic touch, voice and other interfaces (HUD etc.) that can inform but do not distract.
In moving towards autonomous driving vehicles, Dhawan identified four building blocks that include cyber security, cloud mobility and analytics, user interface combined with A-I and "sound management" (? OK they are a car audio provider). The architecture driving the autonomous eventuality include seamless and secure hardware and software, on time arrival, plus what Harman calls humanity in autonomy.
Infrastructure requirements include government investment, coordinated systems based on agnostic platforms and integration into existing vehicles (yes-bolt on).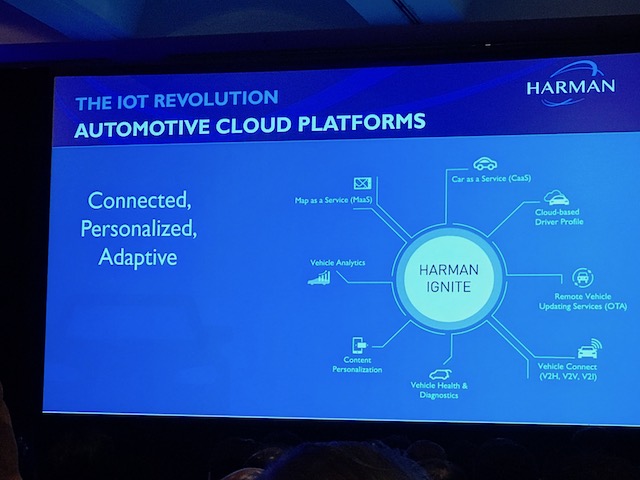 Finally getting to Harman specific initiatives, the company was said to be working on its "Harman Ignite" program that offers car makers a host of future proof services that includes remote vehicle updating, V2H, (home) V2V (vehicle) and V2I (infrastructure) plus vehicle health and diagnostics, analytics, cloud based services.
Diagnostics include determining vehicle quality and overall health help the driver and maintenance folks reduce operation costs of the vehicle. This includes reaction time to critical issues, that can help reduce accident due to system failures. Harman's Ignite combines diagnostics and connectivity, allowing dealers, manufacturers, (including fleet managers and service providers, think rental car companies), to offer services to their customers. These include early field warnings, predictive maintenance, remote diagnostics and repair, fuel management practices, more.
Harman's Car as a service (CaaS) technology looks to the growing trend in car and ride sharing services. Here a cloud-based driver profile service is made to create personalized settings to any vehicle a user may drive, "Think Zip car" Dhawan said. The platform allows drivers to create an account and save personal driver information so settings may be applied no matter what car.
In all the Harman keynote set a tone for the future of auto and its integration with future services. At the center of it all is the humble display, the nexus of all information both coming and going to the ultimate mobile device, the car. – Stephen Sechrist
Analyst Comment
Steve drew the short straw here. I left early as there was little of real interest to display people. I heard complaints from a number of people about this talk. (BR)