Tamura-san is from IHS and looked at the development of the panel industry. China is the biggest market for TVs (23% of global) and phones (33% of global) and that means that success in China is essential for global business (e.g. look at Apple's business in the last couple of years). Although local brands dominate the local market, they are looking outside China and will grow in the developing regions, particularly.
IT is not so well developed, and China has 20% of the global tablet market, 15% of notebook PCs and 30% of the global monitor market because it was relatively late to the PC market.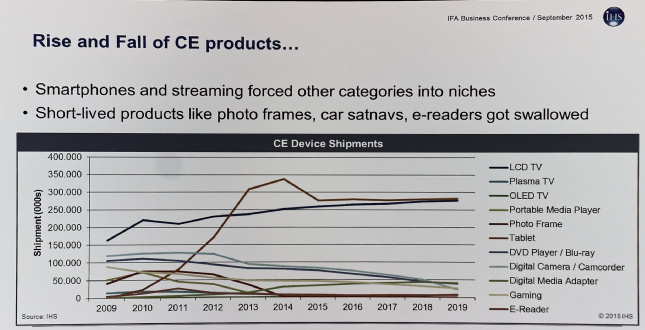 In smartphones and TVs, China (387m in 2015) is a long way ahead of North America (168m in 2015), but notebook and monitor penetration are still behind, as is tablet market development. That means there is still room for growth in those categories in China.
Turning to the TV market, China has around 22% to 24% of the global market, going forward, but China has more than 30% of the smartphone market. Tamura said that the share will gradually decline to around 25%.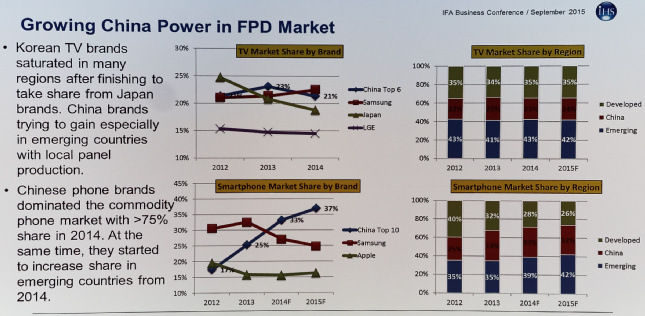 On the other hand, the share taken by the top 10 Chinese smartphone brands has been growing, with a forecast of 37% in 2015 and probably going up to 45%.
In TV, China's top six TV brands are taking around 21% but this will probably increase to more than 30%. Japanese TV brands are down to 15% and may go down to 10% driven by the Korean brands. However, from now, the Koreans may concede some share to the Chinese brands.
In smartphones, Apple has been a big success in China which has helped its global success.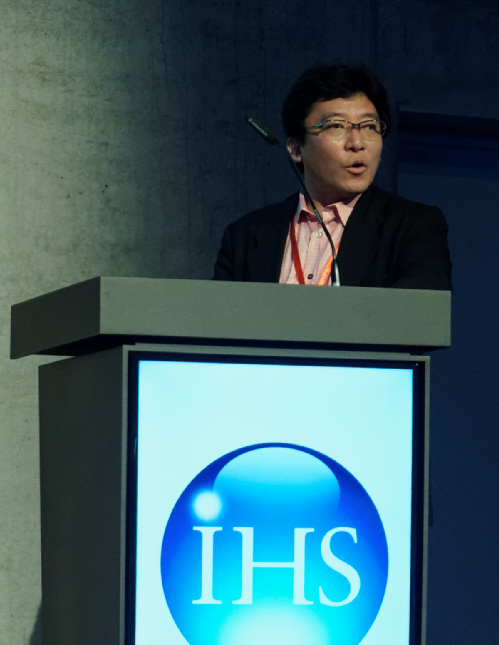 Chinese consumers like the latest features, so they have been buying a lot of 4K displays. Turning to supply, the Taiwanese suppliers dominated early on, but the Koreans grew because of their captive demand. IHS expects growth in the share by Taiwanese and Chinese panel makers.
Why does China need a panel-making business? Since more than 40% of all TVs are made in China, there is a plan to make more than 30% of all panels in China in the future. There are subsidies and incentives to develop factories, with big capital incentives for local LCD makers. There are also duty barriers for panels made outside China.
As a result, China now is the largest supplier of TV panels and smartphone panels.
Looking back at the industry up to 2008/2009, the Koreans were well ahead, but by 2018, IHS is now forecasting that BOE China will be the third biggest supplier and may catch the Koreans by 2020 or 2021. Looking at production by region, only China is seeing a boost in investment for capacity in their local countries (although they may be investing in capacity in China). Non-Chinese makers are trying to move to higher technologies.
BOE is planning to make a G10.5 fab that can make 43″, 49″, 65″, 75″ as well as 61″/70″. 65″ is likely to be a sweet spot and IHS expects many brands to buy BOE panels, although 75″ is mainly only high end sets.
Chinese suppliers also want to invest in OLED. At the moment the Koreans are dominating the capacity of the OLED industry, but many Chinese companies will enter the market. However, it will take a long time to ramp up because of the difficulty in making the products. EDO started shipping OLED panels for mobile phones already from this year.
Turning to LTPS, it is suitable for phones at FullHD and above. Because the trend is to higher resolutions, China is very aggressive in investing in this technology. By 2018, China could be the biggest region in terms of share of LTPS. Ramp up is difficult – Tianma took three years to ramp its fab, so the result depends on that speed. There could be over-capacity in 2017/2018 and China may try to go past Japan. Chinese panels are good and even Sony is using Tianma panels in its Xperia phones. Tianma is also trying to develop LTPS for notebook panels, including a 20″ UltraHD panel. They may also try to develop tablet panels, but the tablet market is very tough.
In conclusion, Tamura said that China is increasing its share of production in all applications. The Chinese makers are also aggressive in developing panels with in-cell touch and that may become important from next year.
What will all this mean for European products? There will be a lot of Chinese panels in the TV supply chain, especially at large sizes and in entry level ranges, even from Japanese and Korean companies. Chinese makers will have to learn how to deal with the crystal cycle.