We met up with Lenovo at the show, but there weren't any new display products on the booth, we were told. We were surprised, then, when we got back to the office to find news of a Yoga Tab 3 Pro which is a 10″ tablet with an integrated projector that is said to support 70″ images. The LCD is a 10.1″ 2560 x 1600 unit and the unit is said to cost $399. It has four JBL speakers and is said to support Dolby Atmos surround sound. The projector is just 480p resolution and has 50cd/m² of output.
The OS is Android and the processor is a quad core Intel Atom. Rather than being on the side of the main body, as the last version was, the projector is in the swivel stand which allows easier adjustment.
The stand is very versatile and the latest version is splashproof.
Lenovo highlighted its Phab Plus phablet which has a 6.8″ FullHD display as Lenovo said that only 7% of time using phones is actually spent on calls. (We have also heard that in some countries, people like to be thought to have "small heads", so a big phone makes it look like that!) The Phab Plus is just being considered at the moment for Europe – it is being sold in Asia at the moment.
Lenovo told us that its main business Thinkpads with the latest Skylake processors probably won't be here until the end of the year, so we guess that means a CES launch. However, the full range of Lenovo consumer PCs has been updated with the latest generation of Intel processors. The firm was highlighting its latest "Tiny in One" PCs which have the PC as a module on the back of a monitor.
The Miix 700 is a new version of Lenovo's convertible that was highlighted by Intel several times during its press event. The unit has a 12″ FullHD display and costs €999. It includes Intel's RealSense 3D camera and Intel was highlighting the "watch strap hinge" on the back of the unit. Lenovo told us that it has a range of free apps for RealSense available to download for customers.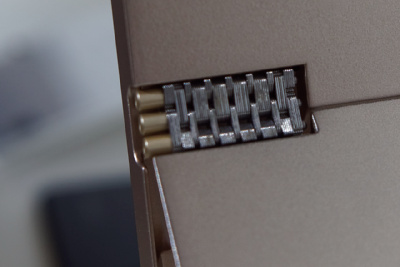 Intel commented at its press even on the Lenovo "watch strap" hinge in its Miix product which also has a RealSense camera
Analyst Comment
We also had a closer look at the X24 monitor, which we believe is based on the latest LG Display "Art Slim" module concept that was shown at CES (LG Display Pushes OLEDs and New LCD Materials). The monitor looks nice, but has a very limited OSD, with only brightness control and power off available. (BR)