ABox42 of Germany was highlighting its range of IoT solutions that exploit its STBs and are organised around very specific use cases e.g. home owner, parent. The company told us that both Deutsche Telekom and KPN have abandoned their IoT initiatives for now because of problems supporting all the many third party products on the market. ABox expects to get around this by supplying complete solutions in Q1 2018 and believes that its customers can supply these to consumers and charge a rent of €10 per month and it told us that it already has two operator clients.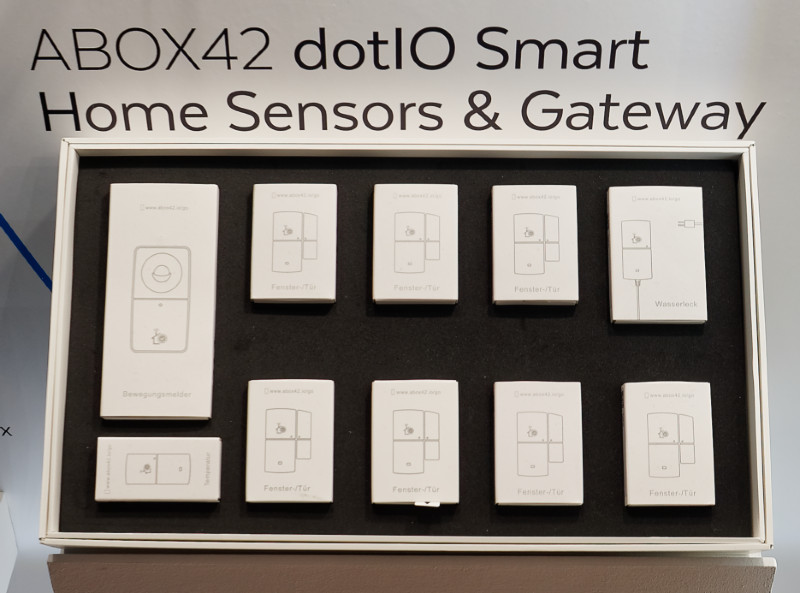 ABox42 has IoT kits that match full 'use cases'. Image:Meko
In the STB area, the M35 series (we have a picture, but it's just another black box!) supports UltraHD and can support Verimatrix security. The box is based on a Broadcom platform and now offers support for MPEG-Dash streaming which has extra features in the areas of teletext and audio. Another new feature for the company is a bluetooth-based RF remote control.
Advantech was showing its 8K HEVC encoding solutions, for which it is now seeing demand starting to develop in Asia. The company is also anticipating a lot of interest in 8K for VR applications. As the quality of the imagers in the headsets starts to improve, there will be a demand for 8K streams, the company believes and it was showing a VR application on the booth.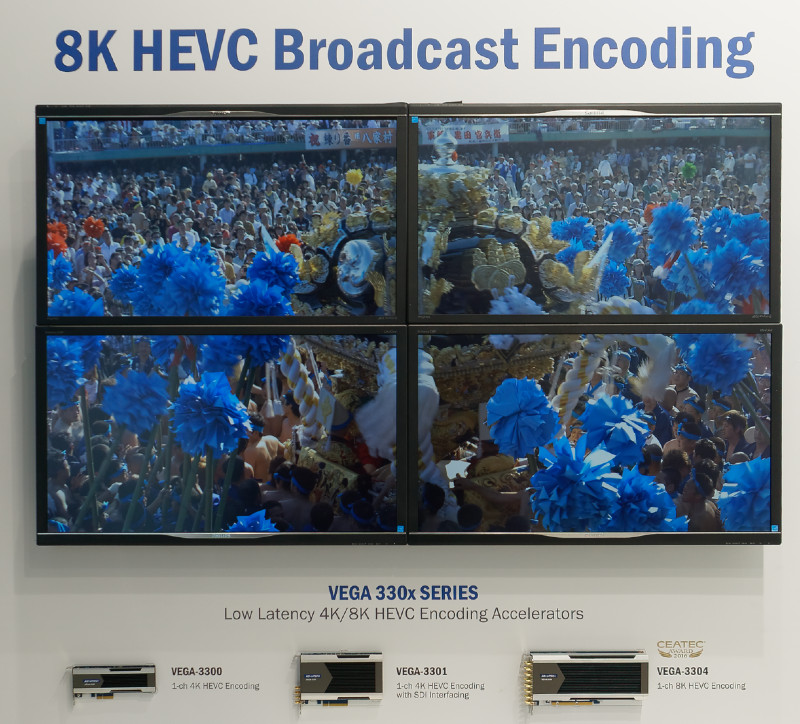 Advantech expects its 8K Encoder to be used in VR
We have been reporting on AirTies of Turkey and its mesh-based Wi-fi systems. At the show, we were intrigued to see the Airbot that the company uses for testing its technology. It has a couple of dedicated houses that are used for testing. The houses have lifts to take the robots up to the upper floors! The robots carry handsets around to test performance.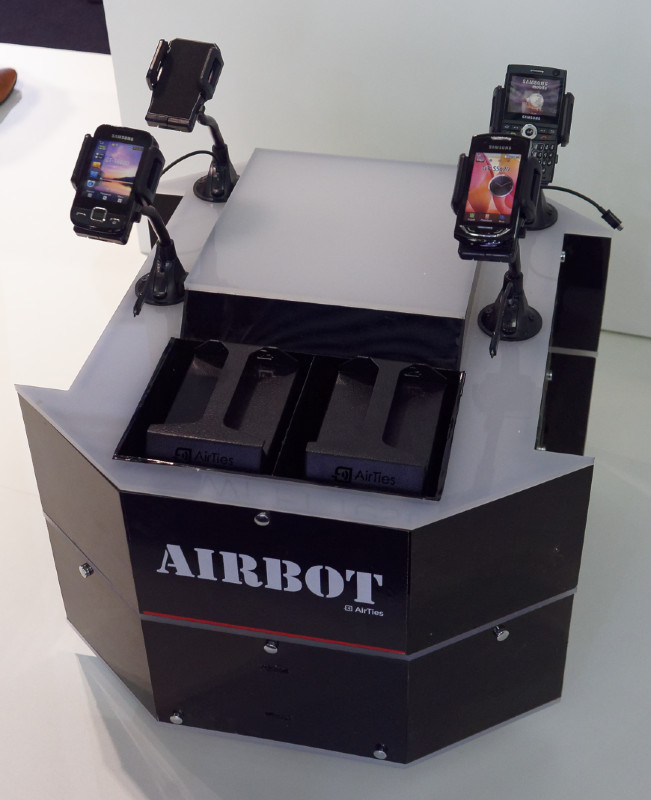 Air Ties has this Airbot that goes around the test house. Image:Meko
AirTies has been working on something that frustrates me – its network can be set up to force clients to move from access point to access point depending on the strength of the signal. The company also spent some time showing us the very sophisticated diagnostics that it can provide to operators to allow them to access the networks of customers to sort out networking problems. We were impressed with the level of information available that can help service providers to support their clients. The system can even block out particularly devices if they are causing trouble.
Aja has a lot of equipment for production and at the show, the company showed us its Io 4K Plus which is an external box for video production that connects to a PC or Mac using USB Type-C and Thunderbolt 3. It provides up to 4K ingest and output using 12G SDI and HDMI 2.0 to allow professional production with 4:4:4 and 4:2:2 workflows. There is 8 channel analogue audio i/o and digital audio over SDI & HDMI is supported. Pricing is $2,495.
The company told us that because of the lack of development on the Mac side, it had been seeing customers switch to PC-based systems, but with the promise of a new Mac Book Pro, there is a swing back to the Mac platform.

Aja's IO 4K Plus allows SDI input and output using Macs or PCs. Image:Meko
Arris told us what it was doing with Android TV STBs. The company told us that since Google re-organised its Google TV platform, it has become more popular in Europe with operators, although quite a few have concerns about the data that Google is collecting. Arris was showing boxes for operators based on IP, DVB-C and Satellite. Operators tend to customise the Google launcher (I haven't tried it, but I note that it gets 2.8 out of 5 in reviews on the Google Play store, which is a low rating). Arris is supporting HDR via HDR10 and HLG in its latest VIP5305 box which supports UltraHD and is available with or without 802.11ac Wi-Fi, and a Bluetooth BLE Remote Control, to support voice control. Arris has paid particular attention to ensuring that local graphics look good when HDR is being used.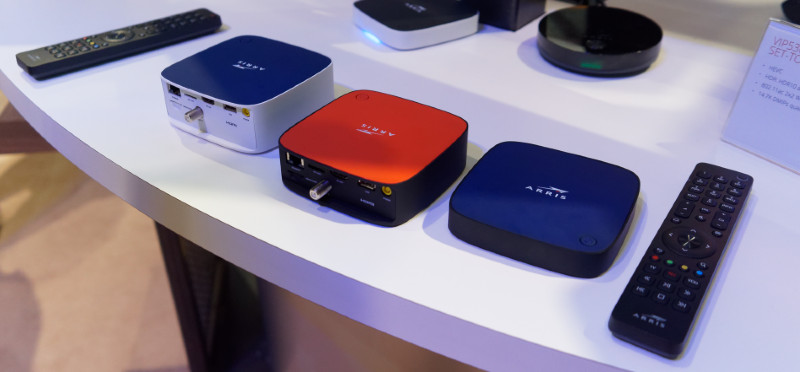 Arris has other designs available for the id of its VP5305 STB. Image:Meko
Atomos has been developing its field camera business and had a new version of the Sumo 19 monitor/recorder that was shown at NAB. The Sumo 19M HDR monitor drops the recording function to allow a cost reduction and adds an SDI interface for professional broadcast applications. The Sumo 19 costs €2,495, but the Sumo 19M is €1,995. The panel is a 1920 x 1200 resolution unit, but it supports 1,200 cd/m² brightness. Features include focus peaking, zebra, zoom, false colour, Safe areas and guides, Waveform, RGB parade and vectorscope as well as anamorphic "desqueeze". The monitor can support uploadable 3D LUTs.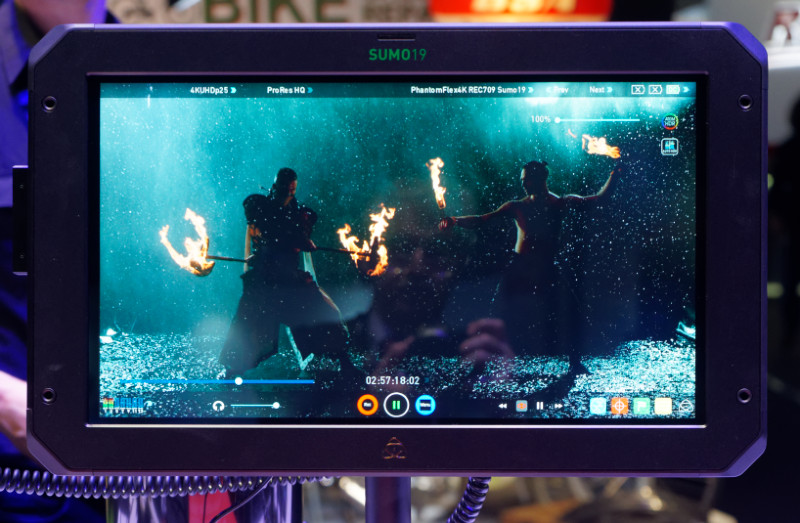 Atomos has taken the recorder out to make the Sumo 19M HDR monitor
The company is also helping its customers that are creating video for YouTube. Atomos has an update for its recorders that allows log footage from 'any' camera to be converted automatically to the PQ HDR standard for uploading directly to YouTube in HDR with all the required metadata in the wrapper. We looked at the menus and saw Sony, Canon, Arri, Panasonic, JVC and Red support, so it's pretty comprehensive.
Atomos also told us that it has seen good sales of its recorders from game players that want to record their games for YouTube. Although there are several PC-based solutions, gamers like the simplicity of a 'plug & play' solution that does not impact the PC set up at all.
On the broadcast side the company was showing a dedicated encoder for two UltraHD (2160p60) channels that occupies a single rack space and takes just 400W of power.