HTC had two stands, located opposite from one another: one was dedicated to the Vive VR headset (and was very busy for all four days of the show), while the other, larger stand held new phones and wearables.
The consumer edition of the HTC Vive is available to pre-order now, for $800 (significantly lower than the $1,500 price estimated by analysts). Orders will begin to be delivered in April.
A new feature for the headset, debuted at MWC, IS called Vive Phone Services. This can be used to receive and respond to incoming and missed calls; read SMS messages and send short replies; and check upcoming appointments, all while wearing the headset.
For a limited time, pre-ordering customers will also receive two full VR experiences: 'Job Simulator' (more interesting than it sounds!) and 'Fantastic Contraption', a construction game.
Limited to China "for now", the first of HTC's new phones is the One X9, a new addition to the One range. There were only two models at the show, and both were behind glass! The One X9 is 5.5″, with 1920 x 1080 resolution and an octa-core Mediatek Helio X10 64-bit processor, running Android 6.0.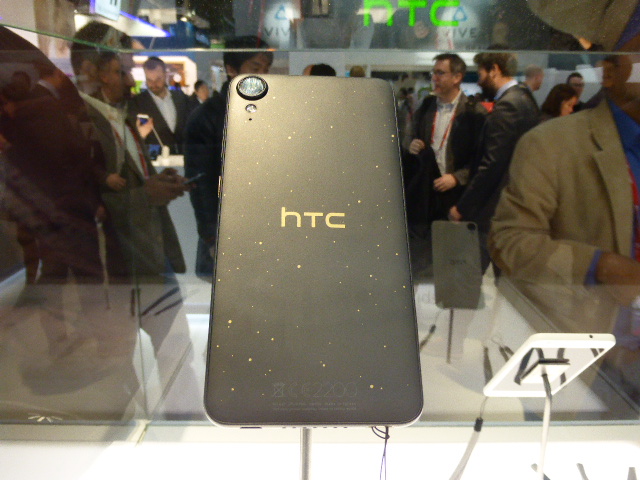 The phone is less than 8mm thick and weighs 170g. There are dual SIM slots, 3GB of RAM and 32GB of ROM. DLNA, Miracast, NFC, WiFi and Bluetooth protocols are built in. The battery is a 3,000mAh unit.
As well as the One model, there were two additions to HTC's Desire range: the Desire 530 and Desire 825. The 825 is the larger model, at 5.5″, while the 530 is 5″; both have 1280 x 720 resolution, however.
The 825 runs Android 6.0 on a quad-core Snapdragon 400 processor, with 2GB of RAM and 16GB of ROM. It is available as a single- or dual-SIM model, which varies according to region. It has a 2,700mAh battery.
HTC's final model is the Desire 530, which runs Android 6.0 on a quad-core Snapdragon 210 processor, with 1.5GB of RAM and 16GB of ROM. The battery is 2,200mAh.
All of the new phones support micro-SD cards up to 2TB, and the One X9 and Desire 825 feature fast charging.
Finally, HTC was promoting Healthbox: a collaboration with Under Armour. It is a connected fitness bundle, which includes a wristband, heart rate monitor and 'smart scales', for $400. It will be launched in July.
Analyst Comment
The Vive Phone Services are another step towards making sure that VR doesn't block users out of the real world. HTC seems to have realised – more than any other company involved in VR – that people are wary about being too immersed in the virtual world. The camera that was shown on the Vive Pre at CES also demonstrated this fact (HTC Blends Virtual and Real Worlds). (TA)