Global shipments of wearable devices declined 18.9% year over year in 4Q22 to 138.7 million units. Shipments for the full year 2022 were down 7.7% compared to 2021, marking the first year of decline for the category due to challenging macroeconomic conditions and difficult comparisons to the strong results of 2021. Despite the downturn, overall shipments of 492.1 million units in 2022 were well above 2020 and 2019 levels.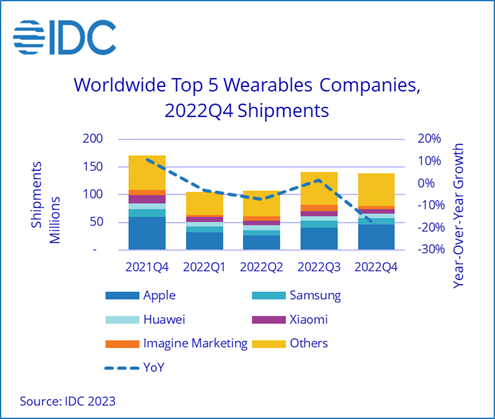 Every geographic region except Asia/Pacific (excluding Japan and China) (APeJC) and the Middle East and Africa (MEA) experienced a YoY decline in wearable shipments for the full year 2022. APeJC and MEA, like many emerging markets within the regions, remain under-penetrated and have yet to face the extreme levels of inflation that other markets have observed.
Amongst the various product types, smartwatches grew 9.4% during 2022, reaching an all-time high of 148.6 million units with Apple in the lead. Huawei and Samsung captured the second and third positions in the smartwatch sub-market while India's Nexxbase and Fire-Boltt rounded out the global top 5 thanks to their value-oriented products sold within India. Hearables, the largest category of wearables, declined almost 10% as 2021 provided tough year-over-year comparisons while wrist bands, the third largest category, also continued to see shipments decline due to competition from smartwatches.
"Given the tough economic environment consumer demand has understandably slowed," said Jitesh Ubrani, research manager for IDC Mobility and Consumer Device Trackers. "Having lower cost options available as part of their portfolio is one way vendors can help spur some demand in the coming quarters. Beyond that, trade-in offers, financing options, and subscription services will also play a key role in maintaining profitability while also bringing value to consumers."
"The past two years saw heady growth for the worldwide wearables market and the 2022 decline is what happens once demand has been satiated," said Ramon T. Llamas, research director, Mobile Devices and AR/VR at IDC. "The silver lining is that users will eventually replace their devices and that will put the market back on track for growth. This is where companies with a broad selection of devices with varying feature sets, price points, and an ecosystem built around them will be rewarded once growth returns."
Top 5 Wearable Device Companies by Shipment Volume, Market Share, and Year-Over-Year Growth, Q4 2022 (shipments in millions)
| | | | | | |
| --- | --- | --- | --- | --- | --- |
| Company | 4Q22 Shipments | 4Q22 Market Share | 4Q21 Shipments | 4Q21 Market Share | Year-Over-Year Growth |
| 1. Apple | 46.6 | 33.6% | 59.7 | 34.9% | -21.9% |
| 2. Samsung | 11.0 | 7.9% | 13.6 | 8.0% | -19.1% |
| 3. Huawei | 8.3 | 6.0% | 11.5 | 6.7% | -27.6% |
| 4. Xiaomi | 7.7 | 5.5% | 14.6 | 8.6% | -47.5% |
| 5. Imagine Marketing | 6.0 | 4.4% | 9.2 | 5.4% | -34.3% |
| Others | 59.1 | 42.6% | 62.4 | 36.5% | -5.3% |
| Total | 138.7 | 100.0% | 171.0 | 100.0% | -18.9% |
Source: IDC Worldwide Quarterly Wearable Device Tracker, March 7, 2023
Top 5 Wearable Device Companies by Shipment Volume, Market Share, and Year-Over-Year Growth, 2022 (shipments in millions)
| | | | | | |
| --- | --- | --- | --- | --- | --- |
| Company | 2022 Shipments | 2022 Market Share | 2021 Shipments | 2021 Market Share | Year-Over-Year Growth |
| 1. Apple | 146.3 | 29.7% | 161.8 | 30.3% | -9.6% |
| 2. Samsung | 43.1 | 8.8% | 48.2 | 9.0% | -10.7% |
| 3. Xiaomi | 34.7 | 7.1% | 54.2 | 10.2% | -35.9% |
| 4. Huawei | 33.3 | 6.8% | 42.7 | 8.0% | -21.9% |
| 5. Imagine Marketing | 29.3 | 6.0% | 26.8 | 5.0% | 9.3% |
| Others | 205.3 | 41.7% | 199.7 | 37.4% | 2.8% |
| Total | 492.1 | 100.0% | 533.4 | 100.0% | -7.7% |
Source: IDC Worldwide Quarterly Wearable Device Tracker, March 7, 2023