Hisense is one of the many companies selling a new class of display generally dubbed "LaserTV." These are ultra short throw projectors that sit below a screen in the home to create a ~100" image – which can be had for less than the cost of a flat panel TV of this size. At IFA 2016, this display was on display in the brightly lit booth. As a result, the contrast and colors suffered in comparison to nearby LCD and OLED TVs.
The Hisense LaserTV, dubbed 4K Laser Cast, features a 4K DLP chip (the e-shift version) and was projecting a 100" image. It is on sale in China now for 69,999 RMB, which is around $10K. With lots of copycat LaserTV products in China, Hisense was highlighting their IP in this product where they have over 200 core patented technologies in the latest model, following 7 years of development. The projector can create the 100" image at a distance of only 53 cm from the wall. A special light rejecting screen is always recommended, such as the Fresnel-based one from DNP.
The 4K Laser Cast TV has a static contrast of 30K:1 and a color gamut of 116% of BT.709 thanks to the laser phosphor solid state light source. And, it is HDR10 compatible. With a lifetime of 20K hours to 50% of initial luminance, that means 8-10 years of practical use.
The Hisense 4K Laser Cast is expected to be available in Germany in 2017. The MSRP has not yet been announced.
On the TV side, the company was focused on promoting and showing their ULED line of TVs, which use the Hisense-developed Hi-View image processing chip, advanced LED backlight control and a wide color gamut technology with HDR support.
The flagship 65MU9600 curved TV features ULED 3.0 technology, which, as they did at CES, they were comparing to an OLED HDR TV. This UHD TV features 300 separate dimming zones in its direct backlight and can achieve up to 92% DCI P3/85% BT2020 color gamut. Hisense uses quantum dot technology and special peaking algorithms to achieve this wide color gamut. Peak luminance is said to be 1000 to 1200 cd/m² and it will support Dolby Vision as well as HDR10. It is available now in China.
New for IFA was a 70" version of this TV with HDR10 support, but support for Dolby Vision was unclear. This will debut in the China market in time for Chinese New Year.
Selected ULED 3.0 TVs are expected to be released in Germany in 2017, while current ULED 2.0 models of the M7000 series, are already available in Germany. This includes the 55M7000 (55″) for 1999 € and the 65M7000 (65″) for 2999 €.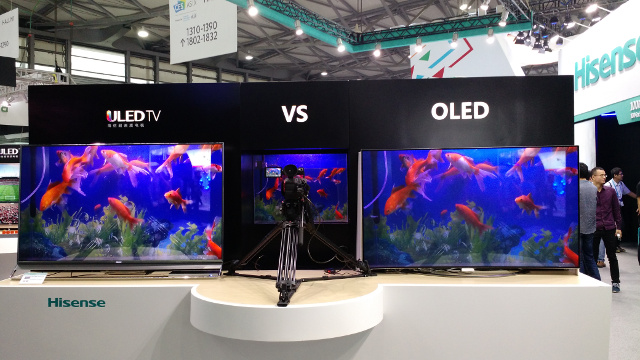 Hisense also featured an HDR ready TV that is very slim (3.9mm) in a 55" size. It is edge lit and has 16 blocks that can be used for HDR optimization, but peak luminance is lower at around 500 cd/m². This is a curved model aimed at the China market for 2017.
Interestingly, Hisense and many other brands said that curved TV are very popular in China, but not in Europe, where flat models are clearly preferred. – CC