The Pepcom Holiday Spectacular in New York City on Thursday, September 15th was titled "Tinsel & 'Tinis" – Pepcom knows how to get the press into its press-only events. The goal of one of these events is the introduce the press to new products that are either currently available or will be available soon, certainly before the Christmas selling season.
Hopefully the press will then write stories about the products so people will read about them and buy them for Christmas. (Full disclosure: I didn't have one of their Martinis or even one of their beers but I did eat their food.)
This Pepcom event had 83 companies exhibiting including numerous display related products worth writing about. A sampling of what was there includes:
Hisense 50" HDR10 TV from their new H8 series
Hisense was showing the 50" 4K HDR TV set from the new H8 series, priced at $499. The H8 series also includes a 55" unit, not on display, priced at $599. Richard Zena, the market manager for the New York/New Jersey region for Hisense told me the unit was a true high dynamic range (HDR) TV, not just HDR-compatible, and would accept and show HDR10 signals. He said the maximum brightness of the set was about 1000 cd/m², although he added the demo unit was set to about 900 cd/m² at Pepcom. This high brightness made the image look good even in the high ambient light of the Pepcom event. While the content was not typical HDR content with details in shadows and highlights of specular reflections from cars, the HDR seemed to make the content more "Vivid" and the colors brighter. In other words, the image looked very good. Well, a 4K HDR TV is supposed to look very good.
In order to achieve a HDR image, most HDR LCD TV sets use a zoned backlight. The 50″ version of the H8 series on display had 10 zones, according to Zena. This is a very small number of zones for a HDR set and Zena said the next larger size Hisense HDR TV has 120 zones. Competitive sets can have several hundred or even more than 1000 zones. Of course, they have higher prices, too.
One reason Hisense was at Pepcom was to promote the Hisense brand, not just its H8 TV line for Christmas. Zena told me that while Hisense is one of the largest TV makers in China, with a #1 TV share position in China and a #3 TV share position globally (according to IHS), the brand is not generally known to consumers in the US. (I suspect most Display Daily readers are more familiar with the company, however.) Their US home page says "We're Hisense, the biggest Smart TV/4K TV company you've never heard of." To further promote the company, they are going to have a showing of all their products, not just the H8 series TVs, on October 5 & 6 in New York. I'll be there and will report on their other display products.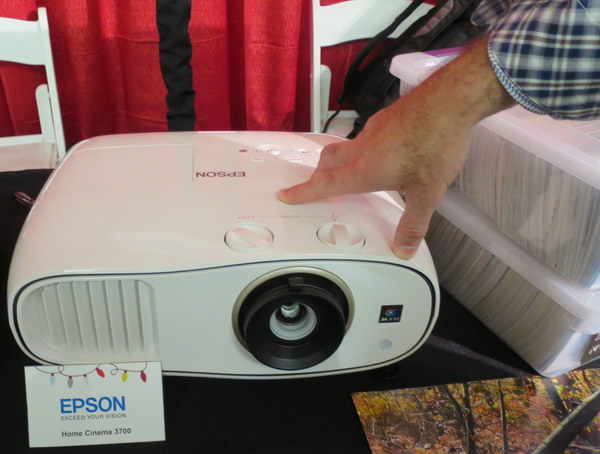 Epson Home Cinema 3700 Projector
Epson showed their Home Cinema 3700 projector, which had been announced earlier in the week and is available now at a MSRP of $1499. The projector was on static display and not showing an image, probably a wise decision considering the ambient conditions. This 1080P 3LCD projector has 3000 lumens, both ANSI and CLO. The projector is based on a UHE mercury lamp, not a laser-phosphor light source. It will show both 2D and 3D content.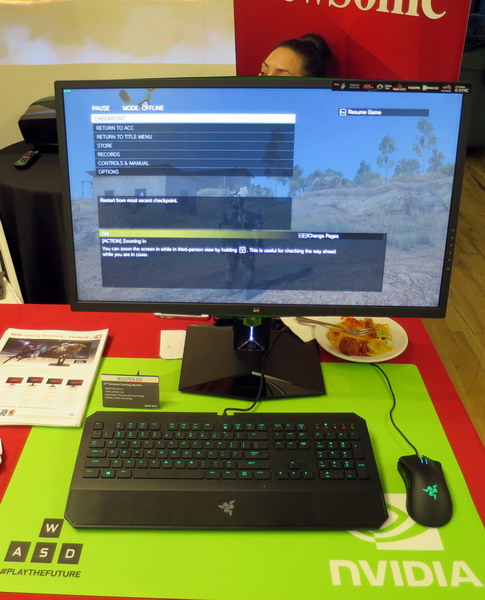 ViewSonic's XG2703-GS 165 Hz gaming monitor
ViewSonic was showing three new products, the LS820 projector, the XG2703-GS gaming monitor and the VP2468 monitor for color-critical applications. The LS820 projector is a 3500 lumen, laser-phosphor ultra-short (0.25:1) throw home theater projector. It uses a single 1080p (1920 x 1080) DLP microdisplay to produce the image. Unfortunately, they were showing it on the wall of the room, rather than on the optional ambient light-rejecting screen so it didn't really look very good at Pepcom. The ViewSonic rep at Pepcom was telling people the LS820 MSRP was $4599, which was also shown on the information card for the unit, but the accompanying press release said it had a MSRP of $3000.
The ViewSonic XG2703-GS 27" gaming monitor (MSRP $913) did look good, however. This monitor was shown at CES and began shipping this week. The 1440p (2560 x 1440) display had a refresh rate of 165 Hz and a LCD response time of 4mS. It is based on Nvidia G-Sync variable refresh rate technology. Three other variable refresh rate gaming monitors ViewSonic showed at CES, the WX57 series (1080p, 75Hz), the XG01 Series (1080p, 144Hz) and the XG2700-4K (UHD 3840 x 2160, 60Hz), are based on AMD FreeSync technology and are not yet available. The XG2703-GS is currently available exclusively from Newegg but will be available at other e-tailers in October.
The ViewSonic 24" 1080p (1920 x 1080) VP2468 monitor (MSRP $326) is intended for color-critical applications such as photo and video editing. It comes factory calibrated for a variety of color spaces including sRGB, EBU, SMPTE-C, REC709 and DICOM-SIM. It uses a 14 bit 3D look-up table to ensure a color accuracy of ?E < 2 across the entire IPS panel. If you want to calibrate it yourself, there will be a color calibration kit, CS-XR17 available soon (MSRP TBD).
Royole was there showing their Moon 3D HMD Virtual Mobile Theater. They had first announced this product in a press event earlier in the day and I've written a separate article on it. ( Royole Introduces 3D AM-OLED HMD – Subscription required.) You can see a promotional video on the Moon on YouTube.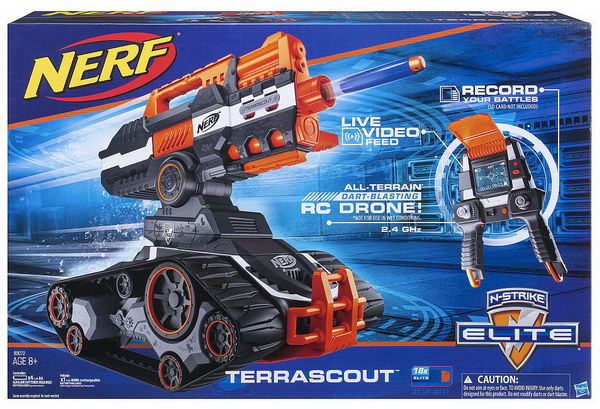 And, of course, what is Christmas without a toy? Better yet, a toy with a display in it? Hasbro was there with its new NERF N-Strike Elite Terrascout Remote Control Drone Blaster. The tracked, mobile robot provides a live video feed to the LCD display in the controller via a 2.4GHz link. This allows the child controlling the robot to maneuver the robot, see his target, aim the blaster and fire his clip of 18 darts, machine gun-style while remaining hidden around a corner from the target. What a great way to annoy a kid brother, pet dog or sleeping cat! Just don't use the Terrascout to wake your mom up from her nap!
Unlike many toy robots, this was not of the Bring Your Own Display (BYOD) type – no smartphone required. The toy includes both the camera in the robot and the display in the controller. The unit will record the video feed or still images from your battle on a SD card, not included. While the drone has a rechargeable battery, the controller needs 4 x AA batteries, also not included. The Terrascout drone is currently available exclusively at Toys 'R Us for pre-order for $199.99 with an estimated ship date of October 5, 2016, in plenty of time for Christmas. –Matthew Brennesholtz