The EMEA PC market continued to suffer in Q2 from unfavourable exchange rates which led to higher price points and weaker demand, according to the latest data from IDC. Shipments were down 21.6% year on year at 17.2 million units. Hign inventory was a second issue.
The decline was also affected by the adverse year on year comparison with a very strong first half of 2014, when Windows XP-related renewals boosted shipments across the region. In addition, high inventories translated into lower shipments in the second quarter, as the industry focuses on stock depletion in preparation for the Windows 10 launch later this summer.
Chrystelle Labesque, associate director, IDC EMEA Personal Computing, commented: "The second quarter was, as expected, a transition period between the very popular Microsoft Bing promotion, which supported sales over the past four quarters, and the forthcoming launch of Windows 10 at the end of July".
All three EMEA regions suffered a strong contraction in PC shipments, with Western Europe posting a 19.3% decline, while CEE and MEA both dropped YoY, at -24.3% and -25.7% respectively. Both consumer and commercial segments recorded strong double-digit declines. Commercial shipments declined 18.9% due to an unfavourable YoY comparison with 2014, when many businesses transitioned away from Windows XP and renewed their older devices. Consumer shipments, on the other hand, contracted 24%, following the accumulation of Bing inventories across multiple regions.
The results in both segments were weaker than anticipated, as demand did not meet expectations and many vendors were forced to reduce new shipments to clear inventories and be ready for the launch of new products in time for the back-to-school season. While portable PCs declined 18.5% across EMEA, desktop PCs posted much weaker results, contracting 26.4%. This product category is still relevant in the commercial segment, although it is subject to enterprise renewal cycles, while the decline continues in the consumer market, as end users move to mobile devices such as notebooks, tablets, and smartphones.
Total PC shipments in Western Europe reached 10.7 million units, with the consumer segment showing the strongest decrease, at -20.8%. Commercial shipments, which fell 17.9%, were also affected by an adverse YoY comparison. Southern European countries again performed better than the overall Western European market, with Spain and Portugal posting 4% and 2% growth respectively. Italy contracted by 6%, a much softer decline than the Western European average. Ongoing Windows XP renewals in the commercial space and the continued economic rebound in these countries contributed to the more positive results. On the other hand, central and northern European countries all posted declines, affected by high inventory levels, weakening demand and adverse YoY comparisons. Germany and the Netherlands were the most affected, with PC shipments contracting by as much as 34% and 37% respectively.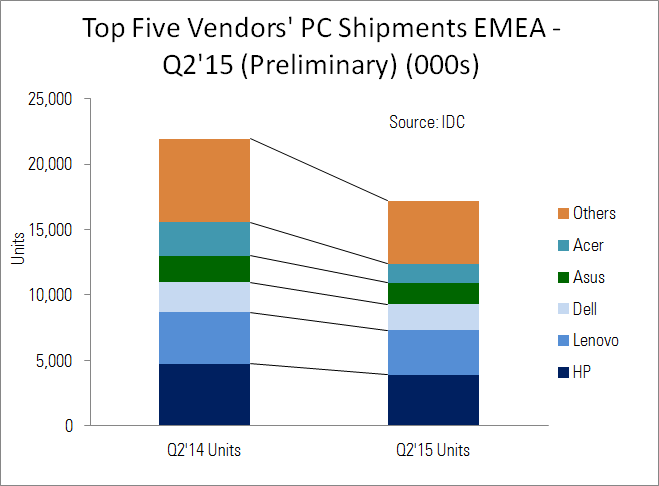 Top Five Vendors' PC Shipments EMEA – Q2'15 (Preliminary) (000s)
Vendor
Q2'15 Units
Q2'14 Units
Q2'15 Market Share
Q2'14 Market Share
YoY Change
HP
3,921
4,735
22.8%
21.6%
(17.2%)
Lenovo
3,366
3,947
19.6%
18.0%
(14.7%)
Dell
2,011
2,277
11.7%
10.4%
(11.7%)
Asus
1,624
2,057
9.4%
9.4%
(21.1%)
Acer
1,464
2,534
8.5%
11.5%
(42.2%)
Others
4,822
6,388
28.0%
29.1%
(24.5%)
Total
17,207
21,938
100.0%
100.0%
(21.6%)
Source:IDC
(* PC shipments = desktops and notebooks)
By vendor, HP performed better than the overall market but lost some ground in both the consumer and commercial segments and also suffered from an unfavourable YoY comparison. HP's results in CEE were strong, with shipments growing YoY.
Lenovo continued to outperform the competition and to gain shares annually. It maintained second position in the market although the vendor posted a decline in shipments. High inventory in the channels and weaker demand affected its results.
Dell posted a strong quarter and was third in the EMEA ranking. Results in commercial PC shipments were better than the market average and Dell increased its share in commercial portable PC shipments in EMEA.
Asus climbed to fourth place but its shipments declined in line with the market. The limited Bing shipments reduced the vendor's exposure this quarter.
Acer came in fifth with shipments declining across all EMEA sub-regions due to weak demand. The vendor also focused on clearing inventory ahead of new shipments for the back-to-school season.
Outside the top five vendors, Apple had a very strong quarter with growth reaching double-digit levels and market shares growing significantly as the company benefited from shipments of its new product portfolio. Toshiba continued to focus on profitable growth, limiting shipments in some countries, which led to significant contraction, while Fujitsu posted a strong decline due to an adverse YoY comparison with Q2 of last year when the end of Windows XP related renewals boosted the vendor's shipments. MSI came in 9th and Wortmann 10th.