Haier was showing its smartphones, of course, but the first product that caught our eye was a projector that is designed to shine onto a surface and supports touch on that surface. The unit is intended to be introduced into the market in China in Q2, although staff told us that the final design would be smaller than the unit shown in Barcelona. The company said that it would produce images up to 40″, but no specifications were available.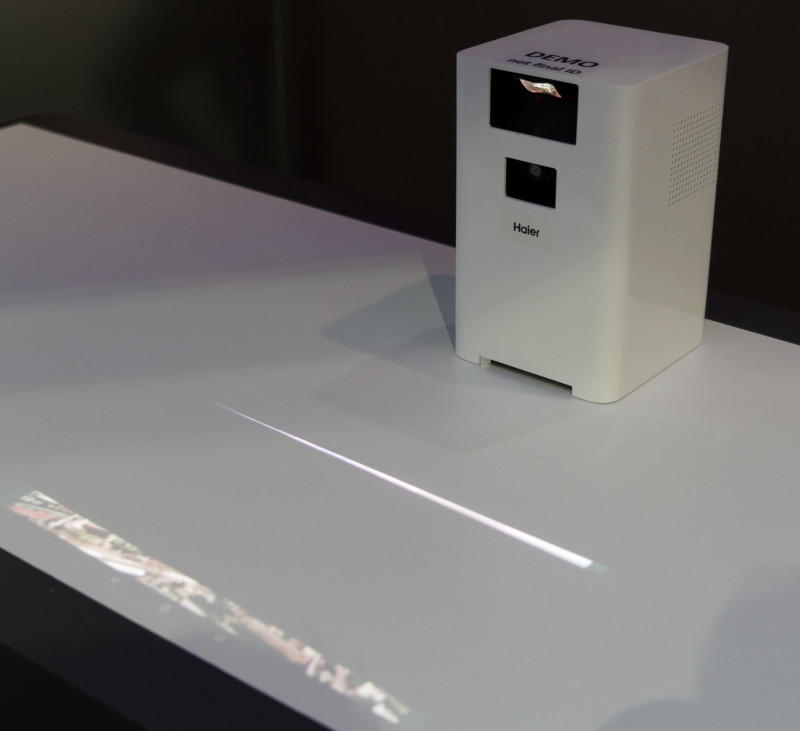 Haier's touch projector was a prototype – the final one will be smaller. Image:Meko
Frustratingly, after the show, we spotted stories about a smartwatch with an integrated projector, as well, but staff at the event didn't show it to us! The unit projects onto the back of the wearer's hand (which reminded us of a similar product that we saw at CES in 2016 (ASU Brings Big Backers, but Fails with Us)) As the Haier product is called the Asu, it would seem that it's basically the same device, but it wasn't clear at press time if Haier had bought the company or just the design.
There were a number of value smartphones being shown and the company told us that it has quite good business in Europe, in France, Italy, Germany and Spain. It has done quite well working with operators in those countries.
The Leisure L8 is a new phone based on a 5.99″ FHD+ 18:9 display that covers 83.2% of the front. The processor is a Qualcomm Octacore processor with 3GB of memory and 32GB of storage. The battery is 4,000 mAh and the cameras are 12mp on the rear and just 2mp on the front.